AP Top 25: USC drops out for first time under Lincoln Riley; Oklahoma State vaults in to No. 15
Sun, Nov 5, 2023
NCAAF News (AP)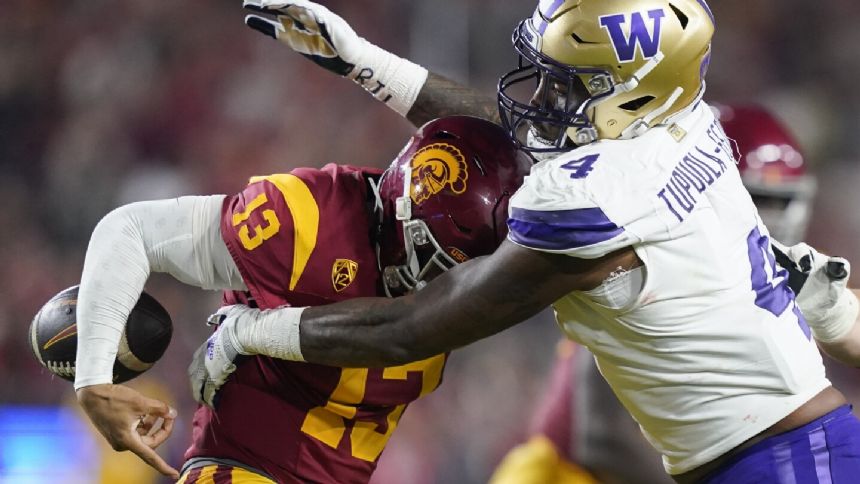 Southern California dropped out of The Associated Press college football poll Sunday for the first time under coach Lincoln Riley and No. 15 Oklahoma State vaulted into the rankings for the first time this year.
The top nine teams in the Top 25 held their spots, led by No. 1 Georgia. The Bulldogs have now tied the second-longest streak atop the poll at 21 straight weeks, dating back to the middle of last season.
Georgia received 49 first-place votes. No. 2 Michigan got nine first-place votes, No. 3 Ohio State had three and No. 4 Florida State had two.
Washington remained No. 5, followed by Oregon, Texas, Alabama and Penn State.
AP Top 25: College football poll
1. Georgia: 9-0
2. Michigan: 9-0
3. Ohio St.: 9-0
4. Florida St.: 9-0
5. Washington: 9-0
6. Oregon: 8-1
7. Texas: 8-1
8. Alabama: 8-1
9. Penn St.: 8-1
10. Mississippi: 8-1
11. Louisville: 8-1
12. Oregon St.: 7-2
13. Utah: 7-2
14. Tennessee: 7-2
15. Oklahoma St.: 7-2
16. Missouri: 7-2
17. Oklahoma: 7-2
18. LSU: 6-3
19. Kansas: 7-2
20. Tulane: 8-1
21. James Madison: 9-0
22. Notre Dame: 7-3
23. Arizona: 6-3
24. North Carolina: 7-2
25. Liberty: 9-0
The last time the first nine teams in the poll went unchanged this late in the season was Nov. 19, 2017.
Mississippi moved up a spot to a season-high No. 10.
USC (7-3) lost to Washington on Saturday night in yet another high-scoring, defense-optional affair, and is now unranked after starting the season No. 6. Next week at Oregon, USC will play as an unranked team for the first time since 2021, a 4-8 season in which the school fired coach Clay Helton after two games.
College football
Johnson runs for 256 yards, 4 TDs in No. 5 Washington's high-octane 52-42 win over No. 24 USC
No. 2 Michigan routs Purdue 41-13 despite potential distractions of NCAA sign-stealing investigation
Arizona knocks off No. 20 UCLA to win 3 straight against ranked opponents for first time
"I think our guys are frustrated that we've been so, so close and we haven't played good enough to be able to separate," Riley said after the Washington game.
USC hired Riley away from Oklahoma after the 2021 season and he brought Heisman Trophy winner Caleb Williams with him as a transfer.
The Trojans started this season 6-0, but have lost three of four since, allowing 46 points per game.
Oklahoma State (7-2) is having an inverse season to USC.
The Cowboys beat rival Oklahoma for its fifth straight victory after a 2-2 start. The Cowboys' jump to No. 15 matches the highest ranking for a previously unranked team this deep into the season since the AP poll expanded to 25 teams in 1989.
USC went from unranked to No. 15 on Nov. 13, 2016, after it beat No. 4 Washington 26-13 in Seattle.
POLL POINTS
Georgia's No. 1 streak matches Miami's 21 straight from 2001-02. The Bulldogs still have a long way to go to catch USC's 33 straight from 2003-05.
What did both the Miami and USC streaks have in common? They both ended with a national championship game loss.
IN-N-OUT
Four teams moved into the rankings this week, matching a season high.
Like Oklahoma State, No. 23 Arizona and No. 25 Liberty made their season debuts in the rankings.
- Arizona beat UCLA on Saturday night and is ranked for the first time since a one-week stay at No. 23 in early November 2017.
For the first time in school history, the Wildcats have beaten three straight opponents who were ranked at the time of the game.
- No. 24 North Carolina moved back into the rankings.
- Unbeaten Liberty is ranked for a second straight season. The Flames spent two weeks in the Top 25 around the same time last year.
Dropping out along with USC were:
- Air Force, which was upset by Army to fall from the ranks of the unbeaten.
- UCLA after taking its third loss of the season.
- Kansas State, which lost in overtime to Texas to fall to 6-3.
CONFERENCE CALL
SEC - 6 (Nos. 1, 8, 10, 13, 14, 16, 17).
Pac-12 - 5 (Nos. 5, 6, 12, 13, 23).
Big 12 - 4 (Nos. 7, 15, 18, 19).
Big Ten - 3 (Nos. 2, 3, 9).
ACC - 3 (Nos. 4, 11, 24).
American - 1 (No. 20).
Conference USA - 1 (No. 24).
Sun Belt - 1 (No. 21).
Independent - 1 (No. 22).
RANKED vs. RANKED
No. 10 Mississippi at No. 1 Georgia. The fifth time the Rebels and Bulldogs have met as ranked teams and first time since 2016.
No. 2 Michigan at No. 9 Penn State. Third straight ranked matchup in the series and sixth in the last seven years.
No. 13 Utah at No. 5 Washington. Third time the Utes and Huskies will play when both are ranked.
No. 14 Tennessee at No. 16 Missouri. First time in 12 meetings that both are ranked.
___
AP Sports Writer Greg Beacham in Los Angeles contributed.
___
Follow Ralph D. Russo at https://twitter.com/ralphDrussoAP and listen at http://www.appodcasts.com. Get alerts on the latest AP Top 25 poll throughout the season. Sign up here
___
Get alerts on the latest AP Top 25 poll throughout the season. Sign up here
___
AP college football: https://apnews.com/hub/ap-top-25-college-football-poll and https://apnews.com/hub/college-football
"
Article Copyright © 2023 The Associated Press, All Rights Reserved.