Atlanta Braves clinch 6th straight NL East title, beat Phillies 4-1 as Strider gets 17th win
Wed, Sep 13, 2023
MLB News (AP)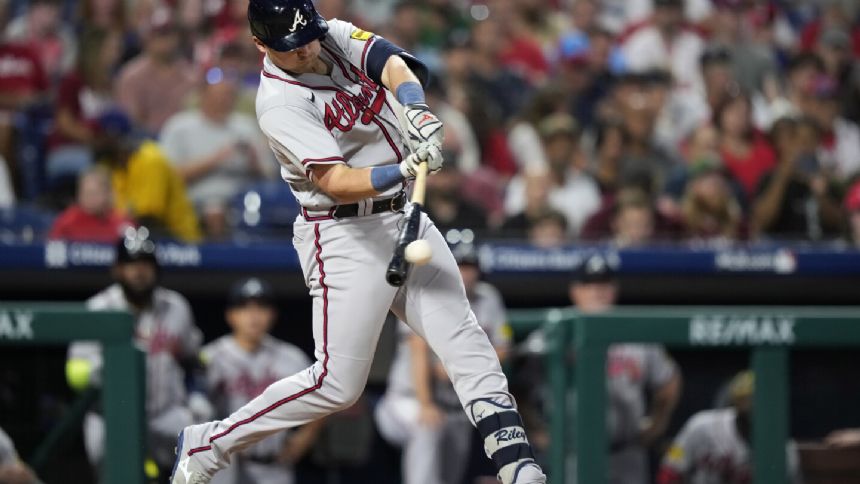 PHILADELPHIA (AP) - The Atlanta Braves clinched their sixth straight NL East title, beating the Philadelphia Phillies 4-1 on Wednesday night behind Spencer Strider's major league-leading 17th win and Austin Riley's two-run homer.
Kirby Yates struck out Brandon Marsh to end the game and the players danced in a mob near the mound as Phillies fans booed them off the field.
"Congratulations Atlanta Braves 2023 NL East Champions" flashed on the scoreboard.
Braves star Ronald Acuna Jr. responded to booing fans by raising both arms and signaling with his hands to bring it on.
Other news
Phillies manager Rob Thomson says the Braves 'can do what they want' when celebrating homers
Olson ties team homer mark, Braves beat Phillies 7-6 in 10 innings to move to brink of NL East title
Matt Olson ties team homer mark with 51, Braves beat Phillies 7-6 in 10 innings
"We've checked one box," manager Brian Snitker said.
Atlanta (96-50) clinched in 146 games, their second-quickest clinch in the divisional era. The division title was the Braves' record 26th, two more than the Los Angeles Dodgers and New York Yankees,
The Braves have seemingly made winning the East a rite of September since the 1990s and this year's team looks loaded enough to win their third World Series since moving from Milwaukee to Atlanta in 1966. Over that span, Atlanta won 11 straight NL East titles from 1995-2005, and the World Series in 1995 and 2021.
Yates earned his fifth save.
Atlanta took special satisfaction in clinching on the same Citizens Bank Park field where the Phillies eliminated them last October in the NL Division Series. The Phillies won that series 3-1 -- just as Atlanta won this four-game set.
The Phillies lead the NL wild card and the teams could face each other in October.
For now, September belongs to the Braves.
Riley, one of many big boppers in the lineup, gave the Braves all the runs they needed when he connected off Cristopher Sanchez (2-4) in the first for his 35th homer. Sanchez struck out a career-best 10 in 7 1/3 innings.
Riley had a sacrifice fly in the third and Kevin Pillar added an RBI double in the fourth for a 4-1 lead.
Strider (17-5) took it from there and won for the fifth time in six starts, allowing one run and four hits in seven innings. Strider struck out nine to boost his MLB-best total to 259. He also gave the bullpen some needed rest after a rough first three games in Philly that included Raisel Iglesias surrendering tying homers in the ninth inning in two of them.
That the Braves had the mettle to rebound and win on the road from the crushing blows is just one more reason why they just might be the team to beat in the postseason.
SUPER SLUGGERS
Riley became the third Braves player to reach 35 homers, joining Matt Olson (51) and Acuna (37). The Braves are tied for most players with 35 homers in a season on one team in MLB history.
Phillies manager Rob Thomson said it would be a "pleasant surprise" if injured first baseman Rhys Hoskins was able to return in the postseason. Hoskins has tried to remain optimistic that he could play after he suffered a torn ACL in his left knee in spring training. Hoskins is playing on a $12 million, one-year contract and may have played his last game with Philadelphia.
Hoskins will continue to hit off a tee on the road trip in St. Louis. Hoskins hit 30 homers with 79 RBIs last season for the NL champions.
UP NEXT
The Braves are off as they head to Florida for a three-game set with the Marlins. The Braves send RHP Bryce Elder (12-4, 3.38 ERA) to the mound. The Marlins have not named a starter.
The Phillies take Thursday off before they open a three-game set in St. Louis. The Phillies send RHP Aaron Nola (12-9, 4.64 ERA) to the mound against Cardinals RHP Zack Thompson (5-5, 4.06 ERA).
___
AP MLB: https://apnews.com/hub/MLB
"
Article Copyright © 2023 The Associated Press, All Rights Reserved.