Barkov won't play Monday, will be listed as day to day with hurt knee, Panthers say
Sun, Nov 19, 2023
NHL News (AP)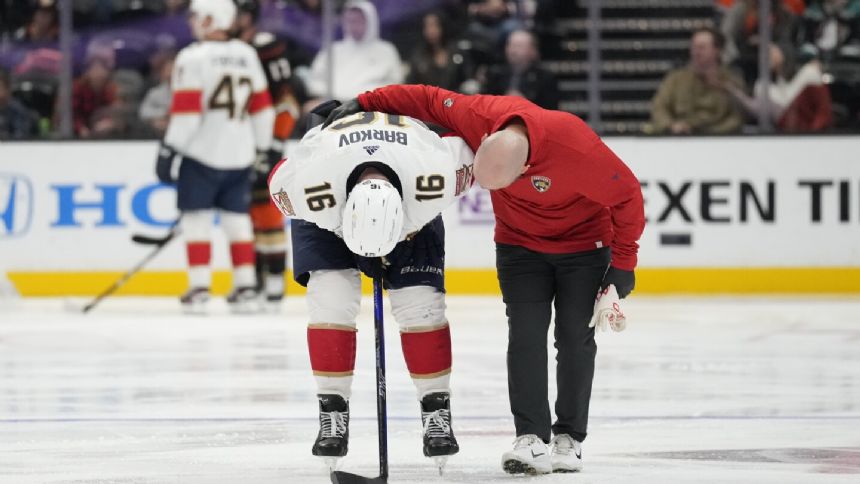 SUNRISE, Fla. (AP) - Aleksander Barkov escaped major injury in a knee-to-knee collision and is being listed by the Florida Panthers as day to day, a relieved coach Paul Maurice said Sunday.
Barkov was hurt when he was hit by Anaheim's Jackson LaCombe on Friday night in what became a 2-1 win for the Panthers. LaCombe initially was assessed a 5-minute major after the play; the penalty was downgraded to a 2-minute minor for tripping after review.
Barkov needed help getting off the ice and immediately went to the locker room area for evaluation. The Panthers were off Saturday, then returned to the ice for practice Sunday. Barkov won't play Monday when the Panthers open a three-game homestand against Edmonton.
"We got lucky," Maurice said.
Other news
Nylander scores in OT, Maple Leafs extend win streak to 4 with 4-3 victory over Wild in Sweden
Kempe and the Kings cruise to a comfortable 5-1 win over the Blues
Jordan Eberle's 3-point night leads Kraken over Canucks 4-3
There were some indications Friday night that Barkov hadn't been seriously injured; he was walking around postgame, which the Panthers took as a good sign. Still, the official sigh of relief didn't come until the team returned home Saturday to begin a more complete evaluation.
"We'll leave him at day to day," Maurice said.
The Panthers entered Friday's game as healthy as they've been all season. That game marked the return of defensemen Aaron Ekblad and Brandon Montour, both of whom had not played since the Stanley Cup Final last June and needed shoulder surgeries after that series. They returned much quicker than originally expected; the Panthers at one point were bracing for both to be out until mid-December.
Barkov appeared in 16 of Florida's first 17 games this season, with six goals and 11 assists for 17 points. If he misses the entire homestand, he'll also be out for games Wednesday against Boston and Friday against Winnipeg.
"Anytime you're missing Alex Barkov, it's never going to be easy," Ekblad said. "But we've got to find a way to get it done against three good teams here coming up."
Barkov has only had two instances of missing at least 10 consecutive games in his Panthers career. He missed 10 games with a hand injury in 2015-16, then missed 15 games with a back injury in 2016-17.
Barkov is in his 11th season with the Panthers, tied with Stephen Weiss and Roberto Luongo for the most in team history. The Panthers' captain is the franchise's all-time leader in games played (680), goals (249) and points (648), along with second in assists (399, 16 behind Jonathan Huberdeau) and power-play points (189, one behind Huberdeau).
Maurice said Barkov will be assessed daily, checking things like the level of swelling in the knee and his range of motion. Knee-to-knee hits often end up with a far worse result and can cause serious injury.
"Those are dangerous, dangerous plays," Maurice said.
___
AP NHL: https://apnews.com/hub/nhl
"
Article Copyright © 2023 The Associated Press, All Rights Reserved.