Baron Browning's return has jolted the Denver Broncos defense heading into season's second half
Sat, Nov 11, 2023
NFL News (AP)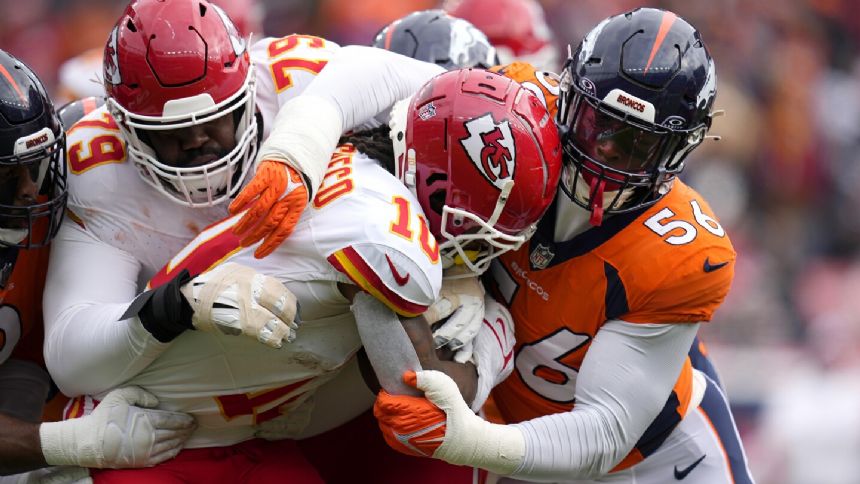 ENGLEWOOD, Colo. (AP) - Justin Simmons noted how strange it will be to root against Von Miller for the first time when the Denver Broncos face their former captain Monday night in Buffalo.
"He's a 1-of-1, generational type player," Simmons said of the Super Bowl 50 MVP, who won another ring with the Rams after a midseason trade three years ago before Miller signed with the Bills in 2022.
Simmons, though, saved some of his profusive praise for one of Denver's current pass rushers, Baron Browning, a third-year pro from Ohio State who has transitioned from inside to outside linebacker.
Browning missed the first two months of the season while recovering from knee surgery and a wrist injury. He returned against Green Bay on Oct. 22, but he was on a snap count before defensive coordinator Vance Joseph unleashed him on the Kansas City Chiefs a week later.
Other news
Saints receiver Michael Thomas arrested after confrontation with construction worker
Sebastian Vollmer's legacy creates a home atmosphere for Patriots vs Colts in Frankfurt
Jets' defense remains a steady, playmaking force while the offense struggles to find its way
Browning harassed Patrick Mahomes for a pair of sacks, including a strip sack that extinguished a promising drive and three quarterback hits to go with two tackles for loss in Denver's 24-9 win.
"It's crazy to have that type of impact really your first game back," Simmons said. "I know he played against Green Bay, but limited snaps and just kind of feeling it out."
Kansas City was another story, and just the type of performance the Broncos (3-5) figure they'll see a lot more of beginning Monday night against the Bills (5-4).
"When you have a game wrecker like that, in the back end it helps us out so much," said Simmons, a safety who had an interception and a fumble recovery in the Broncos' win that snapped a 16-game skid against the Chiefs.
The most impressive play by Browning was his strip sack of Mahomes on first-and-10 from the Broncos 19 less than a minute before halftime.
Browning (6-foot-3 and 240 pounds) shoved his left arm into the right collarbone of Chiefs tackle Donovan Smith, who is nearly three inches taller and 98 pounds heavier. When Smith wobbled, Browning disengaged and went to his outside shoulder for a sack that knocked the ball free from Mahomes for fellow Buckeyes alum Jonathon Cooper to recover.
"Like I said, Von's a 1-of-1 type guy, but that's Von-esque," Simmons said. "He has that bend and he has that athleticism to be able to put himself in that upper echelon of pass rushers. ... He's working hard to continue to polish his game to keep getting better, and it's really cool to see."
Browning appeared somewhat surprised that his name was mentioned in the same breath as Miller's.
"That's very high praise being compared to a guy who's going to be a first-ballot Hall of Famer one day," Browning said Saturday as the Broncos hustled to board their charter flight to Buffalo. "But I just try to be the best version of myself and just come to work and just continue to craft and get better. And I feel like the success I have on the field is from the work I put in when no one else is looking."
Everyone's noticing.
"It's been fun to watch," Joseph said. "Having Baron back is huge for us. He's a talent ... He's still growing as an outside linebacker. The talent is there, the mindset is there, and the power is there."
He may show similarities to Miller's game, but Cooper's rookie season only overlapped Miller's time in Denver for a couple of months in 2021 and "I wasn't in the outside linebackers room then, either, so I didn't really get a chance to pick his brain about pass rush."
___
AP NFL: https://apnews.com/hub/nfl
ARNIE MELENDREZ STAPLETON Arnie is an NFL writer based in Denver
twitter
mailto
"
Article Copyright © 2023 The Associated Press, All Rights Reserved.