Big 12 all tied up going into November, with Red River rivals among 5-way tie for league lead
Thu, Nov 2, 2023
NCAAF News (AP)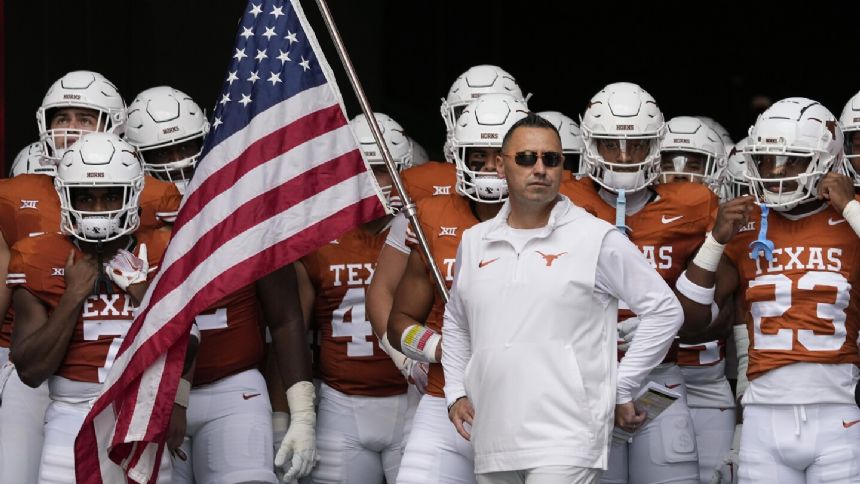 The Big 12 championship game could still turn into a farewell party for seventh-ranked Texas and No. 10 Oklahoma, and one more meeting of the Red River rivals before changing leagues next year.
But while the Longhorns (7-1, 4-1, No. 7 CFP) and Sooners (7-1, 4-1, No. 9 CFP) begin November tied for the Big 12 lead, the Southeastern Conference-bound teams aren't alone atop the standings. They are part of a five-way tie with defending Big 12 champ and No. 25 Kansas State (6-2, 4-1), Oklahoma State (6-2, 4-1) and Iowa State (5-3, 4-1).
"We're starting to find that I think our league is probably a little stronger than people give it credit for in early September ... and maybe some of these other leagues aren't quite as strong," Texas coach Steve Sarkisian said. "Our league is tough."
No other FBS league has such a logjam at the top of the standings. The closest is the American Athletic Conference with a three-way tie. The SEC and the Big Ten both have two teams without a league loss: the SEC teams in the same division, and both Big Ten division leaders are unbeaten in conference play.
Other news
Arizona hosts No. 20 UCLA in the Wildcats' fifth straight game against a ranked opponent
Colorado has cooled off since hot start, will try to turn things around against No. 16 Oregon State
No. 17 Air Force focuses on defending Commander-in-Chief's Trophy, staying unbeaten against Army
The Big 12 will be down to no more than three at the top after Saturday, after two games matching co-leaders. Oklahoma plays at Oklahoma State in the last scheduled Bedlam game, while Kansas State plays at Texas. Iowa State, the other co-leader, is home against No. 22 Kansas (6-2, 3-2), which is coming off its first win over the Sooners since 1997.
"We can predict how it's going to start or the preseason things of who should be where. You got to play these games and you got to see who's developed and you got to see the teams that may be either playing some freshmen, playing some newer players and how they fit into each team's system," K-State coach Chris Klieman said. "And it's fun to see that. For the most part, the games that we have in November are really meaningful games against really good teams."
The top two teams in the Big 12 standings play in the title game Dec. 2 at the home of the NFL's Dallas Cowboys. There are four more Saturdays with no more open dates to sort out everything.
With the league now at 14 teams, and increasing to 16 next year, there is no longer a round-robin schedule. Some complicated tiebreaker procedures could come into play to determine the championship matchup since not every team plays each other, and there is no guaranteed rematch.
The only time since 1903 that Oklahoma and Texas played twice in the same season was in 2018, their lone meeting in a Big 12 title game and the only time since 1929 they haven't played on the edge of the State Fair of Texas midway. Both were undefeated this season before the Sooners won 34-30 in a classic battle of unbeaten teams.
But Oklahoma doesn't have a regular-season game against K-State, and Texas won't play Oklahoma State, which is on a league-best four-game winning streak. Iowa State, which beat Oklahoma State but lost to Oklahoma, will finish its regular season with games against Texas and Kansas State.
When Kansas beat Oklahoma last Saturday, it ended the possibility of another undefeated regular season for a Big 12 team, like TCU last season when they made the four-team College Football Playoff and went to the national championship game even after an OT loss to K-State in the conference title game.
The Horned Frogs had been 12-0 overall before that, the first undefeated regular season for a Big 12 team since Texas in 2009, when there were only eight conference games. Oklahoma in 2016 is the only other team to go 9-0 in Big 12 play.
TCU this year dropped its season opener at home to Colorado, and lost three of four league games before an open date last weekend.
"Last year, I was asked a lot about the depth of the Big 12 and said just about how deep it was, and how you better play at a very, very high level every week. I also talked about how difficult it is to win every single Big 12 game," Frogs coach Sonny Dykes said this week. "We were able to do that last year, and that's not going to happen this year. No one's going to pull it off. And it's just a tough league. It's a physical league."
___
AP college football: https://apnews.com/hub/college-football and https://apnews.com/hub/ap-top-25-college-football-poll
"
Article Copyright © 2023 The Associated Press, All Rights Reserved.