Big game in November with Texas still in CFP talk is what Sarkisian envisioned, like TCU last year
Thu, Nov 9, 2023
NCAAF News (AP)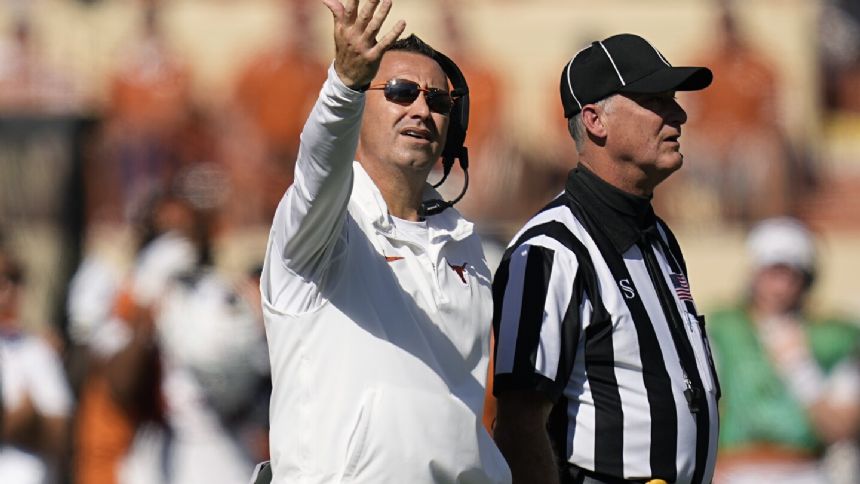 FORT WORTH, Texas (AP) - This is what Texas coach Steve Sarkisian envisioned when he got the job - big games in November with the Longhorns still in the College Football Playoff conversation.
The seventh-ranked Longhorns (8-1, 5-1 Big 12, No. 7 CFP), in their last Big 12 season, go into Saturday's game at TCU as the conference's last remaining playoff hope.
"It's an awesome time to be part of Texas Longhorn football. I know it's been a long time coming," said Sarkisian, in his third season with a proud program that last won a conference title and made the national title game in 2009. "You have visions of how you want your job to go, your program to go when you take over something."
TCU (4-5, 2-4) made the four-team playoff last season and was the national runner-up in coach Sonny Dykes' debut with the Horned Frogs. Their undefeated regular season included a 17-10 win at Texas on the second Saturday of November.
Other news
Michigan is accused of stealing other team's signs, but why is that a big deal?
Michigan responds to Big Ten, saying commissioner doesn't have discipline authority, AP sources say
No. 11 Louisville hosts Virginia, looking to move closer toward clinching an ACC title-game berth
"For our players, we didn't play very good against them last year," Sarkisian said. "When you turn that tape on they had a really good football team, like they do this year. But man, we didn't put our best foot forward a year ago."
Now 52 weeks later, Texas will try to avoid having its playoff hopes ended in the last scheduled meeting between the instate foes. TCU, 8-3 against the Longhorns since joining them in the Big 12, is just trying to get bowl eligible.
"Our mindset this week, overall and so far this season, really we're trying to go 1-0 each week ... then see where we end up at the end of the season," TCU senior linebacker Jamoi Hodge said. "Same mindset like last year. It's just different results this year."
STUFFING THE RUN
Texas has developed into a truly dominant run defense. Kansas State had only 43 yards rushing last week against the Longhorns, who top the Big 12 allowing 90.7 yards per game.
It all starts with defensive tackles T'Vondre Sweat and Byron Murphy II. Sweat is 360 pounds and Murphy 308, and together they have pushed the line of scrimmage and collapsed pockets around opposing quarterbacks. Of Sweat's 13 tackles, 6 .5 are for losses. Murphy has 2 .5 sacks and even has a touchdown catch this season.
"We have the two most dominant interior defensive linemen in the country," Sarkisian said.
TCU's Emani Bailey is fourth in the Big 12 with just under 101 yards rushing per game. He had a season-low 57 yards on 19 carries in last week's loss at Texas Tech, but his two rushing touchdowns matched his total for the first eight games.
LEARNING CURVE
Second-year freshman quarterback Maalik Murphy is 2-0 as the Texas starter in place of injured Quinn Ewers. Murphy has thrown four touchdowns but also has been intercepted four times and it could have been more. He's been on target with deep throws to Adonai Mitchell but also has looked confused on short and mid-range passes. Sarkisian said he is working with Murphy on when to just throw the ball away to avoid a big mistake. Sarkisian upgraded Ewers' status with a shoulder sprain to "day to day" this week, but gave no timetable for his return.
TCU'S SECOND QB
Josh Hoover, TCU's redshirt freshman, has thrown for more than 350 yards in two of his three starts since Chandler Morris suffered a sprained MCL in his left knee. Hoover is still listed as the starter on this week's depth chart, and Dykes said that is the plan though Morris is healthier. Morris warmed up at Texas Tech last week.
"The big thing we're trying to do this week is just get an evaluation on him," Dykes said. "He clearly wants to play. ... The biggest thing that we have to do is just make sure he's healthy and that we protect him."
MISSING TARGETS
TCU will be without at least three receivers on Saturday. Dylan Wright suffered a lower body injury last week against Texas Tech, when Warren Thompson and Jack Bech were already out with injuries. Dykes said none of them will play against the Longhorns.
___
AP Sports Writer Jim Vertuno contributed to this report.
___
Get alerts on the latest AP Top 25 poll throughout the season. Sign up here
___
AP college football: https://apnews.com/hub/ap-top-25-college-football-poll and https://apnews.com/hub/college-football
"
Article Copyright © 2023 The Associated Press, All Rights Reserved.