Borussia Dortmund keeps bringing out the best in Bayern Munich in Bundesliga
Mon, Nov 6, 2023
Soccer News (AP)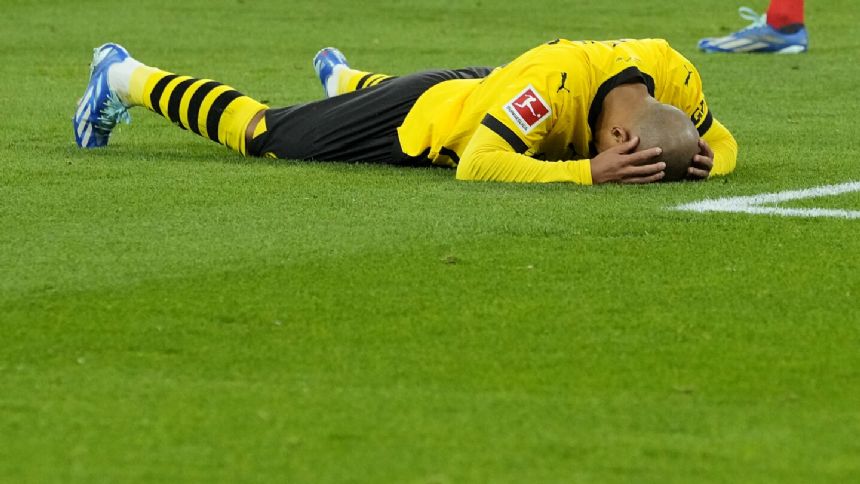 BERLIN (AP) - Though it's scant consolation for Borussia Dortmund, it always brings out the best in Bayern Munich.
Bayern's latest win in "der Klassiker" between the old rivals - a comprehensive 4-0 victory that included a hat trick from Harry Kane - was the 10th consecutive time it emerged unbeaten from their meetings (nine wins, one draw), prompting yet another round of Dortmund soul-searching.
Goalkeeper Gregor Kobel fell into a long silence when asked to explain why Dortmund has consistently failed to trouble Bayern, before acknowledging: "I can't say."
Saturday's defeat was Dortmund's first league loss of the season. It had high hopes going into the game, as it was on a 17-game unbeaten run, had vociferous home support, and Bayern duo Joshua Kimmich (suspended) and Matthijs de Ligt (injured) were missing.
Other news
Reign, Gotham advance to NWSL championship match
Bouanga, Crepeau spark LAFC to 1-0 victory, first-round sweep of Whitecaps
Real Madrid held by Rayo Vallecano at home in Spanish league and drops to second place behind Girona
Dortmund also hoped to capitalize on Bayern's disappointment after the Bavarian powerhouse was surprisingly knocked out of the German Cup by third-division Saarbrucken on Wednesday.
But Dayot Upamecano scored in the fourth minute in Dortmund and Kane got the first of his three goals five minutes later. The England captain completed his hat trick in injury time to put the cap on Bayern's best performance so far this season.
Dortmund only drew one save from Bayern captain Manuel Neuer, who complained afterward he had to wait a long time for Marco Reus' effort in the second half.
"It's a very frustrating evening," Dortmund coach Edin Terzic acknowledged. "To be honest, we were the worse team in all areas."
The statistics showed a relatively even game - Dortmund even had more crosses and efforts at goal - but Bayern has the likes of Kane, Leroy Sane and Jamal Musiala in its attacking lineup, while Upamecano, Kim Min-jae, Alphonso Davies and Noussair Mazraoui kept Dortmund's forwards in check.
Kane, who now has 15 goals in 10 Bundesliga appearances, arrived at Bayern from Tottenham in the offseason in a league-record 100-million-euro transfer, while Dortmund lost its best player, Jude Bellingham, to Real Madrid for a similar amount that could rise to more.
It illustrates the difference between the clubs - Bayern boasts financial reserves unparalleled in the Bundesliga, where its position as the league's most powerful club is becoming increasingly entrenched after winning the last 11 titles.
Any teams hoping to challenge Bayern must hope for a spate of injuries, managerial upheaval, or some other misfortune to befall the defending champion before they can consider ending its dominance.
Even then, Bayern would respond with all its might to restore it, as it did in 2013 with a Bundesliga, German Cup and Champions League treble following Dortmund's back-to-back Bundesliga titles. Bayern has won the German title every year since.
Dortmund squandered a great chance to win the Bundesliga last season, when Bayern was beset by managerial upheaval, by drawing with Mainz on the final day.
Bayer Leverkusen looks the most likely to challenge this time around after making an impressive start to the season under coach Xabi Alonso.
"They've drawn once and won the rest. That's how it looks," Bayern veteran Thomas Muller said.
Leverkusen drew with Bayern 2-2 in Munich in September and dug deep to beat Hoffenheim 3-2 away on Saturday to stay two points ahead of Bayern.
Next weekend, Leverkusen hosts Union Berlin - a team that has lost its last 12 games across all competitions - while Bayern welcomes promoted Heidenheim to Munich.
Before that, however, Bayern will hope to maintain its winning start to the Champions League with a win at home over Galatasaray on Wednesday, while Leverkusen travels to Baku, Azerbaijan on Thursday to play Qarabag in the Europa League.
Dortmund hosts Newcastle in the Champions League on Tuesday before re-starting its Bundesliga campaign at Stuttgart on Saturday. Edin Terzic's team is already five points behind Bayern.
___
AP soccer: https://apnews.com/hub/soccer
"
Article Copyright © 2023 The Associated Press, All Rights Reserved.