Bowles, struggling Buccaneers search for answers to team's longest skid in four years
Mon, Nov 6, 2023
NFL News (AP)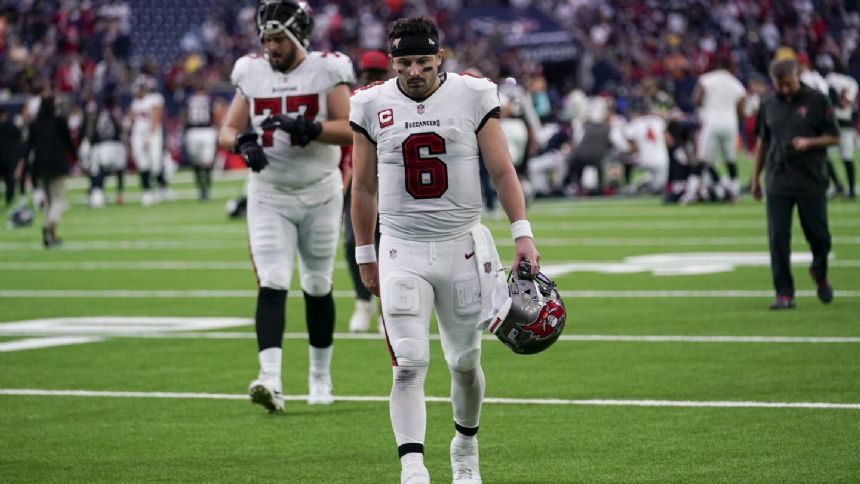 TAMPA, Fla. (AP) - The struggling Tampa Bay Buccaneers are at a loss to explain what's gone wrong after a promising start.
The two-time defending NFC South champions have lost four straight games - five of six overall - after winning three of four to begin the season.
The team's longest skid since 2019, however, has not knocked the Bucs (3-5) out of contention for another division title and what would be a franchise-best fourth consecutive playoff berth.
New Orleans (5-4) leads the NFC South, but the Bucs have beaten Saints once and have a home game remaining against them in late December. Second-place Atlanta (4-5) has beaten Tampa Bay, although the Bucs will have a chance to regain some ground in a road rematch with the Falcons in Week 14.
Other news
Rams falling out of playoff contention with a 3-game skid and Matthew Stafford's absence
Packers increasingly relying on younger players as they approach the midway point of their season
New 49ers edge rusher Chase Young excited for the chance to play for a contender
Not that coach Todd Bowles' focus is entirely on the division race, which Tampa Bay won a year ago with an 8-9 record.
Especially after a normally reliable defense wasted a struggling offense's biggest scoring output of the year in Sunday's 39-37 loss to rookie quarterback C.J. Stroud and the Houston Texans.
Baker Mayfield gave Tampa Bay a 37-33 lead with 46 seconds remaining, only to watch a regressing defense yield a six-play, 75-yard touchdown drive to lose the game.
"Right now, our urgency is to fix the things that went wrong yesterday and the last few weeks, and get ready for Tennessee," Bowles said Monday, looking ahead to Sunday's home game against another rookie quarterback, Will Levis, and the Titans. "All that other stuff will come later."
Without discussing specifics, Bowles reiterated that the team's problems are fixable and not related to a lack of effort or talent.
One thing Bowles said he's not considering is replacing himself as a defensive play-caller. Instead, he stressed that players and coaches have got to "look in the mirror" and do a better job to pull out of the puzzling tailspin.
"We have no one coming to save us. We've got to stay together in the building, go out and work and (perform better) on Sunday," said Bowles, who's in his second year as Bucs coach after serving three seasons as defensive coordinator.
WHAT'S WORKING
Despite the team's scoring woes and current four-game skid, Mayfield has done a good job of minimizing turnovers and has been more effective than many envisioned him being when the Bucs signed him to compete for the starting job that opened when Tom Brady retired. He has completed 64.9% of his passes for 1,865 yards and 12 touchdowns vs. four interceptions.
WHAT NEEDS HELP
Until Sunday, there was a general belief that a sputtering offense was the main reason for the team's losing record. But the defense is responsible, too. Twice in the past three weeks, the veteran-led unit has allowed young quarterbacks to lead game-winning drives after the offense scored late to either tie the score or put Tampa Bay ahead in the final minute.
"It's very disappointing, especially since they've been keeping us in games the past couple of weeks, but (Sunday) it fell apart," Bowles said. "The offense played well and the defense did not. You've got to play well together."
STOCK UP
Scoring a season-high 37 points against the Texans was encouraging. So was tight end Cade Otton catching two TD passes and running back Rachaad White scoring the team's second and third rushing TDs of the season.
STOCK DOWN
The starting secondary of Carlton Davis III, Jamel Dean, Antoine Winfield Jr. and Ryan Neal doesn't have an interception through eight games. Backups Christian Izien and Dee Delaney lead the club with two each. Linebackers Devin White and Shaquil Barrett and defensive lineman William Gholston have one apiece.
"Any time Will Gholston has more interceptions than our starting secondary, you want to get better in that area," Bowles noted last week.
INJURIES
The team is relatively healthy at the season's midpoint. G Matt Feiler (knee) and DL Logan Hall (groin) were inactive against the Texans, while CB Jamel Dean (concussion) left Sunday's game.
KEY NUMBER
17 - Punter Jake Camarda leads the NFL in yards per punt at 52.3. He's pinned opponents inside their own 20-yard line 17 times, which also ranks among the league leaders.
NEXT STEPS
Host Titans on Sunday, looking to break longest losing streak in four years.
___
More AP NFL: https://apnews.com/hub/nfl
"
Article Copyright © 2023 The Associated Press, All Rights Reserved.