Brandon Staley doesn't have much time to answer why Chargers should remain 'All In' on his vision
Mon, Nov 20, 2023
NFL News (AP)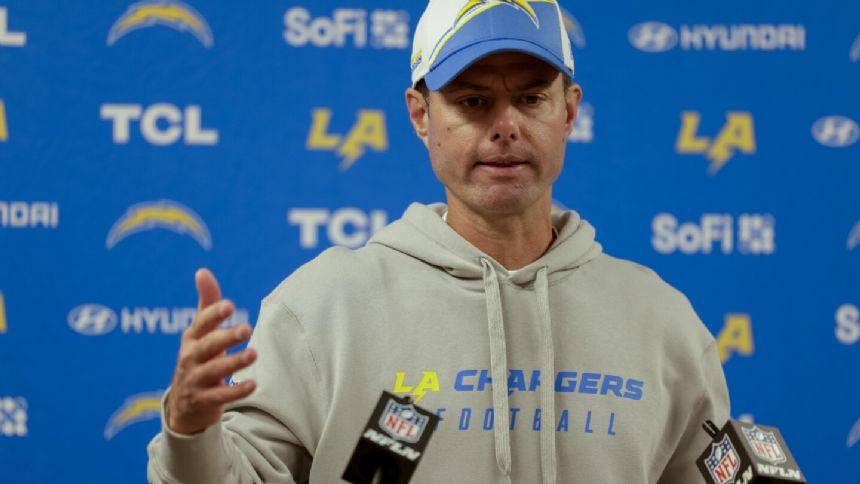 Brandon Staley's self-confidence and bravado endeared himself to Los Angeles Chargers fans during his first two seasons as the team's coach.
Those qualities have also put him on the hot seat after the Chargers' 23-20 loss to the Green Bay Packers, which dropped them to 4-6 and seemingly into free fall.
Staley has been feeling pressure from the media and an impatient fan base since the Chargers blew a 27-point, first-half lead in their 31-30 playoff loss at Jacksonville last season.
It ramped up when the Bolts opened this season with close losses to Miami and Tennessee and hasn't abated.
Other news
Struggling Buccaneers feel sense of urgency to pull out of tailspin and salvage season
Lions have little time to celebrate comeback win over the Bears with Packers up next on Thanksgiving
Gannon-Murray partnership looks promising early, even as losses pile up for Cardinals
After Sunday's game, Staley for the first time turned combative against those who have singled out his defense as a reason why this season has been a disappointment.
The Chargers are ranked 31st in total defense and last against the pass. That puts them on pace for their worst defensive finish in the rankings since 2002, when they were 31st overall and last against the pass.
"I have full confidence in our way of playing. Full confidence in myself as the play-caller and the way that we teach and the way that we scheme. Full confidence in that," said Staley, who is 23-22 leading the Chargers.
When asked for the third time in five weeks if he has considered giving up play-calling duties on defense, Staley told reporters they can stop asking that.
"I'm going to be calling the defenses, so we're clear. So you don't have to ask that again," he said.
Even though Green Bay's Jordan Love had his first 300-yard game in the NFL, and it was the ninth scoring drive allowed by the Chargers in the last four minutes of regulation or in overtime, the defense wasn't the only unit at fault.
Chargers receivers had four critical drops - two inside the Green Bay 5-yard line and the other two on third down. The offense had 150 rushing yards, but 73 were via scrambles by quarterback Justin Herbert.
"We did this as a team. Stop making it about one unit, because that's not what happened out there today," Staley said.
In trying to defend himself, his coaches and his players, Staley took the wrong approach toward a fanbase that that hears what he says but is not seeing results on the field.
"I'm not here to talk to the fanbase. I'm here to talk to my players, the locker room. I know that we give ourselves a chance to win every single week with the game plans that we have. And we have done it here," he said.
The loss, and Denver's comeback victory over Minnesota, dropped the Chargers into last place in the AFC West. Only two of Los Angeles' seven remaining opponents have losing records.
The Chargers started a YouTube documentary series called "All In" when Staley was hired. The next seven weeks will determine if there will be a fourth season or if the team is "All Out" and looking for its fourth coach since 2013.
WHAT'S WORKING
Khalil Mack has posted his first double-digit sack season since 2018 after taking down Love twice. Mack has 11 sacks, which is third in the AFC, and has three games this season with at least two sacks. His career high is 15 with the Raiders in 2015.
WHAT NEEDS HELP
Not drawing defensive penalties. The Chargers have allowed 26 first downs via penalty, tied for second most in the league. Two happened against the Packers, including a pass interference call on Asante Samuel on third-and-20 on Green Bay's 15-yard line in the fourth quarter. The Packers scored the go-ahead touchdown four plays later.
STOCK UP
Stone Smartt. The tight end, who is in his second season, got the start in place of the injured Gerald Everett and had his first NFL touchdown on a 51-yard reception in the second quarter.
STOCK DOWN
WR Quentin Johnston. The first-round pick dropped a critical third-down pass on the final drive that, at worst, would have put the Chargers in field goal range with a chance to send the game to overtime. Johnston was targeted six times and finished with two receptions for 21 yards.
INJURIES
LB Joey Bosa has a foot sprain and is likely to be placed on injured reserve.
KEY NUMBER
18 - Regular-season and playoff games the Chargers have been involved in since the start of 2021 that have been decided by three points or fewer, tied for second-most in the league. They are 6-12.
NEXT STEPS
The Chargers have dropped four of their last five regular-season meetings against the Baltimore Ravens heading into Sunday night's matchup.
___
AP NFL: https://apnews.com/hub/NFL
JOE REEDY Sports writer based in Los Angeles.
twitter
mailto
"
Article Copyright © 2023 The Associated Press, All Rights Reserved.