Brock Purdy and the 49ers get back to early-season form in time for key stretch
Mon, Nov 20, 2023
NFL News (AP)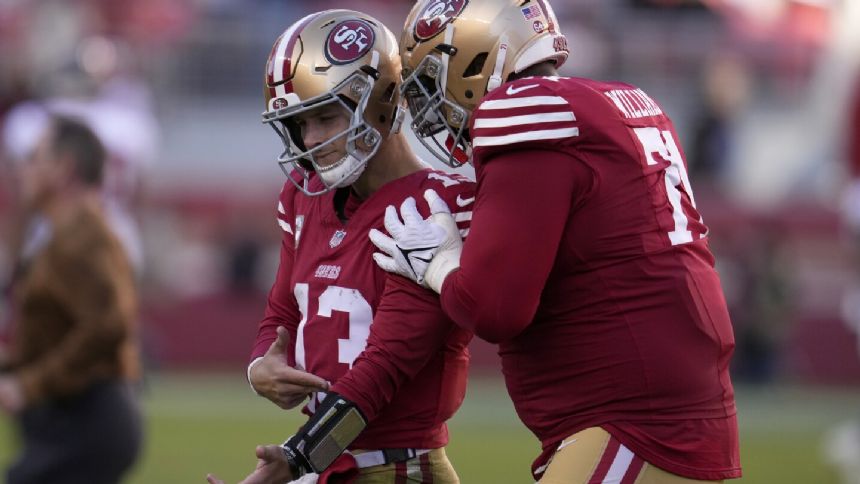 SANTA CLARA, Calif. (AP) - The San Francisco 49ers got back to their early-season form just in time for their most crucial stretch of the regular season.
Thanks to a flawless performance from Brock Purdy, big plays from Brandon Aiyuk and a strong defensive performance, the 49ers beat Tampa Bay 27-14 on Sunday for their second straight convincing win following a three-game losing streak.
"We're taking steps in the right direction," tight end George Kittle said. "We're definitely not there yet."
The 49ers (7-3) will need to get into top form soon if they want to make a run at the No. 1 seed in the NFC. San Francisco begins a tricky three-game stretch with a visit to division rival Seattle on Thursday night, following a trip to defending NFC champion Philadelphia and then a home game against the Seahawks.
Other news
Steelers bring back veteran Myles Jack out of retirement for stretch run
Cowboys taking care of business, have to do it once more before prove-it stretch
Bills coach McDermott says safety Taylor Rapp has chance to play day after neck injury
San Francisco enters this stretch looking much more like the team that began the season 5-0 instead of the one that lost three straight games before a bye week.
The biggest difference has been in the production from Purdy, who threw five interceptions during the losing streak but has been nearly flawless the last two games.
He is 40 for 51 for 629 yards, six touchdowns, no interceptions and a 157.3 passer rating the past two games for the best rating ever over a two-start span.
Coach Kyle Shanahan said he never was worried about Purdy and is pleased that he is still willing to be aggressive even after the turnovers during the losing streak.
"The guy was playing unbelievable in those three losses, so there was nothing to really worry about," Shanahan said. "You just got to make sure he doesn't make up stuff that other people are making up. So you just try to get him to stick with practice, stick with the film and doing what you're doing. He had a couple bad picks in those games but there was none that he felt he had to change with what he was doing because he was playing such a high level in those losses too."
WHAT'S WORKING
Downfield passes. Purdy did far more than just dink and dunk. He completed 7 of 10 throws at least 10 yards downfield, according to NFL Next Gen stats, for 213 yards and two TDs. Purdy has a 120 passer rating on throws at least 10 yards downfield this season for the third-best mark in the league and his 1,482 yards on those throws are also third best.
WHAT NEEDS HELP
Punt coverage. The 49ers allowed a 51-yard punt return by Deven Thompkins in the fourth quarter that nearly led to a score. San Francisco had been solid on punt coverage this season but any slipups could be big during this upcoming stretch.
STOCK UP
Ja'Ayir Brown. The rookie safety had played only 30 defensive snaps all season before being thrust into action in the second half after Talanoa Hufanga went out with an injury. Brown broke up a fourth-down pass to Mike Evans in the end zone and intercepted another throw in the end zone on back-to-back drives in the fourth quarter. He finished with four tackles and three passes defensed.
STOCK DOWN
Red zone offense. The Niners got stopped on two red zone drives in the first half, setting for field goals. That's been an issue of late as San Francisco has scored TDs on only 6 of 14 (242.9%) red zone drives the past four games for the eighth worst rate in the league after being fourth best through the first six games at 69.2%.
INJURIES
Hufanga has a torn ACL in his right and will miss the rest of the season.
KEY NUMBER
11 - The Niners' defenders did a good job getting their hands on balls with 11 passes defensed for the game. That's the highest single-game total for the team since San Francisco had 11 against Arizona on Nov. 13, 2016.
NEXT STEPS
San Francisco visits Seattle on Thursday night looking to win a fourth straight game in the series. The Niners won all three games against the Seahawks last season, including a wild-card playoff win. That's San Francisco's longest winning streak in the series since winning four in a row from 2010-12.
___
AP NFL: https://apnews.com/hub/nfl
JOSH DUBOW Josh is an NFL writer who covers Raiders and 49ers
twitter
mailto
"
Article Copyright © 2023 The Associated Press, All Rights Reserved.