Bryce Harper to play first base full-time for Phillies as franchise moves on from Rhys Hoskins
Wed, Nov 8, 2023
MLB News (AP)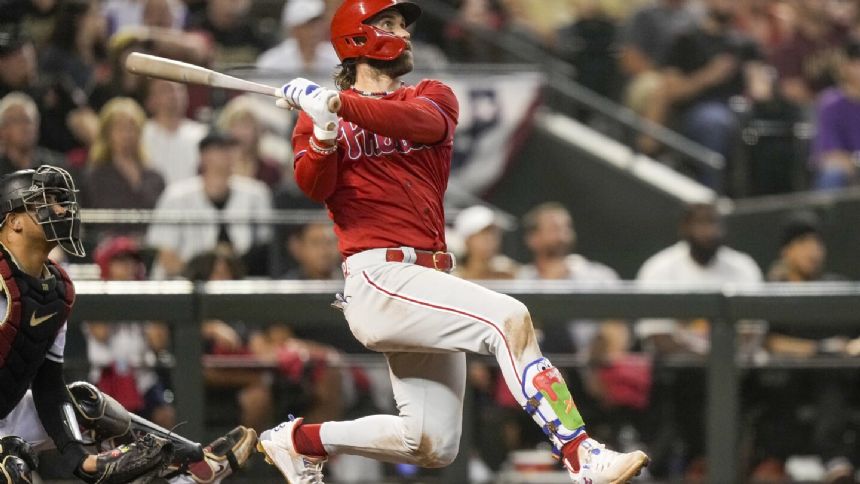 SCOTTSDALE, Ariz. (AP) - The Philadelphia Phillies have decided two-time Most Valuable Player Bryce Harper is the team's first baseman of the future, which means the franchise also is moving on from slugger Rhys Hoskins.
Phillies president of baseball operations Dave Dombrowski said Tuesday the front office and manager Rob Thomson came to the conclusion Harper was the best option at first base. The 31-year-old made 36 starts there this season after Hoskins tore his ACL during spring training.
"We think he projects to be an outstanding first baseman," Dombrowski told the AP at the GM meetings. "He's willing to do whatever for the organization, and we just think for us, it makes us a better club now and as we go forward.
"It gives us a really good, athletic infield that can be together for years."
Other news
Milwaukee's Arnold praises Counsell while discussing how Brewers plan to replace him
The Angels have hired Ron Washington, the 71-year-old's first job as MLB manager since 2014
Ohtani free agency sweepstakes off to a clandestine start at MLB's general manager meetings
Harper, an outfielder his entire career until Tommy John surgery last Nov. 23, made first base a good fit. Returning earlier than expected on May 2, he hit .293 with 21 homers and 72 RBIs in 126 games, helping the Phillies advance to the NL Championship Series before losing to the Arizona Diamondbacks in seven games.
Dombrowski said he's informed Hoskins - now a free agent - about the team's plan. Dombrowski added that there wouldn't be enough at-bats for Hoskins in a lineup that also includes slugger Kyle Schwarber, who takes a lot of plate appearances at designated hitter.
The Phillies are expected to have an experienced, talented infield next season with Harper at first, Bryson Stott at second, Trea Turner at shortstop and Alec Bohm at third.
During the recently-completed playoffs, Harper credited Phillies infield coach Bobby Dickerson for easing his transition to the infield.
"I feel good at first base," Harper said in October. "Working with Bobby every single day and getting me out there every day has been huge. Just trying to be really good over there for the guys in the infield."
___
AP MLB: https://apnews.com/hub/mlb
DAVID BRANDT Sports Reporter based in Phoenix
twitter
mailto
"
Article Copyright © 2023 The Associated Press, All Rights Reserved.