Chile forced to play striker in goal, drops 1-0 game to Mexico in Pan American gold medal match
Fri, Nov 3, 2023
Soccer News (AP)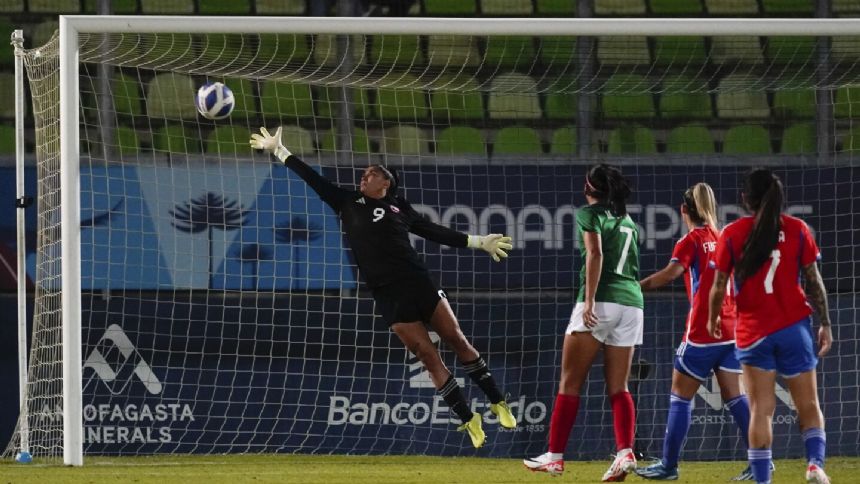 SANTIAGO, Chile (AP) - Chile's women's soccer team had a shot at its biggest achievement in history on Friday in the Pan American Games' gold medal game, but was forced to put a player who usually plays striker in net for the entire match and lost 1-0 to Mexico.
The hosts embarrassingly lost both their goalkeepers to European clubs ahead of the match. Chilean players sat on the pitch to protest the disorganization that led to 29-year-old Maria Jose Urrutia playing the position in their absence, and earned enthusiastic applause from their fans.
Rebeca Bernal scored the only goal for Mexico in the 29th minute at the Elias Figueroa Stadium in the city of Valparaiso, outside Santiago.
The story of the match could have been different if Chile's starting goalkeeper Christiane Endler and her backup Antonia Canales did not have to return to their clubs.
Other news
Ten Hag says Rashford going to a nightclub party after United's heavy City defeat was 'unacceptable'
Bologna snaps Lazio's winning streak with 1-0 victory in Serie A
German club Mainz terminates Anwar El Ghazi's contract over social media posts on Israel-Hamas war
Endler had promised her club Olympique Lyonnais to return to France this week for training. Canales returned to her club Valencia in Spain due to an injury to the team's starting goalkeeper.
Chile was also missing midfielder Karen Araya and defender Camila Saez, who had previous commitments with their club, Real Madrid in Spain.
The Pan American Games women's soccer competition is not a FIFA tournament, which allows clubs to decide whether their players will be eligible and when.
Earlier this week, coach Luis Mena said one of his alternatives to play in goal was striker Franchesca Caniguan. She had some experience in the position playing for local club Rangers, he said.
"That fact is another evidence of the little professionalism and seriousness in the management of women's soccer in Chile," said the country's women's soccer players association. "We know that this would not happen to the men's team and that we would never see the reaction of some media outlets, who said the players were responsible for this."
The United States' Under-19 women's team took the bronze medal with a 2-0 victory over Argentina.
Amalia Villarreal scored in the 30th minute and Claire Hutton added a second in the 37th minute.
___
AP sports: https://apnews.com/sports
"
Article Copyright © 2023 The Associated Press, All Rights Reserved.