Coach Mike Vrabel says rookie Will Levis taking over as the Titans starting QB
Tue, Nov 7, 2023
NFL News (AP)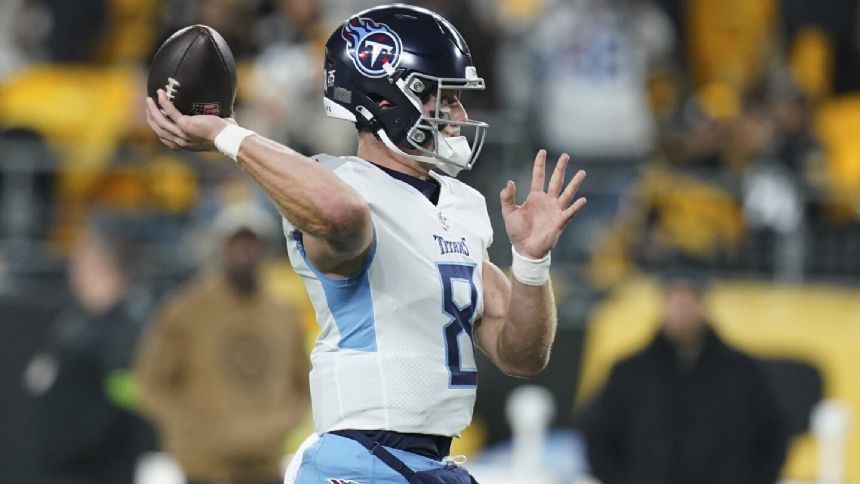 NASHVILLE, Tenn. (AP) - Tennessee coach Mike Vrabel said Tuesday that rookie Will Levis will remain the Titans starting quarterback after two starts in place of injured veteran Ryan Tannehill.
Vrabel announced the starting change and said he already had informed the Titans (3-5) earlier Tuesday. They visit Tampa Bay on Sunday (3-5). The Titans traded up to No. 33 overall to draft Levis in April out of Kentucky.
"We think that's the best opportunity for our football team right now," Vrabel said.
The Titans will see how Tannehill progresses from the right ankle he sprained Oct. 15 in a loss to Baltimore in London. Vrabel said they will see how Tannehill progresses, but expects the 35-year-old veteran to be the backup to Levis.
"That's where we're at right now," Vrabel said.
In two starts, Levis has four touchdown passes and only one interception with 500 yards compared to Tannehill, who had two TD passes and six interceptions in his six starts. Tannehill also is in the final year of his contract.
___
AP NFL: https://apnews.com/hub/NFL
TERESA M. WALKER Sportswriter covering NFL, NHL, NBA, all of TN
twitter
mailto
"
Article Copyright © 2023 The Associated Press, All Rights Reserved.