College Football Picks: 6 games matching ranked teams in rare Statement Saturday in September
Wed, Sep 20, 2023
NCAAF News (AP)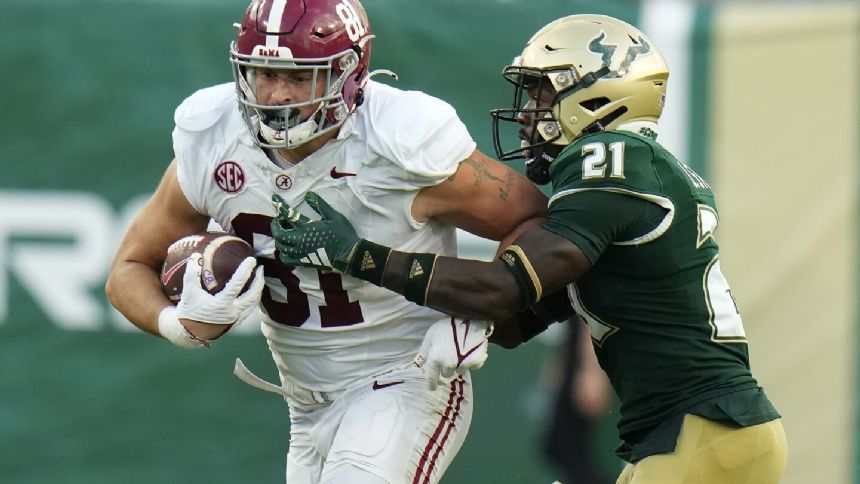 This is a college football weekend to learn some things.
Six games matching teams ranked in the AP Top 25 will be played Saturday. That's one short of a record for one regular-season weekend - not including conference title games - and an opportunity to identify serious playoff contenders, maybe expose pretenders and set the tone for conference races.
Getting six or more ranked vs. ranked games in a weekend isn't all that rare. This will be the 19th time since 2006, but rarely does college football get a Statement Saturday in September.
The last time this many ranked teams squared off this early in the season was Sept. 16, 2006, a weekend highlighted by Oregon's controversial victory over Oklahoma (remember that onside kick, Sooners fans?) and Southeastern Conference slugfests involving Auburn and LSU and Florida and Tennessee.
Other news
Grab the chips and your favorite beverage because a full day of Top 25 games awaits on Week 4 slate
LSU safety Brooks recovering from emergency surgery to have brain tumor removed, family says
No. 4 FSU won't need any help getting up for Clemson, which has won 7 straight in the series
The Pac-12 is the conference grabbing the most oxygen this weekend, with three marquee games, including the latest episode of the smash hit Coach Prime Live.
Beleaguered off the field and torn apart by realignment, the Pac-12 flexed its muscles in nonconference play by going 7-3 against Power Five competition, the only league to come in over .500.
Intrigue is over flowing this week in college football, but here are the most intriguing games.
No. 15 Mississippi at No. 13 Alabama
If Nick Saban's Crimson Tide loses to Lane Kiffin's Rebels, Alabama will probably be unranked next week for the first time since 2007. What could be more intriguing than that?
LINE: Alabama by 7. PICK: ALABAMA 30-21.
No. 6 Ohio State at No. 9 Notre Dame
The Fighting Irish have rarely come up big in these types of games over the last couple of decades. They are 4-19 in top-10 matchups since 1994, including a 21-10 loss to the Buckeyes in Columbus last season.
But when was the last time Notre Dame had the better quarterback in one of these games? Sixth-year senior Sam Hartman might give the Irish an advantage it has rarely if ever had when taking on an elite program.
LINE: Ohio State by 3 1/2. PICK: Notre Dame 31-27.
No. 19 Colorado at No. 10 Oregon
The Ducks have won nine of 10 in the series by an average of 31 points, but Deion Sanders has the Buffaloes more competitive than they have been in years. College football's most interesting, and most watched, team faces its toughest test yet in Autzen Stadium.
LINE: Oregon by 21. PICK: Oregon 45-21.
No. 4 Florida State at Clemson
Clemson's loss to Duke to open the season deprived us of another ranked vs. ranked game, but this one is still thick with intrigue. The Seminoles are trying to retake the Atlantic Coast Conference from the Tigers, who have won the league seven of the last eight seasons.
It is also something of a referendum on the transfer portal with FSU coming in with a portal-powered lineup and Dabo Swinney still building Clemson almost exclusively through recruiting.
LINE: Florida State by 2 1/2. PICK: Florida State 28-24.
No. 14 Oregon State at No. 21 Washington State
America's teams. The Beavers and Cougars have gotten a raw deal as the Pac-12 fell apart, leaving them looking at a future outside the Power Five while the other 10 schools scrambled to new conferences.
The cruel irony is that both appear to be really good. If you don't have a dog in the Pac-12 fight, pull for these teams to both advance to the conference title game for a rematch in December.
LINE: Oregon State by 2 1/2. PICK: Washington State 27-24.
The rest of Saturday's games involving ranked teams and FBS foes, with lines by FanDuel Sportsbook:
UAB (plus 41 1/2) at No. 1 Georgia
Another game that's not going to tell us much about the Bulldogs ... GEORGIA 42-3.
Rutgers at No. 2 Michigan (minus 24 1/2)
Unbeaten Scarlet Knights could be the best team the Wolverines face until November. No, really! ... MICHIGAN 38-10.
No. 3 Texas (minus 14 1/2) at Baylor
Longhorns have lost their last two trips to Waco ... TEXAS 38-20.
No. 5 Southern California (minus 34 1/2) at Arizona State
A week after getting shut out by Fresno State, Sun Devils could be down to QB3 against the Trojans ... USC 52-13.
No. 24 Iowa (plus 14 1/2) at No. 7 Penn State
Hawkeyes-Nittany Lions has developed into an interesting Big Ten rivalry, with four of the last five games being decided by six points or less ... PENN STATE 24-14.
California (plus 21 1/2) at No. 8 Washington
Bears have given the Huskies fits recently, winning two of the last four, all one-possession games ... WASHINGTON 38-21.
No. 22 UCLA (plus 4 1/2) at No. 11 Utah
Utes stayed unbeaten while QB Cam Rising recovered from last season's knee injury. Will he be back for the Pac-12 opener? ... UCLA 28-26.
Arkansas (plus 17 1/2) at No. 12 LSU
Is it November already? It might feel that way for the Hogs and Tigers who have never played this early in a season since Arkansas joined the SEC ... LSU 34-20.
No. 16 Oklahoma (minus 14 1/2) at Cincinnati
Bearcats begin Big 12 play with the conference's heaviest heavyweight ... OKLAHOMA 38-20.
No. 17 North Carolina at Pittsburgh (plus 7 1/2)
Panthers have lost two straight and QB Phil Jurkovec has struggled mightily, completing 46% of his passes ... PITTSBURGH 24-21.
No. 18 Duke (minus 21 1/2) at UConn
Blue Devils are looking for their first 4-0 start since 2018 ... DUKE 34-10.
No. 20 Miami (minus 23 1/2) at Temple
This game was supposed to be the Manny Diaz Bowl. The Hurricanes swiped Diaz away from Temple to be their head coach in 2019, then fired him in 2021. Now he's at Penn State and the 'Canes and Owls are playing ... MIAMI 45-14.
UTSA at No. 23 Tennessee (minus 20 1/2)
Roadrunners are hoping to have injured QB Frank Harris (foot) back ... TENNESSEE 42-17.
Charlotte at No. 25 Florida (minus 27 1/2)
Gators vie for their first three-game winning streak since 2020 ... FLORIDA 49-16.
TWITTER REQUESTS
Memphis (plus 5 1/2) vs. Missouri at St. Louis - @jmaddox_tgt. Mizzou is looking for its first 4-0 start since 2013 ... MISSOURI 31-27.
BYU (plus 9 1/2) at Kansas - @mark_lebaron. Jayhawks are trying to go 4-0 start to a second straight season, which hasn't happened since 1915 ... KANSAS 35-28.
Mississippi State (plus 6 1/2) at South Carolina - @TaylorBlakely2. First meeting since 2016 and what already looks like a pretty important one for the Gamecocks ... SOUTH CAROLINA 24-20.
___
RECORD
Last week: Straight-up - 19-7; Against spread - 12-14.
Season: Straight-up - 55-19; Against spread - 28-46.
___
Follow Ralph D. Russo at https://twitter.com/ralphDrussoAP and listen at http://www.appodcasts.com
___
AP college football: https://apnews.com/hub/college-football and https://apnews.com/hub/ap-top-25-college-football-poll
"
Article Copyright © 2023 The Associated Press, All Rights Reserved.