Corner Picks: Best bets as Atalanta host Inter Milan, Chelsea go to Manchester City and more
Fri, Jan 14, 2022
Soccer News (AP)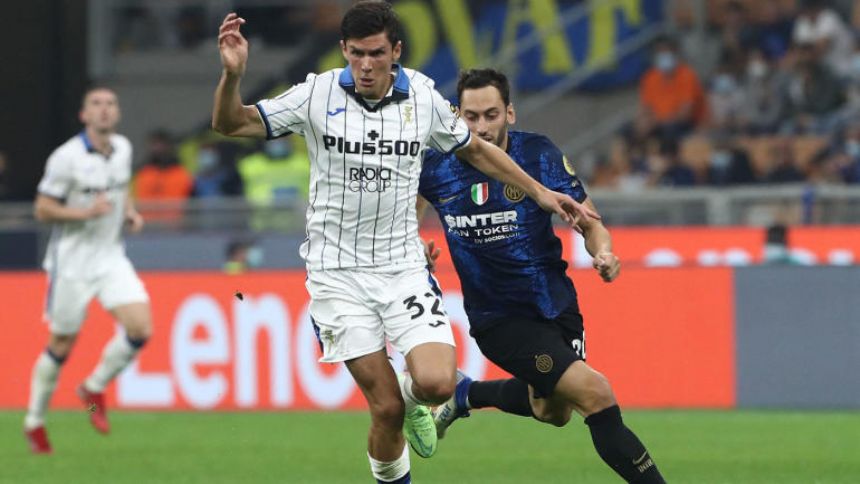 Corner Picks' winter break is over! It's been nearly a month since the last column, but while the picks stopped coming, the soccer kept going. There've been postponements, cup tournaments, transfers, not to mention the Africa Cup of Nations, all of which makes it a little more difficult to handicap league games, but it's a challenge we're willing to face.
One of the bigger problems I've had is with the Africa Cup of Nations. With some teams missing key players -- Liverpool losing both Mo Salah and Sadio Mane, for example -- it's a lot more challenging to get a handle on how they'll look without them. Alas, we shall try anyway. Thankfully there are a billion matches this week to choose from, so finding three worth betting on wasn't too tricky. Let's hope getting them right isn't, either. All odds are via Caesars Sportsbook.
Manchester City vs. Chelsea
Date: Saturday, Jan. 15 | Time: 7:30 a.m. | TV: None | Live Stream: Peacock
For all intents and purposes the race for the Premier League title is over. Manchester City enter the weekend with a 10-point lead on Chelsea and an 11-point lead on Liverpool (though Liverpool has a match in hand). Saturday morning gives City a chance to drive the stake deeper into Chelsea's heart, and I fully expect that to be what happens.
The two driving factors behind that expectation are how Chelsea have performed against other elite clubs and how they've performed away from Stamford Bridge. On the first part, Chelsea have played six matches this season against Manchester City, Liverpool, Manchester United and Juventus (I realize I'm stretching the definition of elite with United and Juve). They've won only once, a 4-0 stomping of Juventus in London. They lost to Juventus in Turin and has managed three draws with Liverpool and United. They lost to Man City 1-0, but the expected goals (xG) in that match tell a much different tale, as Chelsea was "outscored" 1.7-0.3. And while on the subject of xG, Chelsea averages 2.01 xG per match at home in the Premier League this season compared to only 1.65 on the road. Thomas Tuchel plays a much more defensive style away from home, where Chelsea will be this weekend. Trying to absorb pressure against Manchester City typically doesn't work well for anybody. Pick: Manchester City (-145)
Manchester City vs. Chelsea Spread Moneyline Total MCY -0.5 -145 BET NOW -145 BET NOW o2.5 -125 BET NOW CHE +0.5 +115 BET NOW +410 BET NOW u2.5 -105 BET NOW DRAW +280 BET NOW
Tottenham Hotspur vs. Arsenal
Date: Sunday, Jan. 16 | Time: 11:30 a.m. | TV: None | Live Stream: Peacock
Who does one fade when they want to fade them both? That is the question at the core of this choice, and the answer right now is Tottenham. Even if the team has improved under Antonio Conte, this Spurs team still strikes me as a group of bumslayers that cannot be wholly relied upon even to slay the bums. Tottenham opened the season with a surprise win over Manchester City. Since then, they have won 15 more matches across all competitions, but the most impressive has been a 2-1 Carabao Cup victory against West Ham. In the Premier League, Tottenham haven't beaten a team higher than eighth in the table when they beat Wolverhampton...in their second Premier League match. Five of their other eight wins have come against teams currently in the league's bottom five.
Arsenal is not in the bottom five. That said, betting Arsenal here is scary too. They've been horrible on the road compared to at home, but are coming off a scoreless draw at Liverpool in which they were down to 10 men for 65 minutes of the match. And while there's the loss to Nottingham Forest earlier this week in the FA Cup, Arsenal didn't send out a lineup that seemed intent on crushing the competition. I almost wonder if Mikel Arteta's focus is on battling West Ham and Tottenham for that final Champions League spot, not the FA Cup. Before that match, Arsenal had won two straight away matches against Leeds and Norwich. And while it's only Leeds and Norwich, the combined 9-1 score is encouraging. So I'm backing the Gunners to get a result this weekend. Pick: Arsenal or Draw (-167)
Tottenham Hotspur vs. Arsenal Spread Moneyline Total TOT -0.5 +120 BET NOW +116 BET NOW o2.5 -110 BET NOW ARS +0.5 -150 BET NOW +255 BET NOW u2.5 -120 BET NOW DRAW +225 BET NOW
Atalanta vs. Inter Milan
Date: Sunday, Jan. 16 | Time: 2:45 p.m. | TV: None | Live Stream: Paramount+
These are two of the most potent attacks in Serie A. Inter look poised to win its second consecutive Scudetto and lead the league with 42.8 xG on the campaign. Atalanta is third at 35.5 xG, but they have played one fewer match than AC Milan (35.8), so on a per-match basis, they're second. So let's just bet on two teams who score a lot of goals and create a lot of chances to continue doing that. It doesn't hurt that while neither are bad defensively, they aren't elite, either. Inter went on a run where they posted seven clean sheets in eight matches, but context is key. The one match they allowed goals was a 2-0 loss to Real Madrid. The seven shutouts were against lower-tier Serie A clubs except for a 3-0 win over Roma. They've allowed at least a goal in their last two matches against Lazio and Juventus.
As for Atalanta, nobody watches them to see the defense. The average Atalanta match this season -- across all competitions -- has seen 3.41 goals scored. Atalanta are constantly looking to score, and, as a result, they leave themselves vulnerable at the back. Most of the time, it works to their advantage, but it also leads to some terrible defensive performances, particularly against teams as good as Inter. Pick: Over 2.5 (-155)
Weekend Parlay
This weekend's parlay is only three legs, but it pays +142.
Lazio (-225)
PSG (-450)
Roma (-270)

| | | |
| --- | --- | --- |
| | Record | Units |
| Last Week | 2-2 | -0.29 |
| Overall | 28-23 | +5.65 |
Article Copyright © 2022 The Associated Press, All Rights Reserved.