Davante Adams and Maxx Crosby watching best years slip away as Raiders again struggle
Tue, Oct 31, 2023
NFL News (AP)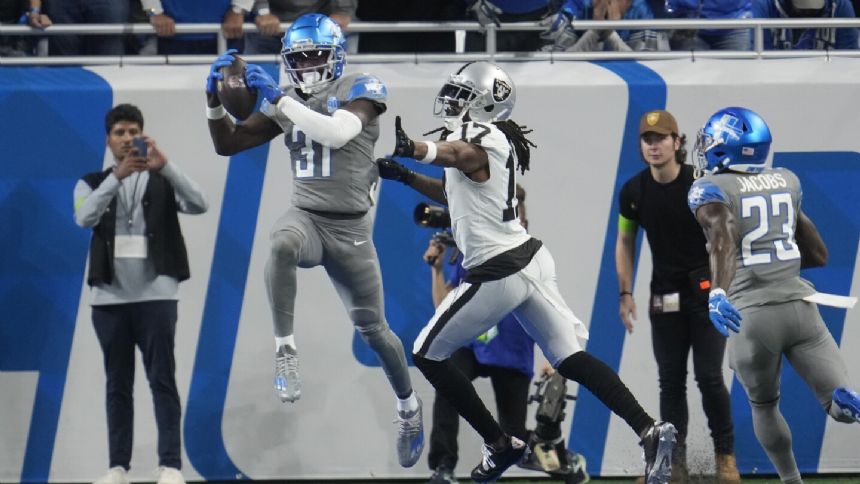 HENDERSON, Nev. (AP) - As the Raiders at 3-5 watch another season likely slip away, their two best players - and two of the best at their positions in the NFL - are watching their peaks years slide right along out of sight.
Davante Adams and Maxx Crosby could have been key pieces for a championship contender elsewhere, but are instead stuck in Las Vegas with a Raiders team that will likely miss the playoffs for the 19th time in 21 years.
Both remained on the roster Tuesday after the league's trade deadline.
Adams has voiced his displeasure since the offseason and he has been careful not to blame the coaches.
Other news
49ers land Chase Young, Bears get Montez Sweat as Commanders unload top pass rushers
Lions couldn't be happier to hit the bye week after 6-2 start
Analysis: Eagles have been NFL's most consistent team despite not playing up to 2022 standard
He had potential touchdowns wiped out in Monday night's 26-14 loss to the Detroit Lions on errant passes from Jimmy Garoppolo. One was underthrown in the end zone and the other two were overthrows after Adams got wide open.
After the last overthrow in which Adams used a brilliant move to get open, he went to the sideline, slammed his helmet and said a few choice words.
Adams didn't have such frustration in his eight seasons in Green Bay catching passes from Aaron Rodgers as he developed into one of the NFL's top receivers. He also was outstanding in his first season in Las Vegas with 100 receptions for 1,516 yards and 14 touchdowns, but this season the subpar quarterback play by Garoppolo and backups Brian Hoyer and Aidan O'Connell has often made Adams irrelevant in games.
Adams, who turns 31 on Christmas Eve, has only one 100-yard game this season, a 13-catch, 172-yard performance in Week 3 against the Pittsburgh Steelers.
Crosby, whose motor never stops running, has spent his entire five-year career with the Raiders. He often has been dominant and against the Lions forced and recovered a fumble and had a tackle for loss.
The Raiders defense has improved this season and kept the offense in the game, but Las Vegas has scored at least 20 points just once in their past nine games.
Crosby, 26, has made no secret he's sick of the losing and aches to play in late-season games that matter. He did that two years ago when the Raiders made the playoffs, but that was the only time.
"We've just got to play better," Crosby said. "As a team, we're not playing good enough right now."
WHAT'S WORKING
The defense has created eight takeaways in the past five games, including three against the Lions. It's quite a turnaround after the Raiders failed to create any over the first three weeks. Las Vegas is on pace to cruise past the 13 takeaways it created last season, tied with the New Orleans Saints for last.
WHAT NEEDS WORK
Every part of the offense. It stinks. All three quarterbacks have struggled, there is virtually no running game, the offensive line has regressed and even Adams dropped two key passes over the past two games. When asked after the loss to the Lions what might spark the offense, running back Josh Jacobs said, "I don't know, that ain't my job."
STOCK UP
Red zone defense. The main reason Detroit didn't lead big going into the fourth quarter was Las Vegas forced field goals on two trips inside the 20-yard line and a fumble in another one. The Lions also settled for field goals twice on the other side of the 50 and had a pass on another drive turn into an interception that was returned for a touchdown.
STOCK DOWN
Pass blocking. Garoppolo was sacked six times, including three times on a fourth-quarter series when it was obvious the Raiders needed to pass. This was the fourth game in which the Raiders allowed at least four sacks.
INJURIES
LB Divine Deablo (ankle) didn't play at Detroit. Coach Josh McDaniels said it was too early to determine his status for this weekend. ... LB Luke Masterson and FB Jakob Johnson each suffered concussions.
KEY NUMBER
20:27 - The amount of possession time the Raiders had against the Lions. That was the Raiders' second lowest this season. Las Vegas had the ball for 19:56 against the Buffalo Bills in Week 2.
NEXT STEPS
The Raiders return home for back-to-back games against both New York City-based teams, beginning with the Giants on Sunday. They are two of the NFL's three lowest-scoring offenses.
___
AP NFL: https://apnews.com/hub/nfl
"
Article Copyright © 2023 The Associated Press, All Rights Reserved.