Dimarco scores long-range wonder goal for Inter and breathes a sigh of relief
Sun, Nov 12, 2023
Soccer News (AP)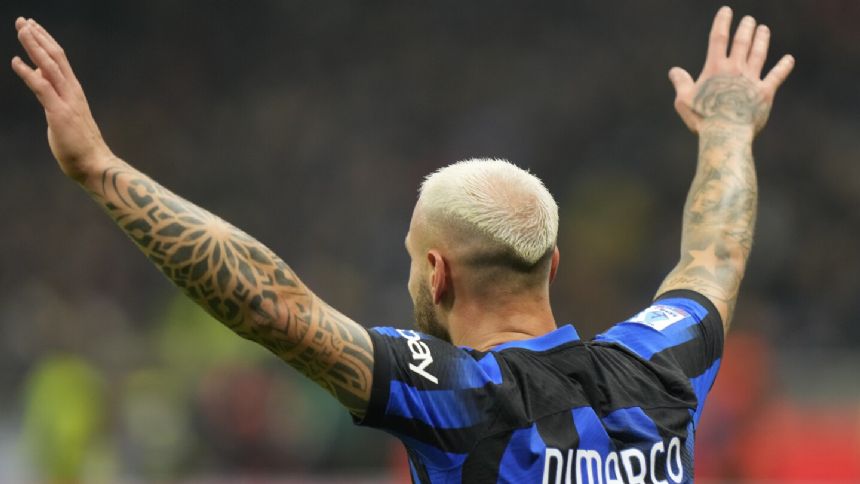 MILAN (AP) - Inter Milan midfielder Federico Dimarco unleashed a strike from near the halfway line and then breathed a sigh of relief when the ball hit the back of the net.
The 26-year-old Dimarco collected the ball just inside his own half and took a few steps forward before letting fly to score an incredible opening goal that had San Siro on its feet on Sunday.
The diagonal shot set Inter on the way to a 2-0 victory over Frosinone and back to the top of Serie A.
"At the start, I saw (teammate) Denzel (Dumfries), then I saw the goalkeeper off the line. At the end, thank God it went in, otherwise I would've got more insults than I could even imagine," Dimarco said. "It is certainly one of my best goals."
Other news
Israel loses to Kosovo in Euro 2024 qualifying game
It's Guardiola vs. Klopp again as Man City and Liverpool top the Premier League
Chelsea's Palmer comes back to haunt Man City in thrilling 4-4 draw
Inter goalkeeper Yann Sommer put his hands on his head in disbelief at the first-half goal, while coach Simone Inzaghi turned round and beamed broadly at his bench.
Frosinone goalkeeper - and lifelong Inter fan - Stefano Turati backpedaled furiously but was left sprawling on his back as the ball sailed into the net.
"It was a stunning goal from Dimarco, and it's something we've got used to seeing from him in training," Inzaghi said.
"It's the kind of goal you rarely see (in matches)."
___
AP soccer: https://apnews.com/hub/Soccer
"
Article Copyright © 2023 The Associated Press, All Rights Reserved.