Giants never a factor in 3rd loss to Eagles this season
Sat, Jan 21, 2023
Other News (AP)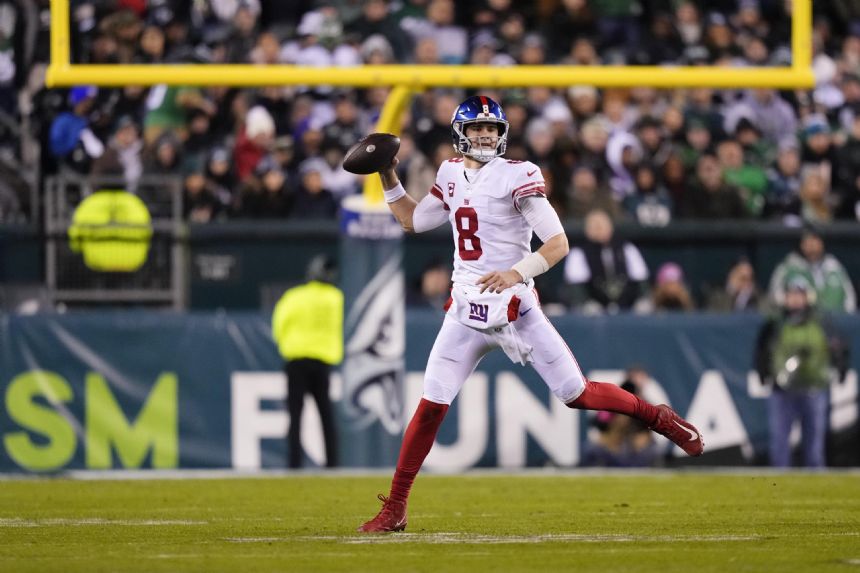 PHILADELPHIA (AP) - With the Giants' season in the balance, coach Brian Daboll punted on a comeback.
Yes, New York was down 21 points early in the fourth quarter, and while the divisional playoff game seemed out of reach, wilder comebacks have been pulled off in the playoffs.
At Philadelphia's 42-yard-line, facing fourth-and-6 with 13:21 left, Daboll decided against going for a first down.
Jamie Gillan punted.
And the Giants got the boot Saturday from the playoffs.
The NFC East wild-card team that was one of the surprises of the season trailed 28-0 at halftime and could never get going against the top-seeded Philadelphia Eagles. Daniel Jones threw for just 135 yards and the Giants fell 38-7, losing to their division rivals for the third time this season.
The Giants were bad from the beginning.
"Bout to put my pads on," Giants great and Hall of Famer Lawrence Taylor tweeted.
L.T. in his prime couldn't have helped these G-Men.
Jones was strip-sacked by Josh Sweat in the waning moments to complete the debacle.
The season still goes down as a win for one of the NFL's signature franchises after years of hard times. In his first year as coach, Daboll took over a team that had five straight losing seasons and led it to the playoffs. The Giants beat the Minnesota Vikings 31-24 last week, their first postseason win since their Super Bowl victory under Tom Coughlin 11 years ago.
The next question for New York: Will Jones be around to build on what he helped start?
The Giants did not pick up the fifth-year option on his rookie deal last offseason, leaving him with a murky future with the organization. Jones, the No. 6 overall pick in the 2019 draft out of Duke, threw for 301 yards and two touchdowns and ran for 78 yards in New York's win over the Vikings. Against the Eagles, Jones was pressured all game and went 15 of 27. He threw one interception -- to former Giant James Bradberry.
The game was essentially lost in the first half.
The Eagles had 258 total yards to New York's 64 at halftime. The Eagles had 18 first downs to only three for the Giants. Oh, and yes, it was 28-0.
Still the decision to punt was confusing for the Giants -- and their fans who hit social media for rapid second-guessing of the coach who had otherwise made so many right calls this season.
Saquon Barkley, who rushed for a career-high 1,312 yards with 10 touchdowns, was held to 61 yards rushing. The four-time Super Bowl champion Giants have lost 10 straight games at Philadelphia, with their 15-7 victory on Oct. 27, 2013, their most recent win there.
___
AP NFL: https://apnews.com/hub/nfl and https://twitter.com/AP_NFL
Article Copyright © 2023 The Associated Press, All Rights Reserved.