Heidenheim beats Werder Bremen 4-2 to claim first-ever Bundesliga win
Sun, Sep 17, 2023
Soccer News (AP)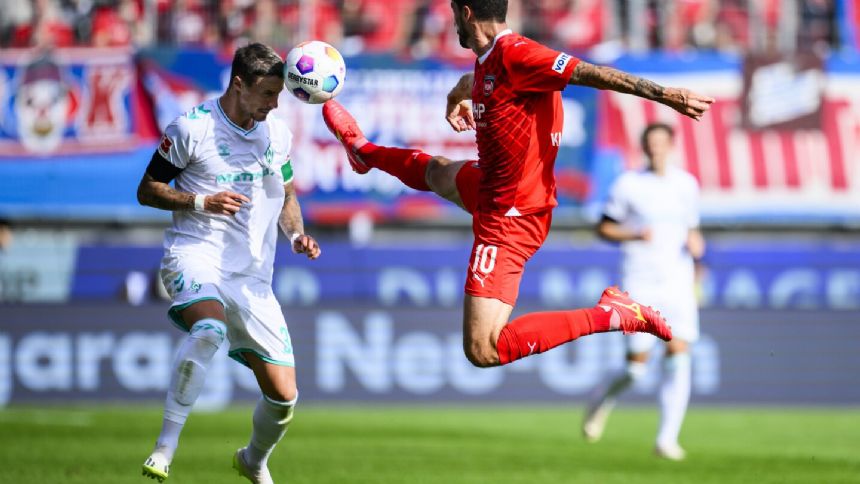 BERLIN (AP) - Promoted Heidenheim claimed its first-ever Bundesliga win Sunday by beating Werder Bremen 4-2 at home with help from former Bremen players.
Eren Dinkci scored twice before Jan-Niklas Beste sealed the win against their former side.
Dinkci did not celebrate after scoring Heidenheim's second goal before the break, but held his hands up as if apologizing to his parent club.
The 21-year-old Dinkci joined Heidenheim on loan from Bremen in the offseason.
Other news
Chelsea out of badly needed luck and goals in 0-0 draw at Bournemouth in Premier League
American forward Balogun's 1st goal for Monaco not enough as Lorient earns 2-2 draw
Ronaldo, Neymar and Benzema set sights on Asian Champions League title
Tim Kleindienst opened the scoring with a penalty in the fifth minute, then sent Dinkci on his way to make it 2-0 on a counterattack.
Marwin Ducksch pulled one back early in the second half when he headed home the rebound from his saved penalty, and Bremen went on to miss further good chances before Mitchell Weiser finally equalized in the 64th.
But Dinkci wasn't finished. Beste crossed for him to score again four minutes later with a low shot inside the right post. This time he celebrated. Beste then made sure of the win in the 76th.
Heidenheim, based in a town of 50,000 inhabitants in the south of Germany, won the second division last season to clinch its first promotion to the Bundesliga.
Borussia Monchengladbach was playing at promoted Darmstadt later.
___
AP soccer: https://apnews.com/hub/soccer
"
Article Copyright © 2023 The Associated Press, All Rights Reserved.