Injured Bears QB Fields will miss his third straight game and Bagent will start again in his place
Mon, Oct 30, 2023
NFL News (AP)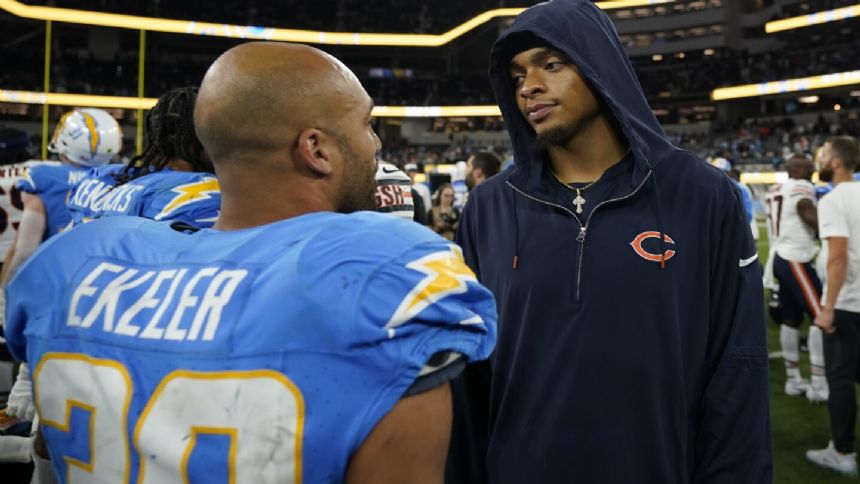 LAKE FOREST, Ill. (AP) - Quarterback Justin Fields will miss his third consecutive game because of a dislocated right thumb, and rookie Tyson Bagent will continue to start in his place when the Chicago Bears visit the New Orleans Saints this week, coach Matt Eberflus said Monday.
Eberflus said Fields remains "week to week" but is "improving." He would not say if Fields has started trying to grip a ball or throw it.
"He's progressing, I can just say that," Eberflus said. "I'm not gonna get into particulars, but he is progressing. We like where it is right now."
Fields was hurt on Chicago's first possession in the third quarter of a Week 6 loss to Minnesota. Bagent, undrafted after a record-setting career at Division II Shepherd, took over in that game.
Other news
The Colts are looking for answers after their 3-game losing streak capped an October to forget
Rookie QB Will Levis' performance gives Titans hope for quicker rebound
Matthew Stafford's injured thumb could be a major blow to Rams' faint hopes of contending this year
He is 56 of 80 for 477 yards, one touchdown, three interceptions and a 73.8 passer rating. He also has two touchdown runs.
The Bears are 1-1 with Bagent as their starter. They beat Las Vegas at Soldier Field last week before losing to the Chargers in Los Angeles on Sunday night.
Fields traveled with the team and participated in the pregame coin toss. He watched from the sideline, wearing sunglasses at night and indoors.
Had the Bears placed him on injured reserve, Fields would have missed at least four games. Eberflus said there's a chance he comes back sooner. After New Orleans, the Bears (2-6) have a Thursday night game against Carolina at Soldier Field.
Eberflus also said Monday that safety Jaquan Brisker is in the concussion protocol after missing the game against the Chargers. Brisker was hurt on a pick play, defending a 2-point conversion pass attempt in Chicago's win over Las Vegas. He was checked for a concussion at the time, and medical personnel determined he did not have one.
Eberflus said Brisker developed a fever Tuesday and the illness subsided late in the week. But he continued to feel "a little bit off." Eberflus said Brisker was tested Monday and entered the concussion protocol.
"I understand that's unique," he said. "I've never had that happen before. But again, he got ill during that process. When he was done being ill, then he still had the symptoms."
___
AP NFL coverage: https://apnews.com/hub/NFL
"
Article Copyright © 2023 The Associated Press, All Rights Reserved.