Interim coach Antonio Pierce bringing a go-for-it attitude to the Raiders
Wed, Nov 15, 2023
NFL News (AP)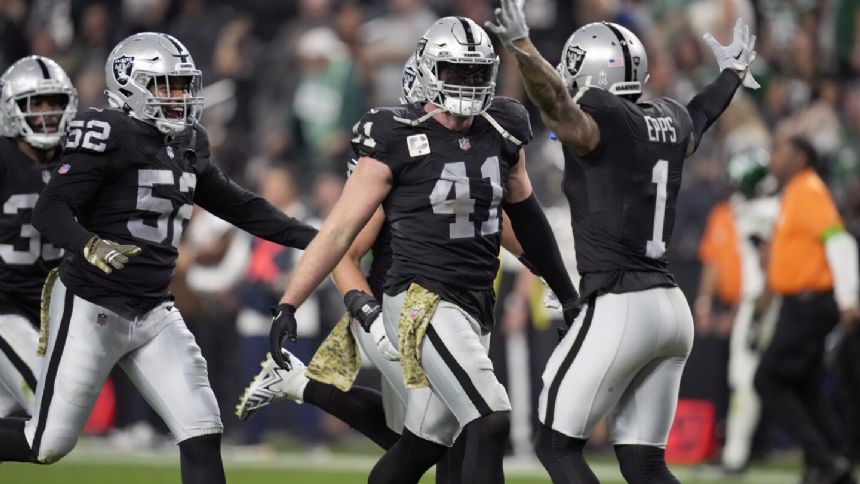 HENDERSON, Nev. (AP) - Antonio Pierce exudes a go-for-it attitude that had been missing before he took over as Las Vegas' interim coach two weeks ago.
The Raiders aren't playing not to lose like they often did under Josh McDaniels, and that was clear on two plays in Sunday night's 16-12 victory over the New York Jets.
The first occurred on the first drive of the third quarter. Jets quarterback Zach Wilson had just completed a 17-yard pass to New York's 31, setting up a fourth-and-4 and almost certain punt. Holding was called on the Jets, and most opposing teams in that situation would've declined the penalty and sent out its punt return unit.
But Raiders defensive players wanted to stay on the field - and they convinced Pierce to accept the penalty. That moved the Jets back to their 13, and after a 6-yard gain on the next play, New York did indeed punt.
Other news
Tommy DeVito is looking to build off 2-touchdown game when the Giants face Washington
Chargers rookie Quentin Johnston hopes first NFL TD carries momentum for rest of season
Another notable mark on the career resume of Seattle's Bobby Wagner is sitting on the horizon
"When they have that kind of conviction, you go with your players," Pierce said. "That's all I did right there, and then kind of played the field-position game thinking that we will have a positive play. It was plus-12 on that series for us after taking that penalty, so that was a plus."
It also was a tone-setter.
Though the Raiders didn't go far with their next drive, the field position remained in their favor. That meant the Jets again were deep in their territory on their following series. After they again punted, the Raiders took advantage of getting the ball in New York territory to set up the tying field goal.
"We trust our defense," defensive end Malcolm Koonce said. "It's always a great feeling when the coaches back you."
The other play occurred in the fourth quarter as the Raiders - who visit the Miami Dolphins on Sunday - were trying to put away the game while leading 16-12.
They scored the game's lone touchdown on their previous drive and again were moving down the field as the Jets defense appeared to be tiring. Facing fourth-and-1 at the Raiders' 44, Las Vegas decided to go for it, even if failing to pick up the first down would mean the Jets would have outstanding field position.
"I felt we had the momentum," Pierce said. "I felt that we were leaning on them a little bit more and we had a good play designed for that situation."
It definitely worked out that way.
Wide receiver DeAndre Carter lined up close behind quarterback Aidan O'Connell, as if the Raiders were going to use the tush push. O'Connell instead handed the ball to Carter, who ran around the left end for a 15-yard gain.
If not for a Josh Jacobs fumble four plays later that New York recovered, that first down would've been critical to the Raiders likely either extending their lead to a touchdown or making it a two-possession game.
"It shows that (Pierce) has good belief in us as an offense in our ability to execute in those short-yardage situations," wide receiver Davante Adams said. "Obviously, that's not something we want to do every time we're down there, but ... sometimes it's a good way to establish our line of scrimmage and just kind of establish the style of play we're coming with for the game."
Pierce, a former nine-year veteran for Washington and the New York Giants, often still comes off as a linebacker the way he approaches coaching.
But Pierce pushed back by saying those two plays - the decision to back up the Jets rather than take the punt and to go for the first down in his territory - are indicative of an aggressive mindset.
"It's kind of a gut," Pierce said. "I was going off the feel of the game."
Either way, he wasn't playing not to lose.
CROSBY CREATES FOUNDATION
Raiders defensive end Maxx Crosby announced the creation of a foundation in his name. The Maxx Crosby Foundation is a nonprofit that focuses on a number of charitable causes, including teen substance abuse, youth health and animal rescue and abuse prevention in Southern Nevada, Eastern Michigan and North Texas.
"It's about leaving a legacy and helping people in need," Crosby said. "A lot of people helped me get to where I'm at today, so for me, it's about giving back. I feel at the end of the day, whatever you put into the world comes back twofold. This is the beginning of what's to come."
Crosby and his wife, Rachel, announced last month they were donating $1 million to Eastern Michigan University's athletic department, their alma mater. Eastern Michigan is naming its field after Crosby.
___
AP NFL: https://apnews.com/hub/NFL
"
Article Copyright © 2023 The Associated Press, All Rights Reserved.