Iowa rallies in fourth quarter to defeat Illinois, 15-13, and clinch Big Ten West title
Sun, Nov 19, 2023
NCAAF News (AP)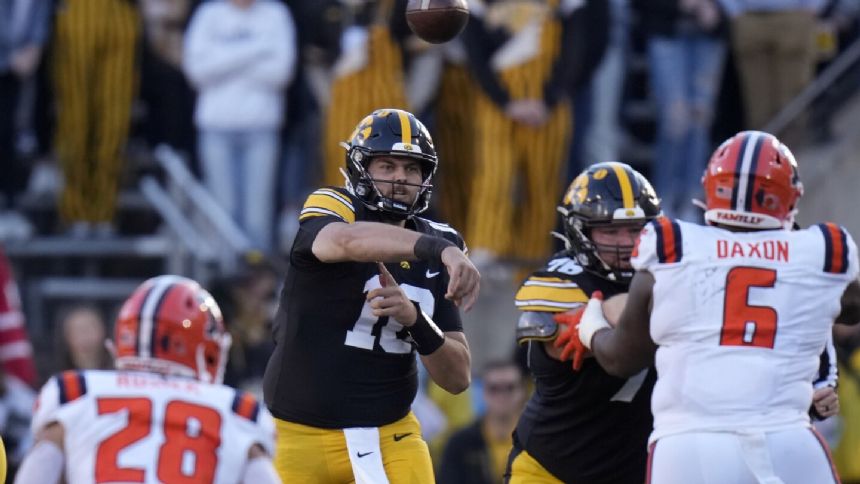 IOWA CITY, Iowa (AP) - Kaleb Johnson's 30-yard touchdown run with 4:43 to play gave Iowa a 15-13 win over Illinois on Saturday, clinching the Big Ten West Division title for the Hawkeyes.
Iowa (9-2, 6-2 Big Ten) won its third division title, and its second in three years, earning a trip to the Big Ten championship game on Dec. 2 in Indianapolis.
The win touched off an emotional celebration in the Iowa locker room, where coach Kirk Ferentz was handed the game ball by defensive coordinator Phil Parker.
The problem, quarterback Deacon Hill said, was finding a ball to hand out.
Other news
Cook drives No. 11 Missouri to winning field goal with 5 seconds left for 33-31 victory over Florida
Jayden Daniels piles up over 500 total yards, powers No. 15 LSU past Georgia State 56-14
No. 7 Texas stays alone atop Big 12 after pulling away from Iowa State for a 26-16 win
"It took us, I think, about five minutes," Hill said, smiling. "Everybody was cheering, the water was flying. It was awesome for him."
"We've gone through some bumps, had some things happen throughout the season," said Ferentz, who picked up his 195th Big Ten win, moving him past Bo Schembechler for third place all-time. "No matter what, these guys stayed together.
The Hawkeyes have had to survive injuries to key players - quarterback Cade McNamara, tight ends Luke Lachey and Erick All, and cornerback Cooper DeJean all have suffered season-ending injuries. Iowa interim athletics director Beth Goetz announced on Oct. 30 that offensive coordinator Brian Ferentz would be out of a job at the end of the season.
The Hawkeyes' two losses - a 31-0 defeat to Penn State on Sept. 23 and a 12-10 defeat to Minnesota on Oct. 21 - came at times when the season seemed to be getting away.
"I said (after the Penn State game) that all of our goals were still out there in front of us and we could still be Big Ten West champs, we could still be Big Ten champs," defensive end Joe Evans said. "I'm not sure how well that went with some people - I'm sure they laughed at us. But look at us now."
Johnson had just four carries for 6 yards before breaking loose down the right side for the go-ahead score.
"I just saw green grass, so I ran," Johnson said. "That's my thing - when I see green grass, I run."
Drew Stevens missed the extra point after the touchdown, giving Illinois (5-6, 3-5) a chance to win the game with a field goal. But John Paddock threw an incomplete pass on fourth-and-2 from his team's 33-yard line on the next possession, giving the ball back to the Hawkeyes with 3:44 to play.
Illinois coach Bret Bielema said he had decided on the play before that he would go for it on fourth down.
"The offense felt strong at that point," Bielema said. "We failed to execute it, but we knew we still had. a chance to stop them."
Johnson then had a 12-yard run for a first down on Iowa's ensuing possession, and the Hawkeyes ran out the clock.
Iowa, ranked 130th in the nation in total offense, outgained the Illini 281-280. The Hawkeyes got their other points on a first-quarter safety when Paddock was sacked in the end zone, and on Deacon Hill's 4-yard touchdown pass to tight end Addison Ostrenga in the second quarter.
Illinois got a 1-yard touchdown run by Reggie Love III in the second quarter and two field goals from Caleb Griffin for its points.
The Hawkeyes close the regular season on Friday at Nebraska, carrying a division championship with them.
"I have played on some really great teams," Evans said. "But we just kept fighting. This team, we just keep coming, keep coming. I'm proud of these guys."
BIG PICTURE
Illinois: The Illini, needing a win to become bowl-eligible for the second consecutive season, kept the Hawkeyes from doing much on offense until Johnson's run. Paddock looked comfortable in a starting role on the road, finding openings in Iowa's defense with short passes all day. "The majority of the game was good," Bielema said. "But this week is going to be a gut-check for us."
Iowa: The Hawkeyes, 16th in the College Football Playoff rankings, could move into the Associated Press poll this week after being at the top of the list of others receiving votes this week. They have figured out ways to win in this current three-game winning streak, and this game was no different. Iowa has won 17 of its last 18 games in November dating back to 2019.
UP NEXT
Illinois: Hosts Northwestern next Saturday.
Iowa: At Nebraska next Friday.
___ Get alerts on the latest AP Top 25 poll throughout the season. Sign up here ___ AP college football: https://apnews.com/hub/ap-top-25-college-football-poll and https://apnews.com/hub/college-football
"
Article Copyright © 2023 The Associated Press, All Rights Reserved.