Jamal Murray edging closer to return from hamstring injury and will join Nuggets on 5-game trip
Thu, Nov 16, 2023
NBA News (AP)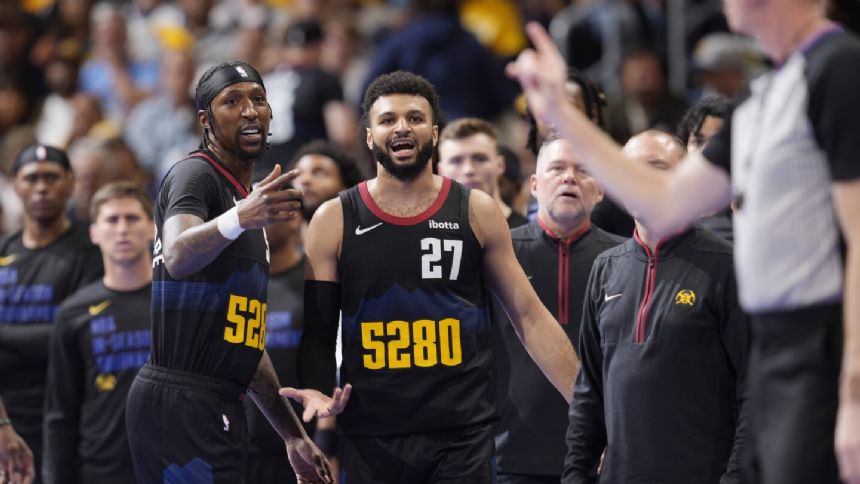 DENVER (AP) - Jamal Murray is edging closer to a return from a hamstring injury and will join the Denver Nuggets on their upcoming five-game trip.
Nuggets coach Michael Malone said Thursday after practice that he wasn't sure if his dynamic point guard would play during the long road excursion that kicks off Friday at New Orleans as part of the In-Season Tournament.
"But I know from all the reports I'm getting, he's really working hard to get back and making positive strides every day," said Malone, whose team is 2-0 in the inaugural in-season tournament so far.
Murray and two-time NBA MVP Nikola Jokic helped guide the Nuggets to the franchise's first championship last season. Murray averaged 26.1 points during a postseason run in which the Nuggets went 16-4.
Other news
Hornets F Miles Bridges set to return after sitting out last season and serving 10-game suspension
Kings overcome LeBron's triple-double, hold on in 4th quarter for 125-110 win over Lakers
Mitchell has 34 points and Cavaliers end road trip with 109-95 win over Portland
The 26-year-old Murray was off to a sizzling start this season, averaging 16.3 points and 7.4 assists, when he tweaked his hamstring on Nov. 4 against Chicago. The team has been taking a cautious approach with his recovery. Murray missed the entire 2021-22 season as he recovered from a torn ACL.
Denver has gone 3-1 so far in Murray's absence, with veteran Reggie Jackson taking his place in the starting lineup. Jackson has averaged 14.8 points over the span to help the Nuggets stay atop the Western Conference standings (9-2).
"When guys go down to injury, especially when a guy is out for an extended period of time, you need guys to step up," Malone said. "Reggie is a veteran. He's played a lot of big games in his career. And the job he's done stepping in with that starting unit, and also anchoring that second unit - he's just been terrific across the board."
Rookie Jalen Pickett saw his role expand in a win over the Los Angeles Clippers on Tuesday night, when he had five points in nearly 17 minutes of action. He said the pointers from Murray have been instrumental in lessening his learning curve.
"He's been telling me stuff since this summer," explained Pickett, the 32nd overall pick in the 2023 draft out of Penn State. "Seeing (Murray) just come into that leadership role, even though he's hurts, and to still be on the bench and helping me is great."
Collin Gillespie has also seen more playing time in Murray's absence after sitting out last season while he recovered from a broken leg. Gillespie played a season-high 20 minutes in a loss at Houston last Sunday (he didn't play against the Clippers).
Michael Porter Jr. believes getting the younger players time on the court now - including Julian Strawther - will only pay off later.
"It's a long season and there's going to be guys that miss games," Porter said. "And when guys have reps, different roles, it's always good. So I think it's been good for a lot of different guys, not just Reggie, but Collin, getting some minutes, Jalen getting some minutes. A lot of different guys have stepped up."
___
AP NBA: https://apnews.com/hub/nba
"
Article Copyright © 2023 The Associated Press, All Rights Reserved.