James Harden determined to fit in on Clippers' loaded roster after messy Philadelphia exit
Thu, Nov 2, 2023
NBA News (AP)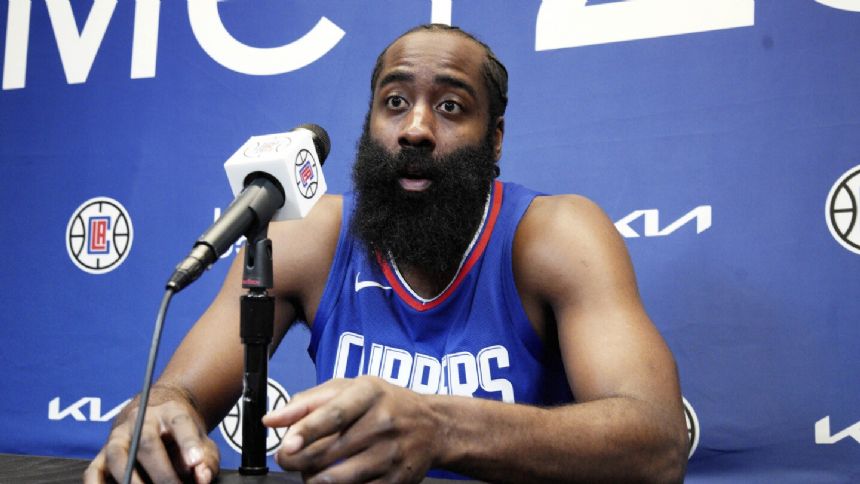 LOS ANGELES (AP) - Even more than his stints in Brooklyn and Philadelphia, James Harden believes he has much more to prove in joining the Los Angeles Clippers.
Not only is Harden back home in Southern California, but he joins a loaded roster that already features Kawhi Leonard, Paul George and Russell Westbrook.
While the "Big Three" of Harden, Kevin Durant and Kyrie Irving didn't work in Brooklyn and teaming up with Joel Embiid in Philadelphia ended with some rancor, Harden says he is determined to do his part to see that this "Core Four" can win an NBA title.
"I'm very elite as an individual and then I can fit in with anybody and make a championship run work," Harden said Thursday after practice at the team's facility. "I think all of us are on the same page in the sense of the individual stats and all those things are past us and we all got one goal and I think everybody knows what that is."
Other news
Pelicans scratch Zion Williamson from Pistons matchup, Brandon Ingram is questionable
Walter Davis, five-time NBA All-Star and North Carolina standout, dies at 69
The NBA's In-Season Tournament is finally set to begin, giving teams another trophy shot
It was Harden's first comments since the trade happened late Monday night. Harden arrived in Los Angeles on Tuesday before the Clippers faced the Orlando Magic and watched from the bench Wednesday night when the Clippers lost to the Lakers in overtime.
Harden also realizes the narrative around him is polarizing based on the falling outs with his previous teams. The 34-year old guard is a 10-time All-Star and the NBA's MVP in 2018, but is on his fourth team in three years.
The relationship with the Sixers fractured over the offseason. He believed he should have earned a long-term contract and had a falling out with Daryl Morey, the Sixers' president of basketball operations. Harden called Morey a liar at an August promotional event in China and was determined to force a trade to Los Angeles.
"The front office had other plans,. They didn't want me, and it is that simple. There's a lot of narratives," he said. "But none of that is true and I'm not the type to go back and forth or be explaining to myself because you're always going to take something out of what I say and make it into a different story. Long story short, I'm happy I'm here."
Nick Nurse, in his first year as Philadelphia's coach, said Thursday that he thought his chances of working with Harden in a game were pretty low. Nurse made wave motions with his hands in discussing the ebbs and flows of the offseason.
Q: Did you ever really believe that you would get a chance to coach James in a game this year?
"When he opted in, I said, 'OK, we get a chance to coach him.' Then the stuff happened and I went, oh. Up and down, up and down a little bit. There were times, yeah, when I thought for sure. Then he showed up in practice," Nurse said. "I will say this, he was in shape, worked extremely hard, was extremely professional while he was here and he looked awesome. He really did, while he was here. We just never got to the game part of it all."
Harden has spent the past couple days getting up to speed with coach Tyron Lue and his staff. The Clippers are on the road for the next three games, but don't play again until Monday when they face the New York Knicks.
That allows a couple days to figure out how everyone will get on the same page. Harden said the main thing he is looking for out of Lue is trust and someone who understands him.
"I'm just not a system player; I am a system. You know what I mean?," Harden said. "So somebody that can have that dialogue with me and understand and move forward and figure out and make adjustments on the fly throughout the course of games, that's all I really care about. It's not about me scoring."
___
AP NBA: https://apnews.com/hub/nba
JOE REEDY Sports writer based in Los Angeles.
twitter
mailto
"
Article Copyright © 2023 The Associated Press, All Rights Reserved.