Jenner, Gudbranson score in 2-minute span in 3rd period, Blue Jackets rally to beat Lightning 4-2
Thu, Nov 2, 2023
NHL News (AP)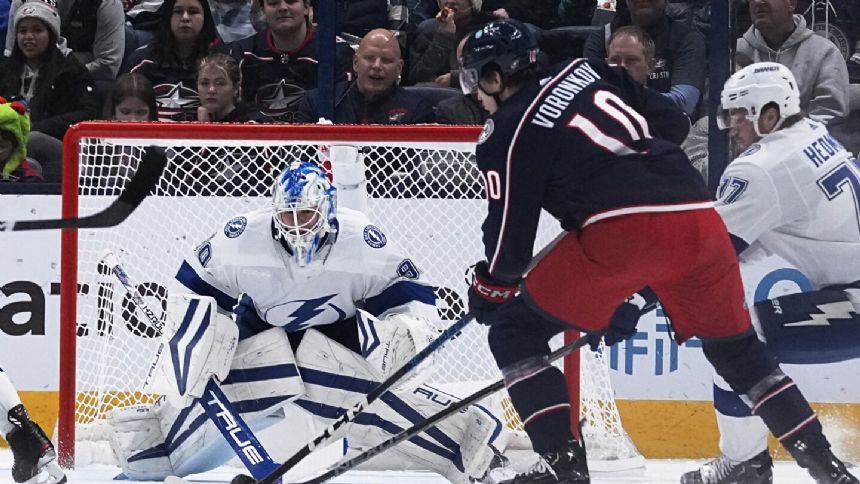 COLUMBUS, Ohio (AP) - Boone Jenner and Eric Gudbranson scored 2:17 apart in the third period and the Columbus Blue Jackets snapped a four-game skid with a 4-2 come-from-behind win over the Tampa Bay Lightning on Thursday night.
Kirill Marchenko scored in the first period, Johnny Gaudreau added a goal, and Elvis Merzlikins stopped 27 shots for his first win since Oct. 21.
Steven Stamkos and Conor Sheary scored in the second period for the Lightning, who have lost two straight and all four of their road games. Former Ohio State University goaltender Matt Tomkins returned to the Buckeye State and stopped 24 shots.
"To come back the way we did in the third, that response, facing the adversity and how we dealt with it, that's what we're looking for," Blue Jackets coach Pascale Vincent said. "That's the type of win that builds character and builds confidence that says, 'OK, we did it once we can do it over and over and over.'"
Other news
DeBrusk, Coyle score in the shootout, leading the Bruins to a 3-2 win over the Maple Leafs
Cuylle scores tiebreaking goal in 3rd as Rangers beat Hurricanes 2-1
Islanders end the Capitals' winning streak at 3 with a 3-0 shutout
The Blue Jackets peppered Tomkins with 12 shots early in the first period before Marchenko found the back of the net at 6:29 for his first goal of the season off the passing of Dmitri Voronkov and Cole Sillinger.
Marchenko, who was a healthy scratch in the Blue Jackets' two previous games, has scored in all three games he has played against the Lightning. Voronkov notched points in three of his first four NHL games.
The Lightning pulled ahead with a pair of goals in the first 4:42 of the second period. Stamkos scored with 2:53 elapsed, after a puck ricocheted off the skate of Columbus' Damon Severson in front of the crease. A shot by Stamkos ricocheted off a skate and onto the stick of Sheary, who scored less than two minutes later.
Columbus roared back in the third. Jenner scored at 6:41, followed by Gudbranson, whose shot from the right circle at 9:24 snapped a 58-game scoring drought.
"I thought we came out in the third and had some good juice," Jenner said. "We were playing on our toes and to get rewarded was good. We come back with a couple of good shifts and bang, we get another one. I like the response from us."
Gaudreau's empty-netter with 2:11 remaining, his first score of the season, sealed the win.
"We didn't have any push," Tampa Bay coach Jon Cooper said. "We haven't taken penalties all year, and we found a way to take three in the third. If you want to give yourself a chance to lose, those are some of the things we're doing which is why we're losing games.
"We're playing 55 minutes of good hockey and five not so good, and it's burning us."
UP NEXT
Lightning: At Ottawa Senators on Saturday.
Blue Jackets: At Washington Capitals on Saturday.
___
AP NHL: https://apnews.com/hub/nhl
"
Article Copyright © 2023 The Associated Press, All Rights Reserved.