Jets' Rodgers using doubters as motivation and indicates he'll play again after torn Achilles tendon
Fri, Sep 15, 2023
NFL News (AP)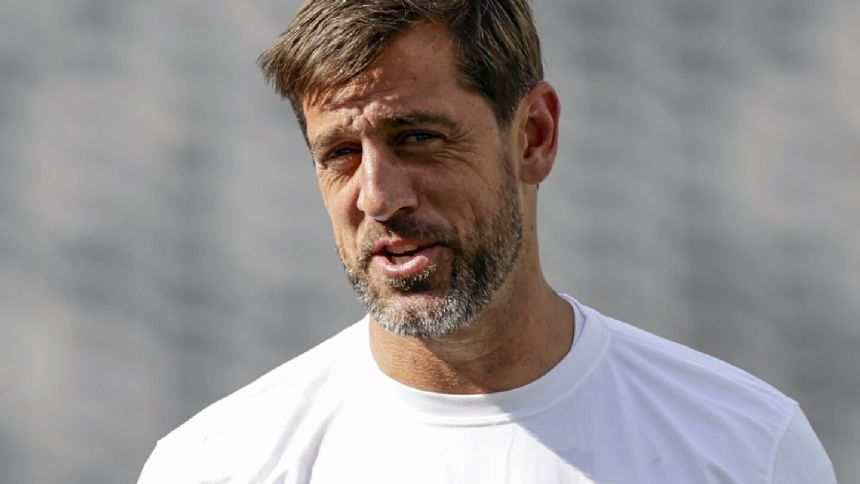 FLORHAM PARK, N.J. (AP) - New York Jets quarterback Aaron Rodgers says he'll use doubters as motivation in his rehabilitation from Achilles tendon surgery and indicates he'll play football again - perhaps even this season.
Rodgers tore his left Achilles tendon on the fourth snap of his debut with his new team on Monday night, a 22-16 overtime victory over Buffalo. The four-time NFL MVP had surgery Wednesday in Los Angeles.
"I think what I'd like to say is, give me the doubts," Rodgers said in an appearance on ESPN's "The Pat McAfee Show" on Friday. "Give me the timetables. Give me all the things that you think can, should or will happen because all I need is that one little extra percent of inspiration. That's all I need.
"So give me your doubts, give me your prognostications and then watch what I do."
Other news
Jets QB Aaron Rodgers announces he had surgery to repair torn Achilles tendon
Prescott, Cowboys tasked with avoiding letdown of no Rodgers in home opener against Wilson, Jets
Jets' Zach Wilson is stepping in for Aaron Rodgers with renewed confidence and swagger
Rodgers' surgery was performed by Dr. Neal ElAttrache, an orthopedic surgeon based in Los Angeles who has worked with numerous professional athletes during his career. The 39-year-old quarterback faces a long, arduous recovery and rehabilitation from the injury.
"Definitely some odds stacked against me based on age, but I like it," Rodgers said. "Stack all the odds up against me and see what happens."
He said he has spoken to several people who have had a similar injury and rehabilitation process.
"My entire focus and dedication is on acquiring the most information," Rodgers said. "And then adding to what I've already put together is a pretty damn good rehab plan that's going to, I think, shock some people."
Rodgers wouldn't put any timetables on his return, but he made it clear he intends to play football again. He was asked if he means this season - if the Jets make it to the playoffs.
"I'm not going to make any of those statements," Rodgers said. "I don't feel like that's fair to myself. I think, as Kevin Garnett said, anything's possible."
___
AP NFL: https://apnews.com/hub/NFL
DENNIS WASZAK Jr. Dennis is a pro football writer who covers the Jets and NFL
twitter
mailto
"
Article Copyright © 2023 The Associated Press, All Rights Reserved.