Joe Espada introduced as manager of Astros, replacing Dusty Baker, who retired last month
Mon, Nov 13, 2023
MLB News (AP)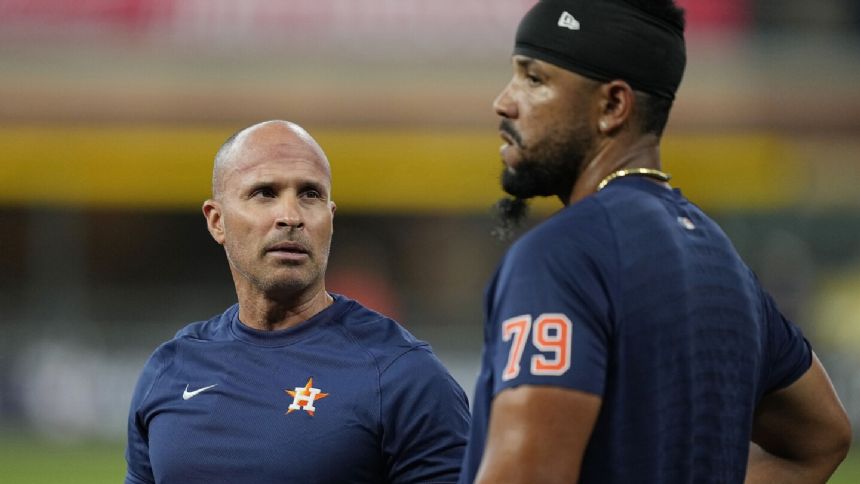 HOUSTON (AP) - Joe Espada was introduced as manager of the Houston Astros on Monday, replacing Dusty Baker, who retired last month.
"I'm humbled by this," Espada said. "This is a dream come true. I just can't express my feelings about how happy I am to get to stay here and manage this team."
It's the first managerial position for the 48-year-old Espada, who has been Houston's bench coach since 2018.
The Astros have advanced to the AL Championship Series in seven straight seasons and reached the World Series in 2021 and 2022, winning their second title in 2022.
Other news
For Craig Counsell, the chance to manage the Cubs was one he couldn't pass up
Astros will promote bench coach Joe Espada to be manager, replacing Dusty Baker, AP source says
Giants add former star Matt Williams to new manager Bob Melvin's coaching staff
"We wanted to continue the success here in Houston. ... We came up with the right man for the job. Our fans deserve it," general manager Dana Brown said.
Espada began his coaching career in the Marlins organization, working in the minors until moving to the big-league club as the third base coach in 2010.
He remained with the Marlins through the 2013 season before taking a job as a special assistant to New York Yankees general manager Brian Cashman. He joined the Yankees coaching staff in 2015 and worked as their infield and third base coach through the 2017 season.
Espada, who was born in Puerto Rico, was drafted by the Oakland Athletics in the second round of the 1996 amateur draft and spent nine seasons in the minors. He advanced to Triple-A as a player but retired at age 29 after failing to reach the majors before beginning his coaching career.
___
AP MLB: https://apnews.com/hub/mlb
"
Article Copyright © 2023 The Associated Press, All Rights Reserved.