Joel Embiid has 33 points and 16 rebounds, 76ers beat Pistons 114-106 for 7th straight win
Sat, Nov 11, 2023
NBA News (AP)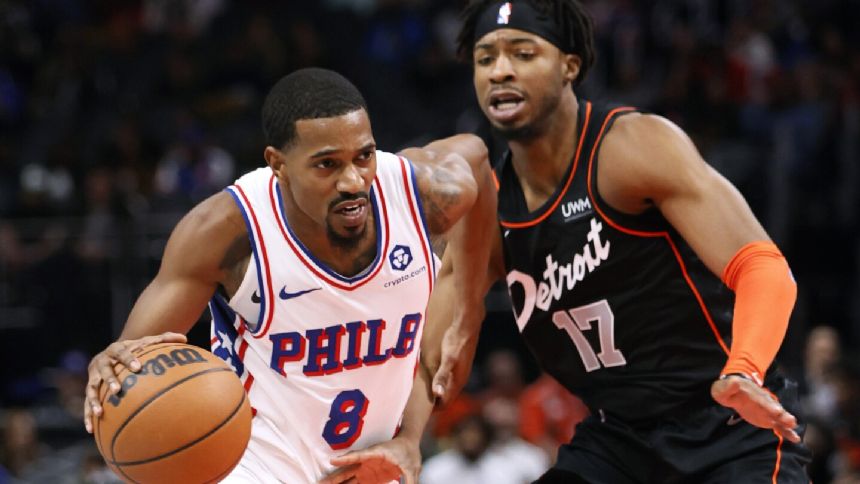 DETROIT (AP) - Joel Embiid had 33 points and 16 rebounds and the Philadelphia 76ers won their seventh straight game and handed Detroit its seventh loss in a row, beating the Pistons 114-106 on Friday night in an NBA In-Season Tournament opener.
Tyrese Maxey had 29 points and 10 assists for the 76ers, undefeated since an opening loss at Milwaukee. Former Piston Tobias Harris had 24 points, and the starters scored 104 of the 76ers' points.
Killian Hayes led the Pistons with 23 points and Cade Cunningham added 21. Detroit allowed 41 free-throw attempts.
The 76ers got a brief injury scare in the third quarter when Cunningham lost his footing on the gray court and slid into Embiid's legs as he was taking a jumper. Embiid got up slowly and limped off, but was able to return after a timeout.
Other news
Joel Embiid, Tyrese Maxey lead 76ers to sixth straight win, 106-103 over the Boston Celtics
Tiger Woods to own and play for Florida team in TGL, his tech-infused golf league
Randle, Barrett lead Knicks to 111-97 victory in Harden's Clippers debut
Detroit led 71-68 late in the third, but the 76ers finished the period on a 15-6 run to go ahead 83-77. Philadelphia outscored the Pistons 35-21 in the quarter, thanks to 16 points from Embiid.
Philadelphia scored the first five points of the fourth, moving the lead to 11, and were up by 17 down the stretch.
UP NEXT
76ers: Host Indiana on Monday night.
Pistons: At Chicago on Monday night.
___
"
Article Copyright © 2023 The Associated Press, All Rights Reserved.