Jokic's 28 points lead Nuggets past Thunder 128-95 in Holmgren's 1st regular-season home game
Sun, Oct 29, 2023
NBA News (AP)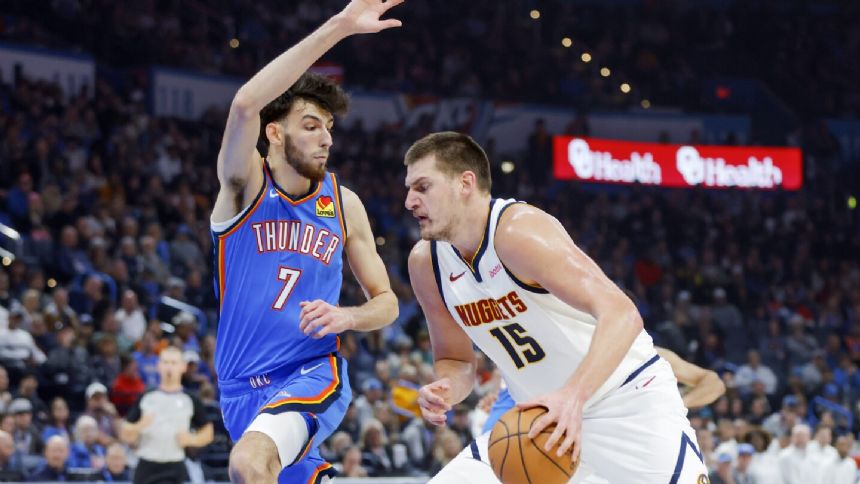 OKLAHOMA CITY (AP) - Nikola Jokic had 28 points and 14 rebounds to help the Denver Nuggets roll past the Oklahoma City Thunder 128-95 on Sunday for their third straight win to open the season.
Michael Porter Jr. had 20 points and nine rebounds and Jamal Murray added 19 points and eight assists for the Nuggets, who shot 60.2% from the field.
Oklahoma City's Chet Holmgren was the No. 2 pick in the 2022 draft, but he missed last season with a foot injury. He got a loud cheer when he was introduced with the starters in his first regular-season home game and delivered a team-leading 19 points.
Shai Gilgeous-Alexander, a first-team All-NBA selection last season, scored just seven points on 2-for-16 shooting.
Other news
Kevin Durant scores 26 points as the Suns easily handle the Jazz 126-104
Pistons overcome Zach LaVine's 51 points to beat the Bulls 118-102
Naz Reid leads Timberwolves in 106-90 takedown of short-handed Heat in home opener
The Nuggets, the defending NBA champions, faced a rising Thunder squad that reached the play-in tournament last year. Oklahoma City opened the season with road wins over Chicago and Cleveland and could have made an early statement with a win over Denver.
Jokic made sure that didn't happen. The two-time league MVP and 2023 Finals MVP dominated the first half. He had 22 points, including a layup at the buzzer, to give Denver a 69-51 edge at the break.
Holmgren scored 17 points in the first half. Gilgeous-Alexander went 0 for 9 from the field and had three points before the break.
Gilgeous-Alexander made his first field goal with 8:31 left in the third quarter, but Denver remained in control and led 97-75 heading into the fourth.
UP NEXT
Nuggets: Host the Utah Jazz on Monday.
Thunder: Host the Detroit Pistons on Monday.
___
AP NBA: https://apnews.com/hub/NBA
"
Article Copyright © 2023 The Associated Press, All Rights Reserved.