Kane has goal and 2 assists as Oilers beat Flames 5-2 in Heritage Classic outdoor game
Mon, Oct 30, 2023
NHL News (AP)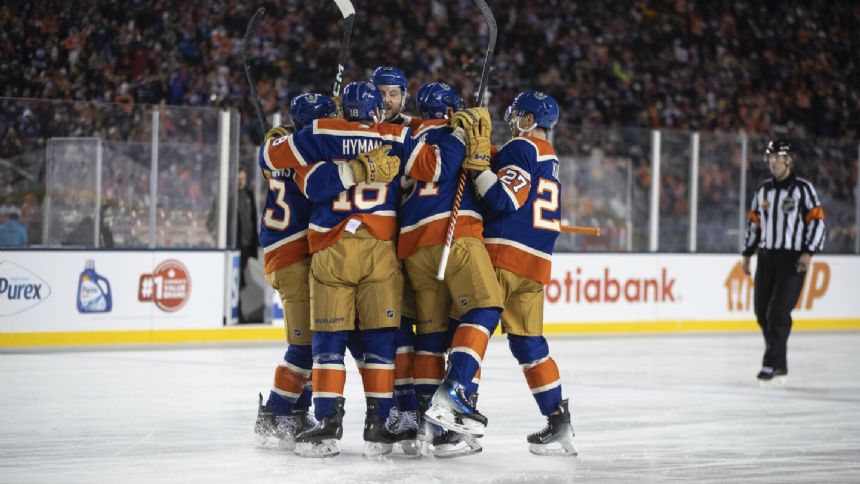 EDMONTON, Alberta (AP) - Evander Kane had a goal and two assists as the Edmonton Oilers beat the rival Calgary Flames 5-2 in the Heritage Classic outdoor game on Sunday at Commonwealth Stadium.
Brett Kulak, Zach Hyman, Evan Bouchard and Vincent Desharnais also scored for the Oilers, who snapped a four-game skid (0-3-1). Leon Draisaitl had two assists and Stuart Skinner stopped 24 shots.
"I thought we got back to our foundation of how we like to play and how we need to play," Kane said. "I thought we skated really well. We were physical and if you look at the goals we scored, every single one of them was around their blue paint or creating havoc around their blue paint. That is a recipe for success for our group."
Oilers head coach Jay Woodcroft said he is not surprised his team stepped up for this game.
Other news
Luukkonen gets first career shutout as Sabres blank Avalanche 4-0
Wilson helps Capitals rally late to hand Sharks 9th straight loss to open season
Bratt scores twice as Devils edge Wild 4-3
"We have a lot of proud people in our organization ... and no one's been happy with the way we started the season. I just think we've got to playing a certain way," he said. "It was a big night for our city and for our organization."
A.J. Greer and Nazem Kadri had goals for the Flames in their fifth straight loss. Jacob Markstrom had 29 saves.
"We gotta keep believing," Flames forward Mikael Backlund said. "We have a really good team here. I believe in the guys. We have to stick with it. Play with the effort we had tonight and clean some things up, we're going to win games eventually."
It was much warmer (about 37 degrees at puck drop) than at the original Heritage Classic 20 years ago which reached minus-22 with the wind chill in 2003.
The Oilers started as Markstrom allowed a big rebound on an opportunity by Kane and defender Kulak was down deep to sweep in a backhand shot 4:19 into the game.
Edmonton made it 2-0 midway through the first period right after killing a two-man disadvantage as Leon Draisaitl came out of the box and waited for Hyman to catch up on a 2-on-1 before passing it to him for his third goal of the season at 9:38.
Calgary got one back with 5:05 remaining in the period and just 1 second remaining on yet another two-man advantage as Kadri's high shot deflected off Skinner's blocker and into the net. It was Kadri's first goal of the season.
Edmonton regained its two-goal cushion 1:11 later as Bouchard scored on a long slap shot through traffic. Oilers captain Connor McDavid picked up an assist to extend his home scoring streak to 24 games.
Calgary got another power-play goal with 8 1/2 minutes left in the second period as Greer knocked in the rebound of Mackenzie Weegar's point-blank shot to make it 3-2.
Edmonton got a big goal at 6:16 of the third as Desharnais' point shot took a high bounce off of the ice and past Markstrom.
The Oilers put the game away for good in the final minute on an empty-netter by Kane, his second of the season.
"This was a big game for either side, with the teams not off to a great start," Draisaitl said. "It could be a little bit of a kick-starter. It is only one game, but it is definitely nice to do it in front of all these fans at home here and get the two points."
Calgary defenseman Rasmus Andersson missed the game as he finished serving his four-game suspension.
UP NEXT
Flames: Host Dallas on Wednesday night.
Oilers: Host Dallas on Thursday night.
___
AP NHL: https://www.apnews.com/hub/NHL
"
Article Copyright © 2023 The Associated Press, All Rights Reserved.