Kansas vs. West Virginia score, takeaways: Frontcourt leads No. 9 Jayhawks past Mountaineers
Sat, Jan 15, 2022
NCAAB News (AP)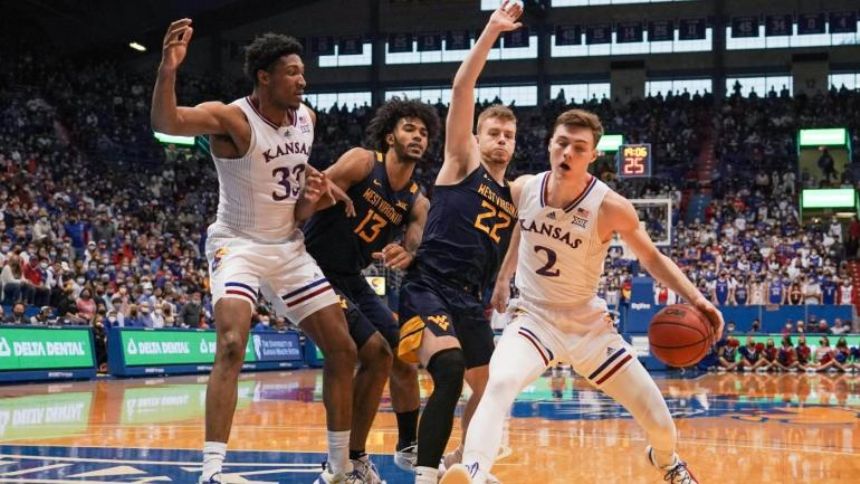 Kansas center David McCormack battled through a slow start last season to become an All-Big 12 candidate by year's end. And if No. 9 Kansas' 85-59 victory over West Virginia on Saturday was any indication, the latter version of McCormack is still available to the Jayhawks.
McCormack set season-highs in points (19) and rebounds (15, 10 offensive), giving Kansas (14-2 3-1 Big 12) a glimpse of the player who ended last season on a high note.
Playing its second consecutive game without point guard Remy Martin, the Jayhawks struggled out of the gate offensively, but were able to turn up the heat in transition in the second half.
Both teams needed their benches in the first half. Malik Curry helped to add charge to a West Virginia team that struggled to score, putting in 10 first-half points and adding an assist. And when Kansas' Dajuan Harris picked up his second foul and backup Bobby Pettiford committed two quick turnovers and was whistled for a foul, the Jayhawks found a temporary steadying presence in Joseph Yesufu. He helped steer the ship as Kansas overcame an eight-point first-half deficit to take a 33-31 halftime lead.
That lead became a 42-31 Kansas advantage early in the second half on a 3-pointer from Ochai Agbaji, and the Jayhawks were off, building a 20-point edge by starting the half on a 29-11 run. The Mountaineers (13-3, 2-2) never pulled closer than 14 points afterward.
West Virginia star Taz Sherman, who entered the game ranked second in the Big 12 in scoring at 19.9 points per game, didn't make his first field goal until the 5:06 mark of the second half and finished with five points. It marked a strong defensive showing for a Kansas team that has vacillated between playable and indifferent on that end this season.
Jalen Wilson scored 16 of his 23 points in the second half, while Agbaji chipped in 20. Curry paced West Virginia with 23.
Kansas travels to Oklahoma on Tuesday, while West Virginia continues its journey through the Big 12 meat grinder with a home game against No. 1Baylor.
Article Copyright © 2022 The Associated Press, All Rights Reserved.