Kawhi Leonard fully cleared for training camp; Clippers will be 'very cautious,' Lawrence Frank says
Thu, Sep 22, 2022
NBA News (AP)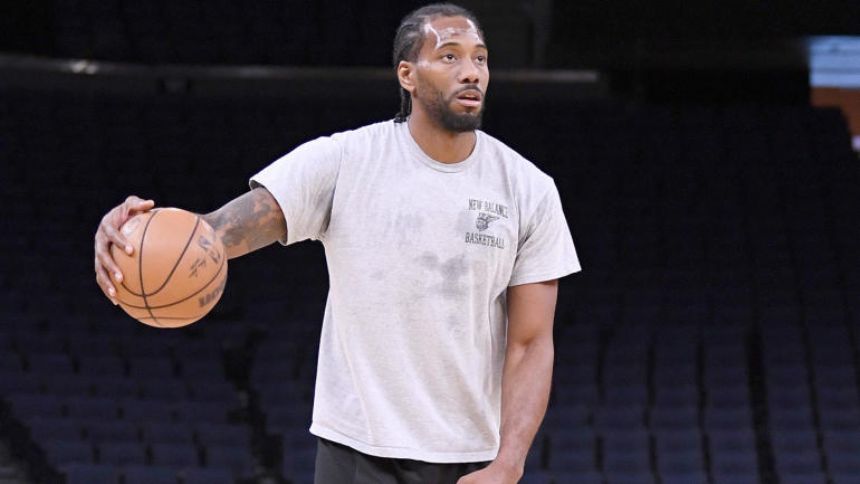 Kawhi Leonard has been fully cleared to participate in training camp with the Los Angeles Clippers, but it sounds like his load will be managed. Leonard missed the entire 2021-22 season after tearing his ACL in the 2021 playoffs, and Clippers president Lawrence Frank told reporters Thursday that they will take a "very cautious" approach with him.'
"He feels great," Frank said, via ESPN's Ohm Youngmisuk. "His plan is, look, he wants to participate in everything. And I think organizationally, we're going to be cautious. So it will be a step-by-step approach."
The Clippers will begin training camp with three days at UNLV next Tuesday and then travel to Seattle for a pair of exhibition games. Frank did not say whether or not Leonard would play in the preseason.
From ESPN:
"When you're dealing with a major injury, you can't predict," Frank said. "I know with him, he wants to do everything, but we'll just kind of let's see how he feels each day. We have an outstanding medical team, and we're playing the long game with it. So we're not going to get into predictions, what he will do or he won't do.

"... We'll figure out, is that best for his body? One day it may be. The next day, we'll have to reassess. We'll rely on the feedback we get from Kawhi, obviously from the medical team. It's too early to predict. We have time before we need to get there.

"... We know what the big picture is. We know what our goal is, and we will be very cautious and take a methodical approach." '
If you're looking for a quote more definitive than "he keeps trending towards being able to play in an NBA basketball game," you're out of luck. Frank repeatedly emphasized that they will go day by day and be "methodical" with Leonard's return. As vague as all of this sounds, there is indeed an element of unpredictability whenever a player is coming back from a long-term injury. There are timelines, but they change depending on how players' bodies respond to the ramp-up process.'
The last time Leonard played in an NBA game, the Clippers were in the second round of the 2021 playoffs. That team had a shot at a championship, and the roster is even better and deeper now.'
Paul George's right elbow, by the way, is "100 percent healthy," Frank told reporters. George missed more than three months with a torn UCL in 2021-22, but returned near the end of the regular season. What matters most for the Clippers, though, is not how Leonard and George feel in training camp, but how they hold up throughout the season. If both stars are at or near their peak come playoff time, then their title chances will be as good as anybody's.'
Article Copyright © 2022 The Associated Press, All Rights Reserved.