Kyler Murray leads game-winning drive in return from ACL injury as Cardinals beat Falcons 25-23
Sun, Nov 12, 2023
NFL News (AP)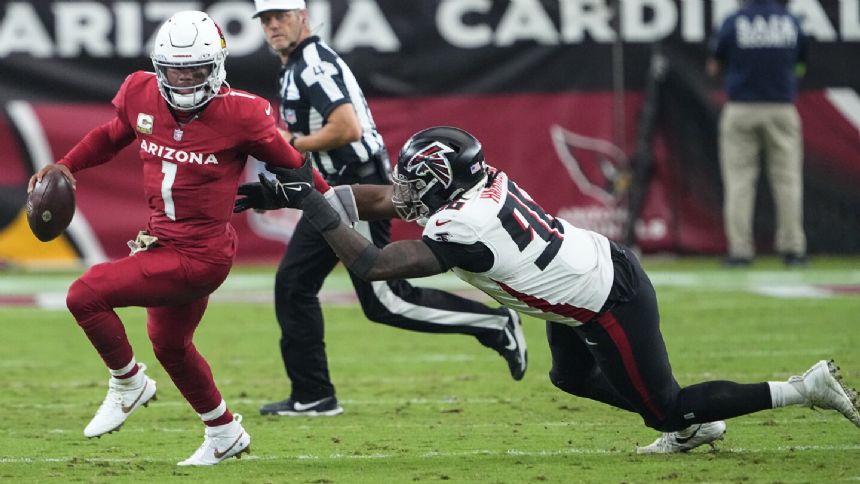 GLENDALE, Ariz. (AP) - Kyler Murray threw for 249 yards and ran for a touchdown in his return from a serious knee injury, Matt Prater made a game-winning 23-yard field goal as time expired and the Arizona Cardinals snapped a six-game losing streak by beating the Atlanta Falcons 25-23 on Sunday.
Murray made a pair of important plays on the game-winning drive, providing reminders of why he was the No. 1 overall pick in 2019 and also why the Cardinals (2-8) signed him to a $230.5 million contract before the 2022 season.
His 13-yard scramble on third-and-10 - and evading multiple sack attempts - helped keep Arizona's drive alive. Then he hit tight end Trey McBride on a 33-yard pass that set up the short field goal.
That made it an easy field goal for Prater, who also connected from 56, 51 and 46 yards.
Other news
Prescott accounts for 5 TDs, Cowboys rout Giants again 49-17 for 12th straight home win
Jaguars embarrassed and humbled in a 34-3 loss to 49ers that ended a 5-game winning streak
Will Levis looks like a rookie, struggles against pass rush in Titans' loss to Buccaneers
McBride finished with eight catches for 131 yards, James Conner ran for 73 yards and Murray completed 19 of 32 passes. Rookie BJ Ojulari had two sacks for the Cardinals (2-8).
The Falcons pushed ahead 23-22 with 2:33 remaining on Desmond Ridder's 9-yard run to the left corner of the end zone. Atlanta's 2-point conversion failed, which allowed the Cardinals to play for a game-winning field goal.
The 24-year-old Ridder started the team's first eight games of the season before losing his job to Taylor Heinicke, but was forced into the game in the fourth quarter after Heinicke hurt his hamstring.
Atlanta (4-6) has lost three straight.
Murray - who hadn't played a game in 335 days - scored his first touchdown of the season with 10 seconds left in the first half, faking a handoff to Conner before keeping the ball himself and running 6 yards into the end zone, cutting the Falcons lead to 14-12 entering halftime.
Backup quarterback Clayton Tune and the offensive line pushed the pile for a 1-yard touchdown with 19 seconds left in the third quarter that gave the Cardinals a 22-17 lead.
Atlanta's Nate Landman intercepted an off-the-mark Murray pass in the middle of the third quarter, returning it 25 yards to the Arizona 14. The Falcons settled for a field goal on the ensuing drive to take a 17-15 advantage.
Heinicke was 8 of 15 passing for 55 yards and a touchdown. Ridder was 4 of 6 for 39 yards.
Murray - a two-time Pro Bowl selection - tore the ACL in his right knee on Dec. 12, 2022, against the New England Patriots. The Cardinals have had several fill-in quarterbacks, including Colt McCoy, Trace McSorley, David Blough, Joshua Dobbs and Tune.
None of them had much success. The Cardinals had a 1-13 record over that span.
Atlanta's Bijan Robinson ran for a 5-yard touchdown late in the first half - completing a 13-play, 76-yard drive - to give the Falcons a 14-6 lead late in the second quarter. Robinson finished with 95 yards rushing on 22 carries.
INJURIES
Cardinals starting left tackle D.J. Humphries (ankle) and running back Emari Demercado (toe) were among six inactives. ... Conner (knee) returned after missing the past four games while on injured reserve. ... Atlanta receiver Drake London (groin) returned after missing one game. ... Heinicke was hurt while trying to run for a first down early in the fourth.
UP NEXT
Falcons: Host New Orleans on Nov. 26.
Cardinals: Travel to Houston next Sunday.
___
AP NFL: https://apnews.com/hub/NFL
DAVID BRANDT Sports Reporter based in Phoenix
twitter
mailto
"
Article Copyright © 2023 The Associated Press, All Rights Reserved.