Lynn Kidd sets career-highs with 24 points and 15 rebounds in Virginia Tech's win over Campbell
Wed, Nov 15, 2023
NCAAB News (AP)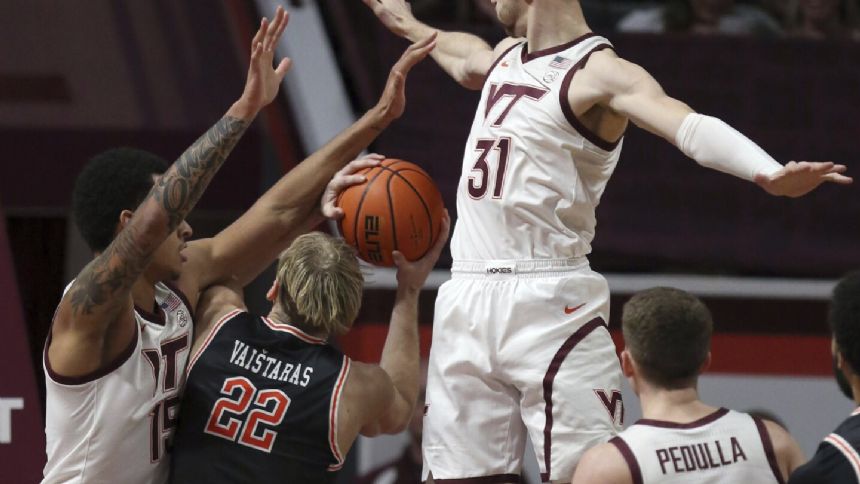 BLACKSBURG, Va. (AP) - Lynn Kidd set career-highs with 24 points and 15 rebounds, Hunter Cattoor added 12 points and Virginia Tech beat Campbell 60-44 on Wednesday night.
It was a defensive battle in the first half. Virginia Tech held Campbell to 16 points - its fewest allowed since Feb. 7, 2022 against Pittsburgh. The Camels were 4-of-21 shooting in the half and Virginia Tech shot just 36%, including missing its first 10 3-pointers. Campbell turned it over 12 times in the half.
Virginia Tech went without a field goal for over seven minutes in the second half as Campbell pulled within 41-32. Cattoor gave the Hokies a 39-20 lead on a 3-pointer with 15:05 left and he ended the field-goal drought with another 3 at 8:08.
Robbie Beran made two key mid-range jumpers late in the second half. Campbell got within 46-37 and 50-42, but Beran answered both times at the other end with made jumpers.
Other news
UC Irvine leads the entire 2nd half and upsets No. 16 Southern California 70-60
Trey Alexander scores 23 and narrowly misses triple-double in No. 8 Creighton's 92-84 win over Iowa
No. 15 Baylor is 4-0 after Nunn scores 25 points and Walter 23 in 99-61 win over Kansas City
Beran, a Northwestern transfer, finished with six points for Virginia Tech (2-1). Sean Pedulla, averaging 20.5 points, 7.5 assists and 6.5 rebounds per game, was held to five points and five assists.
Virginia Tech jumped out to a 19-7 lead as Campbell started 2 of 13 from the field. The Camels didn't reach double-digit scoring until the 4:10 remaining when Anthony Dell'Orso made 1 of 2 free throws.
Elijah Walsh scored 10 points for Campbell (1-2). Dell'Orso, coming off a 35-point performance against East Carolina on Saturday, was held to six points on 2-of-13 shooting.
Virginia Tech plays Wofford on Sunday. Campbell plays North Carolina Central on Monday.
___ Get poll alerts and updates on AP Top 25 basketball throughout the season. Sign up here ___ AP college basketball: https://apnews.com/hub/ap-top-25-college-basketball-poll and https://apnews.com/hub/college-basketball
"
Article Copyright © 2023 The Associated Press, All Rights Reserved.