NFL Super Wild Card Weekend playoff picks, plus Texans fire head coach and ranking best possible Super Bowls
Fri, Jan 14, 2022
NFL News (AP)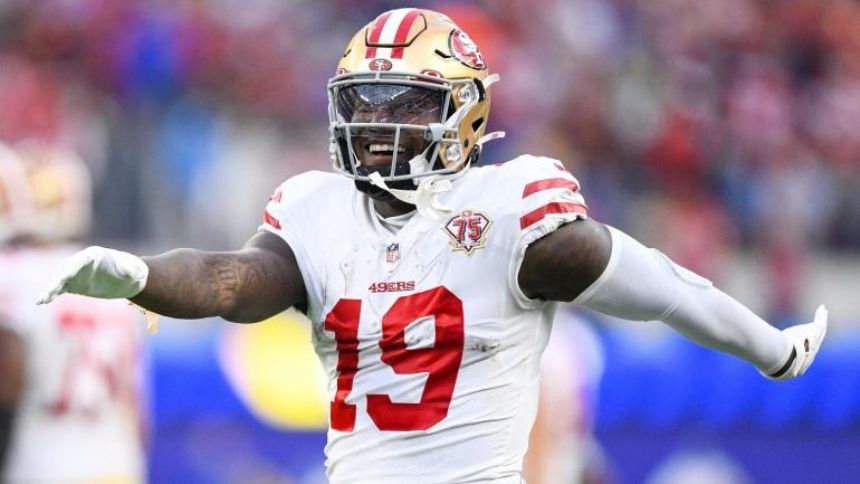 Welcome to the Super Wild Card Weekend edition of the Pick Six newsletter!
After a two-day hiatus, I am back in the saddle for today's newsletter and I'm back just in time for the playoffs! As the resident Bengals homer here at AP Sports, I had to take two days to mentally prepare for Saturday's game against the Raiders.
The best part about that game is that no matter who wins, one of the NFL's longest playoff droughts will be ending. The Bengals haven't won a playoff game in 31 years, while the Raiders haven't won a postseason game in 19 years. Those are two of the four longest active droughts in the NFL. Every other team in this year's playoff field has won at least one postseason game since 2015 (The Bengals, Raiders, Lions and Dolphins are the only teams that haven't won at least one playoff game since 2005).
With the playoffs starting, that means we'll be bringing you plenty of playoff picks today, plus we'll also be ranking the best possible Super Bowls and looking at our final MVP vote of the year.
Remember, if you're hanging out with family and/or friends this weekend, you should tell them all to sign up for the newsletter. To get them signed up, all you have to do isclick here and then share this linkwith them.
For today's podcast, Will Brinson rounded up R.J. White and Pete Prisco so they could argue about who's going to win every game being played this weekend, and of course, it's an especially big weekend since it's SUPER WILD CARD WEEKEND.
The three guys spent nearly 60 minutes going over the best bets for every single wild card game and we're going to cover three picks from each person below.
Pete Prisco(Prisco is all-in on underdogs this week, which arguably makes sense seeing that underdogs are 15-3 against the spread since 2017).
Raiders (+5.5) to cover against the Bengals
Steelers (+12.5) to cover against the Chiefs
49ers (+3) to cover against the Cowboys
Will Brinson
Rams (-4) to cover against the Cardinals
Bengals (-5.5) to cover against the Raiders
49ers to beat the Cowboys (San Francisco money line: +140)
R.J. White (R.J. is going big on props this week instead of actual game picks)
Eagles (+8.5) to cover against the Buccaneers
Mac Jones Under 201.5 passing yards
Deebo Samuel Over 28.5 rushing yards
The guys also have a parlay they like:
Eagles (+8.5) to cover against the Buccaneers
49ers (+3) to cover against the Cowboys
Steelers (+12.5) to cover against the Chiefs
If it hits, that parlay would win $595 on a $100 bet.
To hear the rest of the best bets for Super Wild Card Weekend -- and there are quite a few -- be sure to click here so youcan listen to the entire episode of the podcast. You can also watch the trio give out their picks on YouTube by clicking here.
Going into the offseason, it looked like the Jaguars were the most inept team in the NFL, but now it appears the Texans are coming hard for that title after dumping David Culley on Thursday. The Texans coach was fired after just one season with the team.
This probably ranks as the second most inexplicable firing of the year, behind only Miami's decision to dump Brian Flores. Not only did Culley have to deal with the Deshaun Watson situation during the offseason, but he also had to coach a decimated roster after the Texans dumped several high-profile players. Despite having the deck stacked against him, Culley still managed to win four games, which is wild, because that's how many the Texans won WITH Watson as their QB in 2020.
Here are a few details on Culley's situation.
Texans GM Nick Caserio explains why Culley was fired. According to Caserio, he had to fire Culley because the two were having philosophical differences. "I came to this difficult but necessary decision after reviewing our football operation. While a change after one season is unusual, we had philosophical differences over the long-term direction and vision for our program moving forward." That reads like, "I needed a reason to fire you and I couldn't come up with anything, so I rolled with that."
Culley won't go home empty-handed.The one upside for Culley after being fired is that he definitely won't be leaving Houston empty-handed. According to NFL.com, Culley had a fully guaranteed contract, which means the Texans owe him the remaining $17 million on his deal. When you combine that with the $5 million he made in 2021, that means he's going to make $22 million for one year of coaching the Texans, which sounds about fair.
Top candidates for the Texans job. As things currently stand, former Dolphins coach Brian Flores is considered the favorite to land the Texans job. Flores has a long history with Caserio after working with him in New England for several years. For a look at some other candidates, be sure to click here.
Ranking the coaching openings. With the Texans job now open, that means there could be as many as eight teams looking for a new coach this offseason. There are definitely seven and that number will jump to eight if the Raiders don't promote Rich Bisaccia to head coach. If you want to see where the Texans job falls in our rankings of job openings, then be sure to click here (Spoiler alert: It's not ranked in the top five).
Unless some team gets completely crazy, Culley's firing will likely be the last one we see this offseason.
This is the final newsletter of the week, which means this is the newsletter where I'm going to give you more picks than you can possibly handle. Over the past 48 hours, we've had multiple writers make their picks for the wild card round and I'm going to share those picks with you right now.
The picks below will be coming from Tyler Sullivan, Tom Fornelli and Jordan Dajani, along with AP Sports NFL insider Jonathan Jones and Pete Prisco.
Anyway, here's how things are going to work: I'm going to give you one pick from each guy and then direct you to the rest of their picks. That way, if you like their pick, you'll be able to read the rest of them, but if they pick against your favorite team, you can ignore the rest of their picks and move on.
Jonathan Jones: 49ers over Cowboys (San Francisco +140 money line)."One team has a dominant run game that manages the clock. The other has a head coach that struggles with clock management. Watch for that to be the difference in the game."For the rest of Jones' wild card picks, be sure to click here.
Pete Prisco: Rams 20-17 over Cardinals (Arizona covers +4). "The Cardinals were 1-4 down the stretch, but the Rams haven't exactly been playing well, either. This will be a close game with the Rams finding a way late to win it." For the rest of Prisco's wild card best bets, be sure to click here.
Tom Fornelli: Bills 24-21 over Patriots (New England covers +4)."The Patriots are not THE Patriots anymore. Mac Jones is not Tom Brady, and this defense isn't nearly as good as past Patriots defenses, but it is good enough to limit the Bills and keep them within range."For the rest of Fornelli's wild card best bets, be sure to click here.
Jordan Dajani: Raiders 24-23 over Bengals (Las Vegas covers +5.5)."The Raiders are a different team now compared to who they were on Nov. 21 when they lost to the Bengals 32-13. Vegas has won four straight games, and I imagine this one could be close. I'll take the Raiders to cover, and I think there's a chance they could upset the Bengals."For the rest of Dajani's wild card picks, be sure to click here. Dajani also picked the entire playoff bracket -- from the wild card round to the Super Bowl -- and you can check that out by clicking here.
Tyler Sullivan: Buccaneers 30-21 over Eagles (Tampa Bay covers -8.5)."Hard for me to shy away fromTom Bradyin this spot with the spread under 10. The Buccaneers were 6-2 ATS at Raymond James Stadium this season, which was tied for the second-best home mark in the NFL. ... The weather could play a role as rain and wind are forecasted for this game, but I don't think that will impact Brady much in the passing game. Meanwhile, the Eagles are 2-5 ATS in their last seven as an underdog."For the rest of Sullivan's wild card picks, be sure to click here. .
With 14 teams in the playoffs, that means there are a total of 49 different Super Bowls that could happen this year. Sure, many of those 49 don't seem very possible. For instance, there's a 99% chance we won't see a Steelers-Eagles Super Bowl, but the people of Pennsylvania will surely be rooting for that, and to be honest, if it happens, they should just move the game to Pennsylvania.
With so many different Super Bowl options on the table, Cody Benjamin decided to wade through every single possible matchup to rank the best ones.
Here are his top 10 Super Bowl matchups that he wants to see happen on Feb. 13:
1. Chiefs vs. Packers
2. Patriots vs. Buccaneers
3. Bills vs. Packers
4. Chiefs vs. Buccaneers
5. Patriots vs. Cowboys
6. Bills vs. Cowboys
7. Bengals vs. Packers
8. Chiefs vs. Cowboys
9. Chiefs vs. Rams
10. Chiefs vs. 49ers
I'm not sure if the Chiefs paid Cody to make this list, but it kind of feels that way since they're in five of his top 10 games. If you want to see all 13 games that Cody ranked and to find out why he has those 10 ranked at the top, be sure to click here.
We've been doing a weekly MVP vote here at APSports.com since the start of November and if our final vote of the season is indicative of how the actual MVP voters are going to do things, then Aaron Rodgers and Tom Brady will be neck and neck.
Buccaneers coach Bruce Arians recently made the case that Brady should win the award and he also added that "It's not even close." However, our voters didn't agree. In the end, we gave it to Aaron Rodgers, who beat Tom Brady by just five votes.
The votes compiled below are from 10 different writers here at APSports.com. Each writer was allowed to put five players on their ballot and a player got five points for a first-place vote, four points for a second-place vote and so on.
1. Packers QB Aaron Rodgers (45)
2. Buccaneers QB Tom Brady (40)
3. Rams WR Cooper Kupp (20)
4. Bengals QB Joe Burrow (16)
5. Bills QB Josh Allen (13)
So if the vote is so close in our poll, why has the Packers QB appeared to have clinched the award? Rodgers received seven out of 10 first-place votes, which is notable, because the actual voters for the award are only allowed to name one person on their ballot (We named five). In that sense, Rodgers was definitely the overwhelming winner in our poll even though he only beat Brady by five votes.
If Rodgers does win the award, he would join Peyton Manning, Brett Favre, Joe Montana, and Jim Brown as the only players to win the award in consecutive years. It would also be his fourth time winning it, trailing only Manning.
One thing to keep in mind is that the vote doesn't take into account how well a player does in the playoffs. All MVP votes have to be turned in before the postseason starts.
Overall, a total of 10 players received at least one vote. If you want to see how the rest of the vote broke down, then be sure to click here.
It's been a busy 24 hours in the NFL and since it's nearly impossible to keep track of everything that happened, I went ahead and put together a roundup for you.
J.J. Watt could play against Rams. The Cardinals pass-rusher suffered a devastating injury in Week 7 -- he tore his labrum, biceps and rotator cuff -- and at the time, it was assumed that his season was over, but apparently, that's not the case. Not only did Watt return to practice on Thursday, but he didn't suffer any setbacks, which opens the door for him possibly playing on Monday.
Steelers could see the return of JuJu Smith-Schuster.The Steelers receiver has been out since injuring his shoulder in Week 5, but he might be able to play this Sunday against the Chiefs. According to NFL.com, Smith-Schuster had zero issues at practice on Thursday and it's starting to look like there's a good chance that he'll be on the field in Kansas City.
49ers expect Trent Williams to play against Cowboys.The 49ers star left tackle didn't play in Week 18 against the Rams due to an elbow injury, but the team is expecting him to play on Sunday against Dallas. The return of Williams, who has been one of the best left tackles in the NFL this year, would be a huge boost for the 49ers' offense.
Colts GM won't commit to Carson Wentz. After a disastrous Week 18 performance against the Jaguars, Carson Wentz definitely didn't get a vote of confidence from the Colts this week. Colts GM Chris Ballard was asked if Wentz would be returning in 2022 and he totally sidestepped the question, "Sitting here today, just so y'all know, I won't make a comment on who is going to be here next year and who is not going to be here next year." That sounds like a GM who will be doing his best to make an upgrade at the QB position this offseason.
Amari Cooper hit with COVID fine. The Cowboys receiver got hit with a $14,650 fine this week for violating COVID protocols. Cooper, who is unvaccinated, broke the league's COVID rules when he didn't wear a mask while attending a Dallas Mavericks game last week.
Buccaneers sign John Brown. With Chris Godwin (injury) and Antonio Brown (cut) not around for the playoffs, the Buccaneers decided to bring in some receiving reinforcements this week by signing John Brown. The receiver spend the first four seasons of his career (2014-17) playing for Bruce Arians in Arizona, so he has some familiarity with the Buccaneers coach.

Article Copyright © 2022 The Associated Press, All Rights Reserved.