No. 1 Georgia faces another tough test against high-scoring No. 10 Ole Miss
Thu, Nov 9, 2023
NCAAF News (AP)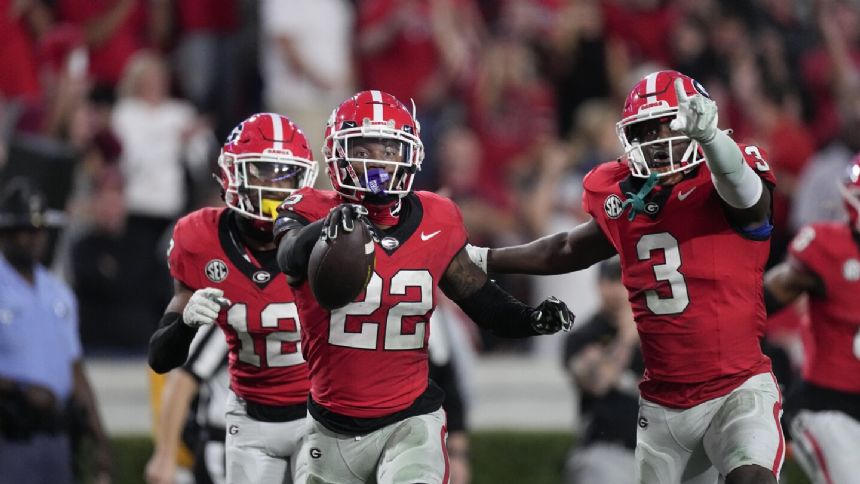 ATHENS, Ga. (AP) - No. 1 Georgia breezed through the first two months of the season, rarely encountering a serious challenger.
Things got a whole lot tougher when the calendar flipped to November.
For the second week in a row, the Bulldogs (9-0, 6-0 Southeastern Conference, No. 2 College Football Playoff) will find a ranked team standing across the line.
No. 10 Ole Miss (8-1, 5-1, No. 9 CFP) visits Sanford Stadium for a Saturday night game that will surely have a major impact on Georgia's bid for a third straight national title.
Other news
No. 18 LSU seeks to extend recent dominance in Florida series
No. 8 Alabama aims to clinch SEC West title at Kentucky, which looks to win its second straight game
No. 4 Florida State can solidify its hold on a playoff spot with a victory against rival Miami
"We've got a hell of a challenge," said Bulldogs coach Kirby Smart, whose team beat No. 16 Missouri last week and faces a trip to Rocky Top next week to meet No. 14 Tennessee. "We need it to be as great an atmosphere in Sanford Stadium as it's ever been to help take care of our home-field advantage."
Georgia can clinch a spot in the SEC championship with a victory, though that little item would be checked off before they even take the field if Missouri knocks off Tennessee.
Of course, the Bulldogs have their sights on bigger goals. No team has won three straight national championships in the poll era.
"To be close to a three-peat is really phenomenal at any time, let alone nowadays with scholarship limitations and the portal and everything," Ole Miss coach Lane Kiffin marveled. .
Kiffin's high-scoring Rebels, led by quarterback Jaxson Dart and a host of offensive playmakers, haven't given up on winning the SEC West. But a lot of things have to go their way.
Alabama would have to lose its last two conference games, including Saturday's contest at Kentucky, while Ole Miss would have to win out - a daunting task, indeed, with Georgia next up on the schedule.
"This is a very challenging combination now of having elite, phenomenal players and elite, phenomenal coaches combined. And on the road," Kiffin said. "So there's a trifecta of what's the hardest thing to pull off, and this would be it."
Then there's the College Football Playoff.
Ole Miss is on the outside, for now, but could push into the mix with an 11-1 record that includes a road victory over the two-time national champions - even if the Rebels don't play for the conference title.
"I think people are really, really starting to believe that we have a shot to go to the College Football Playoff," tight end Caden Prieskorn said. "That was our main goal coming into the season. You can see it in people's eyes, that we can go do this thing."
STREAKS GALORE
The Bulldogs are putting all sorts of streaks on the line.
Georgia has won 26 consecutive games - a school record - since its last loss to Alabama in the 2021 SEC title game. The Bulldogs haven't lost a regular-season game since 2020, ripping off 36 wins in a row. Finally, Georgia has a 24-game winning streak at Sanford Stadium, tying the school mark set from 1980-83 during the Herschel Walker era.
For good measure, Georgia has been ranked No. 1 by The Associated Press for 21 consecutive weeks, tied with Miami for the second-longest streak in the poll's history. Southern California holds the record at 33 weeks in a row.
Kiffin was on Pete Carroll's staff at Southern Cal when the Trojans won 34 consecutive games from 2003-2005 and spent all those weeks at No. 1. Kiffin was Nick Saban's offensive coordinator when Alabama won 26 straight from 2015-16.
"The only way that happens is to have a phenomenal head coach like Pete Carroll and Nick Saban and now Kirby Smart," Kiffin said. "Things aren't going to go well. It's football. And to overcome those poor games, to me, is what being a super elite program, being a super elite head coach is about."
QUARTERBACK DUEL
Two of the nation's best quarterbacks will be facing off between the hedges on Georgia's field.
Georgia hasn't missed a beat with Carson Beck, who took over from Stetson Bennett and has kept the Bulldogs right on winning.
Beck has completed more than 72% of his passes for 2,716 yards and 16 touchdowns, with just four interceptions.
Dart has been throwing darts for Ole Miss, completing nearly 66% for 2,467 yards and matching Beck with 16 TDs and only four picks. The Rebels quarterback is also a weapon with his legs, rushing for 334 yards and seven TDs.
FACING NO. 1
Ole Miss has never beaten a team ranked No. 1 in The Associated Press poll.
Kiffin noted that Ole Miss is a 10 1/2-point underdog in this one, according to FanDuel Sportsbook.
"It's kind of like playing with the house's money," Kiffin said. "No one's expecting us to win, or probably even play them close, so we'll just go in there and see what happens."
AVOIDING A LETDOWN
Ole Miss started last season 8-1 as well, only to lose its last four games.
Much of the current team is comprised of transfers who weren't around for that collapse, but defensive end Jared Ivey thinks this team is physically in much better shape.
"I feel like as a whole we're a lot more fresh than we were last year," said Ivey, a transfer from Georgia Tech. "I feel like we were really beat up physically last year."
___
AP Sports Writer John Zenor in Montgomery, Alabama contributed to this report.
___
Get alerts on the latest AP Top 25 poll throughout the season. Sign up here ___
AP college football: https://apnews.com/hub/ap-top-25-college-football-poll and https://apnews.com/hub/college-football
"
Article Copyright © 2023 The Associated Press, All Rights Reserved.