No. 11 Ole Miss, Texas A&M bring their sack-happy defenses into SEC West matchup
Thu, Nov 2, 2023
NCAAF News (AP)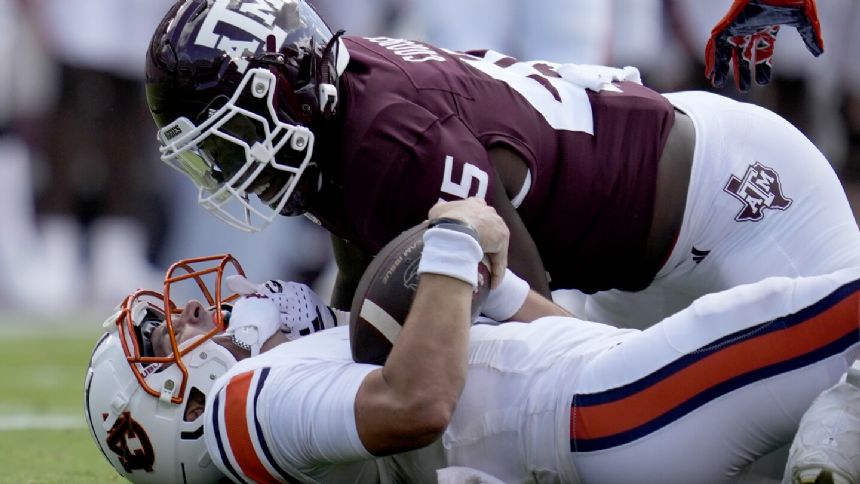 Lane Kiffin gushes about Texas A&M's "mind-blowing" talent, raving about the Aggies' offensive play caller and playmakers and impressive group of defensive linemen.
Kiffin rattles off a long list of the challenges his 11th-ranked Mississippi team face Saturday when Texas A&M visits. In fact, he used some version of the word challenge seven times during his 10-minute news conference this week, usually preceded by either "huge" or "big" or "really big."
"These guys are absolutely loaded," Kiffin said. "It's kind of a mind-blowing collection of talent as you watch them, offensively, defensively, return game, special teams. It really is like an NFL roster. I mean, height, weight, speed, explosiveness."
Nevertheless, it's the Rebels (7-1, 4-1 SEC, No. 10 CFP) who are aiming to keep their West Division hopes alive in this game. The Aggies (5-3, 3-2) have more modest goals of trying to get bowl eligibility out of the way and snap an eight-game road losing streak.
Other news
Milton, No. 19 Tennessee hope to build on momentum with a homecoming game against UConn
Jim Harbaugh channels movie 'Braveheart' to stay focused on No. 2 Michigan heading into Purdue game
No. 12 Notre Dame, QB Sam Hartman wary for visit to Clemson despite Tigers' struggles
"We can still make the season real, real special," Texas A&M wide receiver and return man Ainias Smith said.
Kiffin has to hope his hearty praise about Texas A&M will keep the Rebels from looking ahead a week to a game at No. 1 Georgia.
The Aggies pit the SEC's top defense against an offense led by quarterback Jaxson Dart, tailback Quinshon Judkins and three receivers with at least 500 yards.
"They run the football, they take shots and the quarterback can create plays with his legs," Texas A&M coach Jimbo Fisher said.
AGGRESSIVE D'S
Beware, Max Johnson and Jaxson Dart. This game features two of the nation's most sack-happy defenses.
The Aggies lead the nation with an average of 4.12 sacks per game and have 75 tackles for loss, the most among Power Five teams. The Rebels aren't far behind. Their 3.8 sacks per game ranks fourth while Ole Miss is tops in tackles for loss yardage, pushing offenses back a total of 317 yards.
"The (Aggies') collection of defensive line talent has to be one of the best ever," said Kiffin, adding that linebacker Edgerrin Cooper is "playing like the SEC player of the year."
ROAD WOES
The Aggies' road losing streak started on Nov. 12, 2021, at Ole Miss. The 12th-ranked Rebels won 29-19 and Texas A&M is still seeking its first road win since then. The current team has only had two road games, losing 48-33 at Miami and 20-13 at No. 19 Tennessee.
"When you go on the road, you've got to silence the crowd," Fisher said. "You've got to play better football. You've got to be sound in what you do. You've got to understand the mentality you've got to take on the road. You've got to block out the noise, block out the clutter and go play."
JUDKINS REMATCH
The Aggies are geared up to stop Ole Miss tailback Quinshon Judkins , who ran for 205 yards in last season's game to become the program's top freshman runner. All told, Ole Miss ran for 390 yards in a 31-28 win. Texas A&M defensive lineman Shemar Turner says the goal will be to not let Judkins get going.
"Just keeping him simmered down the whole game is pretty much what we're going to try to do," Turner said.
KIFFIN & PETRINO
Kiffin (of course) had high praise for Texas A&M's offensive personnel across the board. But he also cites the impact of new offensive coordinator Bobby Petrino, saying the Aggies are "obviously way better schematically on offense."
"Bobby does a great job. Always has, wherever he's been," Kiffin said. "Really great schemes. Great play caller. I actually was quality control coach at the Jacksonville Jaguars when he was the offensive coordinator and have always had unbelievable respect for his football knowledge and IQ."
HAPPIER ENDING?
The Rebels are trying to fashion a better ending to this season. They were 8-1 after beating the Aggies last season, then dropped four straight.
"We're fixing to go on a run," Ole Miss wide receiver Dayton Wade said. "That's the mentality we have right now."
___
Get alerts on the latest AP Top 25 poll throughout the season. Sign up here ___ AP college football: https://apnews.com/hub/ap-top-25-college-football-poll and https://apnews.com/hub/college-football
"
Article Copyright © 2023 The Associated Press, All Rights Reserved.