No. 18 Duke visits winless UConn in a tune-up before a showdown with Notre Dame
Thu, Sep 21, 2023
NCAAF News (AP)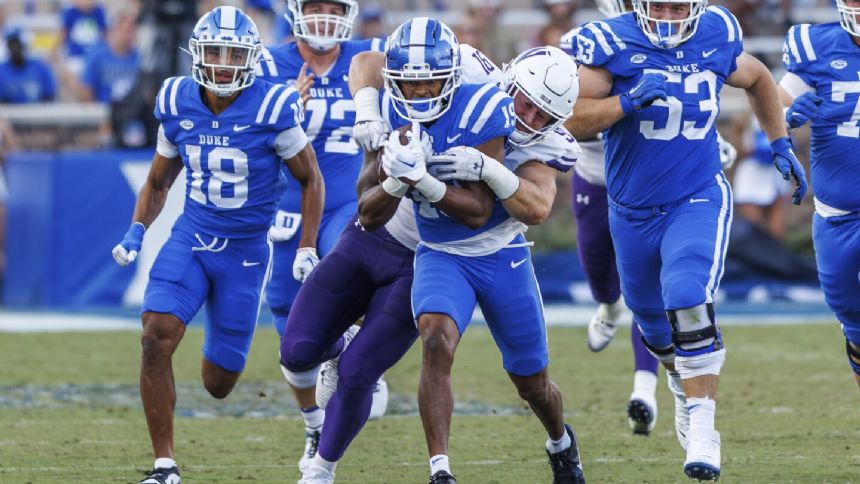 STORRS, Conn. (AP) - Duke heads to Connecticut Saturday for one of those games coaches love to warn players about.
The 18th-ranked Blue Devils are chasing their first 4-0 start since 2018 and have a big game coming next week at home against No. 9 Notre Dame.
UConn, on the other hand, has started 0-3 after a six-win season a year ago.
It would be, as the cliche goes, easy for the Blue Devils to overlook the Huskies
Other news
UNC QB Drake Maye's confidence is soaring as the 17th-ranked Tar Heels visit struggling Pitt
No. 4 Florida State looks to end Clemson's streak, ACC title chances
No. 1 Georgia heavy favorites against UAB despite several injuries on offense
But Duke also started out 3-0 last year, then followed that up by losing three of four.
Coach Mike Elko has been pushing his team to think about doing a better job handling the middle chunk of the season.
"Last year we didn't handle that part of the season really well," Elko said, adding: "I think we have an opportunity to show some growth here this week, and that's the big challenge."
The Huskies also are looking back at last season, when they started 1-4 and then won five of their next six games.
UConn coach Jim Mora, who like Elko is in his second season at his current job, would like to see a repeat or, at the very least, movement in a positive direction.
"We're rebuilding something that we all know has not been great for a long time," he said. "I don't think it's ever just a straight upward trajectory."
CLIMBING THE RANKINGS
Duke opened the season unranked, but moved into the AP Top 25 after drubbing Clemson for the first time since September 2018. The Blue Devils have climbed to their highest ranking since reaching No. 16 in November 1994.
RUN GAME
Duke's run game has carried the load, from QB Riley Leonard's scrambling ability to the tandem of Jordan Waters and Jaquez Moore.
Leonard has twice flirted with 100-yard rushing days (98 yards and a score against Clemson, 97 yards and two scores against Northwestern. Waters has scored two touchdowns in each of the past two games, while Moore (176 yards, two scores) has also been effective.
There's also the potential boost from Jaylen Coleman's eventual debut after missing the first three games due to injury.
NEW OLD QUARTERBACK
UConn quarterback Ta'Quan Roberson is hoping to play a second straight complete game for the first time since high school.
The junior transfer from Penn State won the starting job a year ago, but suffered a knee injury on the Huskies second drive of the season. He lost a three-way competition for the job this season to Maine transfer Joe Fagnano, but got it back when Fagnano went down with a season-ending shoulder injury against Georgia State.
In his first start of the season last week, the dual-threat QB completed 15 of 32 passes for just 170 yards and no touchdowns against FIU. He ran just eight times for a total of eight yards.
Mora said they've been tweaking the offense a bit to better match Roberson's style.
"I think we have a better feel now for what we need to do with him," Mora said.
FEW SCORES
Duke has allowed 28 points in three games, which is tied for fifth in the Bowl Subdivision ranks (9.3 per game). Most impressively, they've allowed just seven points after halftime - coming in the final minutes of last week's 38-14 win against Northwestern.
That performance includes holding preseason Atlantic Coast Conference favorite Clemson to just one second-quarter touchdown.
MILITARY APPRECIATION
UConn will wear special red, white and blue helmet decals resembling a sergeant's stripes for its Military Appreciation Day. More than 650 members of UConn's veterans affairs program have been invited to the game. Six people will be sworn in to the national guard during the break after the first quarter and two veterans from UConn will be recognized for their service.
___
AP Sports Writer Aaron Beard contributed to this story from North Carolina
___
AP college football: https://apnews.com/hub/college-football and https://apnews.com/hub/ap-top-25-college-football-poll
"
Article Copyright © 2023 The Associated Press, All Rights Reserved.