No. 2 Michigan escapes with 31-24 win over Maryland for 1,000th victory in program history
Sat, Nov 18, 2023
NCAAF News (AP)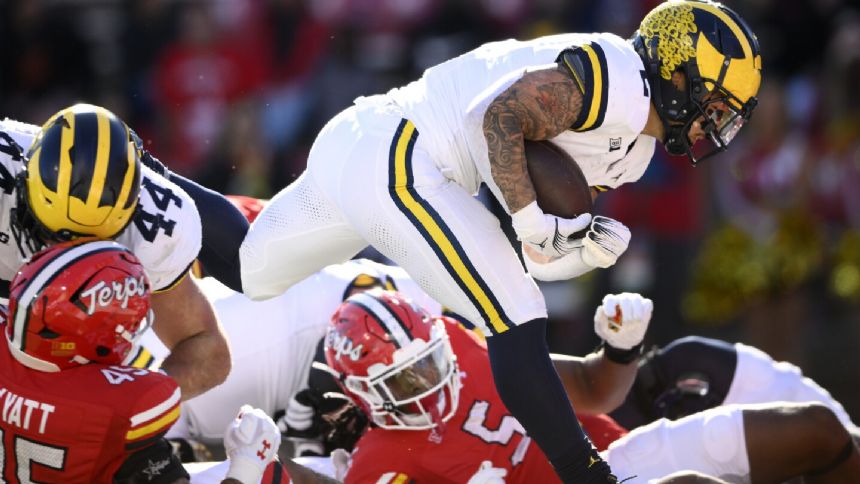 COLLEGE PARK, Md. (AP) - Blake Corum scored twice in the first half, Mike Sainristil intercepted two passes, and No. 2 Michigan -- playing again without suspended coach Jim Harbaugh - became the first college football program to win 1,000 games, beating Maryland 31-24 on Saturday.
The Wolverines (11-0, 8-0 Big Ten) remained unbeaten in their final tune-up before next weekend's showdown against No. 3 Ohio State, but it wasn't easy. Maryland (6-5, 3-5) rallied from a 23-3 second-quarter deficit and had the ball down five on multiple occasions in the fourth quarter.
The last of those chances came after Tommy Doman's punt pinned the Terrapins at their own 1-yard with 4:10 to play. Taulia Tagovailoa threw incomplete under pressure in the end zone, the ball falling well short of where receiver Tai Felton was. Officials conferred and called intentional grounding for a safety that made it 31-24 and gave the Wolverines the ball back.
Corum converted a fourth-and-short run, and after a measurement and a review Michigan could finally exhale.
Other news
No. 25 Liberty stays unbeaten after Kaidon Salter accounts for 4 touchdowns in 49-25 win over UMass
No. 9 Louisville tops Miami 38-31 to clinch spot in the ACC championship game
After Drew Allar goes out, No. 12 Penn State runs streak vs. Rutgers to 17 straight with 27-6 win
For the second straight week and fifth time this season, the Wolverines won without Harbaugh on the sideline. The head coach was serving the second game of his suspension for the sign-stealing scheme that has put an even bigger spotlight on the Michigan program over the past few weeks.
Offensive coordinator Sherrone Moore has guided the Wolverines to victories over Penn State and Maryland (6-5, 3-5) these past two weeks, and he's set to replace Harbaugh at the helm next weekend as well.
Harbaugh also served a school-imposed, three-game suspension to start the season for an NCAA recruiting infractions case.
Michigan had a defensive touchdown and two safeties against Maryland, but the Wolverines allowed more points than they had all season. Michigan's defense did stiffen when it needed to. A sack by Kenneth Grant in the fourth quarter forced the Terps into a third-and-18 situation that led to Sainristil's second interception of the day.
Not only was this a nervous victory, but the Wolverines now have some health concerns before next week's huge game. Roman Wilson, the team's leading receiver, exited after a jarring first-quarter hit by Maryland defensive back Dante Trader.
Offensive lineman Myles Hinton went down in the second half and walked off with some assistance.
There was also a anxious moment for the Wolverines early in the third quarter when Mason Graham was called for roughing the passer. The play was reviewed for targeting, which would have kept Graham out for the first half of the Ohio State game, but officials ultimately ruled he wasn't guilty of it.
After the game, the Wolverines posed in a group with signs commemorating the 1,000th win. Michigan began playing football with a victory over Racine in 1879.
Michigan led 23-3 in the second quarter before Maryland scored touchdowns on both sides of halftime. Backup quarterback Billy Edwards Jr., who plays occasionally in short-yardage situations, scored on a pair of fourth-down sneaks.
In between, the Wolverines were inside the Maryland 10 late in the first half when J.J. McCarthy was intercepted at the goal line by Jaishawn Barham.
Sainristil's interception near midfield set up a 13-yard scoring run by Semaj Morgan that put Michigan up 29-17, but another touchdown run by Edwards brought the lead down to five at the end of the third.
Michigan appeared to take control late in the first quarter. Corum scored on a 2-yard run, and then Derrick Moore ran a fumble back 4 yards for a touchdown 19 seconds later. Christian Borvin blocked a punt for a safety with 32 seconds left in the period to make it 16-3.
Corum's 1-yard touchdown run in the second was his 20th rushing TD of the season, tying a Michigan record.
THE TAKEAWAY
Michigan: It was ugly at times, and the injuries could be a problem, but the Wolverines escaped. Last season, Michigan beat Illinois by just two points the week before the Ohio State game but was able to defeat the Buckeyes too.
Maryland: It's been a disappointing season for the Terps thanks to losses against Illinois and Northwestern, but Maryland gave Michigan a battle before falling to 0-34 against ranked Big Ten teams since joining the league.
UP NEXT
Michigan: The Wolverines face Ohio State next Saturday.
Maryland: The Terps wrap up the regular season at Rutgers on Saturday.
___
AP college football: https://apnews.com/hub/ap-top-25-college-football-poll and https://apnews.com/hub/college-football
"
Article Copyright © 2023 The Associated Press, All Rights Reserved.