No. 20 Baylor rallies to beat Auburn 88-82 behind strong game from Ja'Kobe Walker
Wed, Nov 8, 2023
NCAAB News (AP)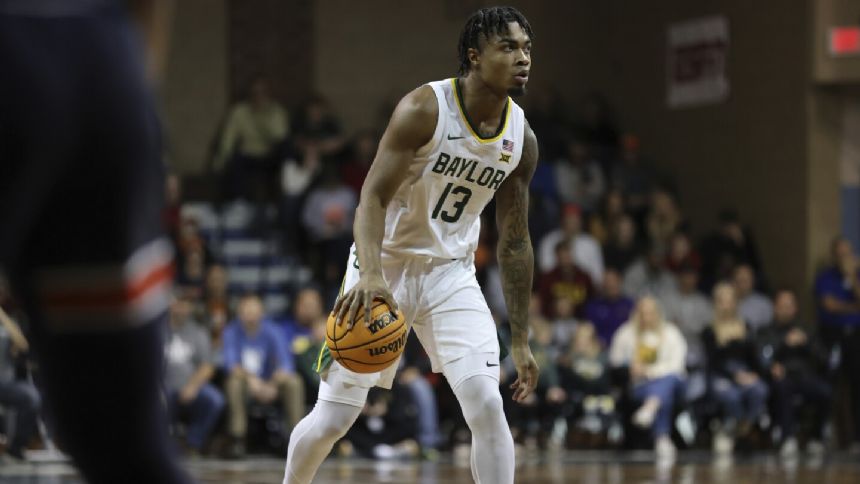 SIOUX FALLS, S.D. (AP) - Ja'Kobe Walker scored 15 of his 28 points in the second half to help No. 20 Baylor rally to an 88-82 win over Auburn on Tuesday night at the Sanford Pentagon.
Baylor used a 22-10 run over the final 8 minutes of the game to overcome an eight-point deficit.
"In the second half, our defense was much better," said Baylor coach Scott Drew. "We shot the open threes, drove the closeouts and then we got stops so we could get in transition."
Trailing 72-66, the Bears started their spurt on Langston Love's 3-pointer. With just under three minutes to play, Baylor's Yves Missi stole an Auburn inbounds pass and drove the length of the floor for a dunk that gave the Bears a 79-77 lead, their first since 24-23 midway through the first.
Denver Jones hit a 3-pointer with 19 seconds left to cut Auburn's deficit to three, but Baylor went 3-for-4 from the line down the stretch to seal the win.
Over the final three minutes, Baylor's RayJ Dennis scored seven of his 15 points including a 3-pointer to tie the game at 77-77.
"They are who I thought they were," Drew said of what he learned about his team. "But it's a race to the end of the season. It's not where you start, it's where you finish."
Auburn Freshman Aden Holloway scored 14 of his 19 points in the second half to lead the Tigers.
Johni Broome, a First Team All-SEC selection for Auburn also had a big second half, scoring nine of his 16 points after the break. Broome injured his shoulder in Auburn's exhibition opener against AU Montgomery but played 25 minutes, adding 11 rebounds.
"We obviously didn't play nearly as well in the second half as we did in the first," Auburn coach Bruce Pearl said. "Our second half offense wasn't very good. We held our own, but for me, this is a missed opportunity. This hurts the SEC, this hurts our league. We did not do what we came here to do."
STAT OF THE NIGHT
Ja'Kobe Walter's 28 points is the fourth most in a debut in Big 12 history. It's also the most by a Baylor freshman in their debut.
HE SAID IT
"It was great to play in a great environment here at the Pentagon. South Dakota is a beautiful state, a beautiful part of our country, beautiful people," said Pearl. "I can see why this should be a premier starting-of-the-season tournament. Building some history and tradition."
BIG PICTURE
Auburn: It's the start of a tough schedule for Auburn, which was the only SEC team to open against a ranked opponent.
Baylor: The Bears are now 19-2 in season openers under Scott Drew. Auburn is one of six Baylor opponents who have made the Final Four since 2019.
UP NEXT:
Auburn is home Friday against Southeastern Louisiana before two at the Barclays Center in Brooklyn for the Legends Classic next Thursday.
Baylor begins a three-game home stand beginning Thursday when they host John Brown. The Bears host Gardner-Webb on Sunday and Kansas City on Tuesday.
___
Get poll alerts and updates on AP Top 25 basketball throughout the season. Sign up here.
AP college basketball: https://apnews.com/hub/ap-top-25-college-basketball-poll and https://apnews.com/hub/college-basketball
"
Article Copyright © 2023 The Associated Press, All Rights Reserved.