No. 20 Miami tries to remain unbeaten against Temple team led by Kurt Warner's son at QB
Thu, Sep 21, 2023
NCAAF News (AP)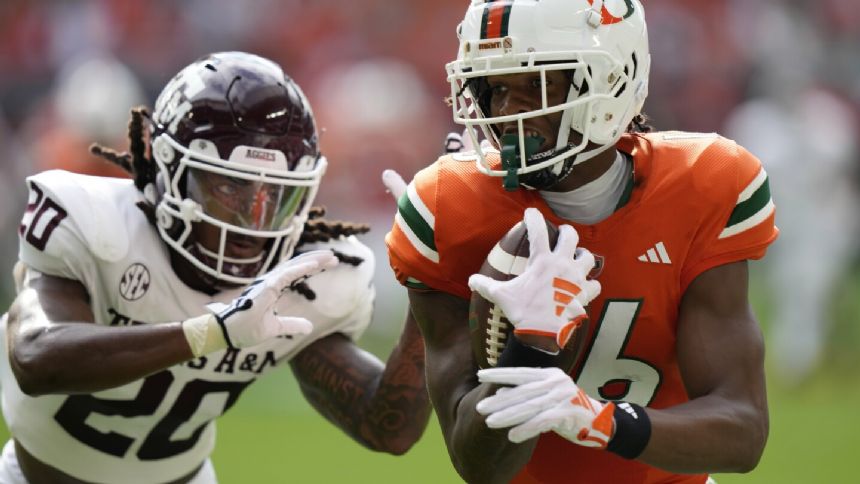 PHILADELPHIA (AP) - Temple shares a stadium with the Philadelphia Eagles, so it seemed appropriate -- with the Owls driving toward a chance at their second win of the season - that it swiped a play straight from the NFC champions' playbook.
Line up in a hurry, and push the QB into the end zone.
"I'd be a fool not to at least give it a shot," Temple coach Stan Drayton said.
So on second-and-goal against Norfolk State, the Owls -- in the same vein as Jalen Hurts and the Eagles -- had offensive players give backup quarterback Quincy Patterson a helpful heave that sent him in for a touchdown.
Other news
AP Top 25 Reality Check: Florida, Florida State, Miami ranked together for 1st time since 2017
Blocked field goal, interception, lateral -- and Patriots' offense fails to capitalize on any of it
Van Dyke accounts for 3 TDs, No. 22 Miami routs FCS member Bethune-Cookman 48-7
Drayton laughed when he said of the play that he " stole it " from the Eagles.
The Owls might need to convert them a handful of times if they are going to steal a win from No. 20 Miami.
While the play actually broke though the highlight reel on a crowded sports week in Philadelphia, the Owls (2-1) are likely less concerned about pulling off another " tush push " than they are about simply avoiding another a rear kicking from the Hurricanes (3-0).
The former Big East teams -- rivals would put it much too kindly -- are to set to play Saturday at Lincoln Financial Field for the first time since 2005. Miami won that one. Oh, and the 12 before that. In fact, the closest score over that 13-game winning streak was Miami's 44-21 win in 2002. Temple has to stretch back to 1930 for its only win in the series.
Led by quarterback E.J Warner, son of Hall of Fame QB Kurt Warner, Temple says it's up for the challenge, which it will be. The Hurricanes are a 23.5-point favorite in this one, per FanDuel Sportsbook.
"They have an element of speed that we have not seen," Drayton said.
And offensive firepower to match.
The Hurricanes have already seen 10 different offensive players (six runners, four receivers) find the end zone, and quarterback Tyler Van Dyke is completing 76% of his passes. Van Dyke is on his third different offensive coordinator in the last three seasons, but Shannon Dawson's first three games in the role with the Hurricanes have made it seem like he's been there for years.
"I like the way we're evolving," Miami coach Mario Cristobal said. "You see our offense, and we've been a little bit different each week. The more that we can show the ability to run the ball inside and outside, to push the ball down the field but also stretch you horizontally, I mean, that's hard to defend. And the way the quarterback is playing, Tyler is playing at such a high level that it makes it difficult, right? He knows where to go with the ball."
Van Dyke was slowed by injuries last season, plus had a revolving door of players on the offensive line tasked with protecting him. There's been continuity within that unit so far this season, and he's reaping the benefits.
"I feel like I'm the best I've ever been accuracy-wise and seeing the field," Van Dyke said. "I'm giving credit to the offensive line. I'm sitting back there all day, having all this time that allows me to be precise and accurate, and then the receivers are making good catches."
Now, Miami gets to see if it can continue putting up points in what will likely be a hostile environment. The Hurricanes have a sizable alumni base in the Philadelphia area, but Owls fans will surely remember how Manny Diaz -- who had been Miami's defensive coordinator under Mark Richt -- accepted an offer to be head coach at Temple, then left the Owls just a few days later to take over at Miami when Richt unexpectedly stepped down.
Diaz is now the defensive coordinator at Penn State, after Miami fired him and replaced him with Cristobal late in 2021.
"Taking this thing on the road, our processes really don't change, albeit a two-and-a-half-hour plane ride," Cristobal said. "We're playing a really good team and it gives us a chance to go and see where we're at by getting on the road."
ONLY STOP
Miami doesn't play ACC rival Pitt this season, so this game will be the only time the Hurricanes visit Pennsylvania in 2023. Pitt goes to Miami next season, and Miami isn't scheduled to play at Pitt again until 2026.
HELLO, AGAIN
Temple kicker Camden Price spent four seasons with the Hurricanes. He was 6-for-7 on field goals and made all 18 of his extra-point tries for Miami in 2019, then played sparingly in 2020 and 2021. He's in his second season with the Owls, and technically his sixth season of college football. Temple defensive lineman Allan Haye also is a Miami transfer; he played in two games with the Hurricanes, one in 2021 and one in 2022.
NO HOMECOMING
Miami has no players on its roster from Pennsylvania. Temple has 14 players from the state of Florida.
___
AP Sports Writer Tim Reynolds in Miami contributed to this story.
___
AP college football: https://apnews.com/hub/college-football and https://apnews.com/hub/ap-top-25-college-football-poll
"
Article Copyright © 2023 The Associated Press, All Rights Reserved.