No. 21 Duke aims to follow Clemson upset with a short-week win against FCS foe Lafayette
Thu, Sep 7, 2023
NCAAF News (AP)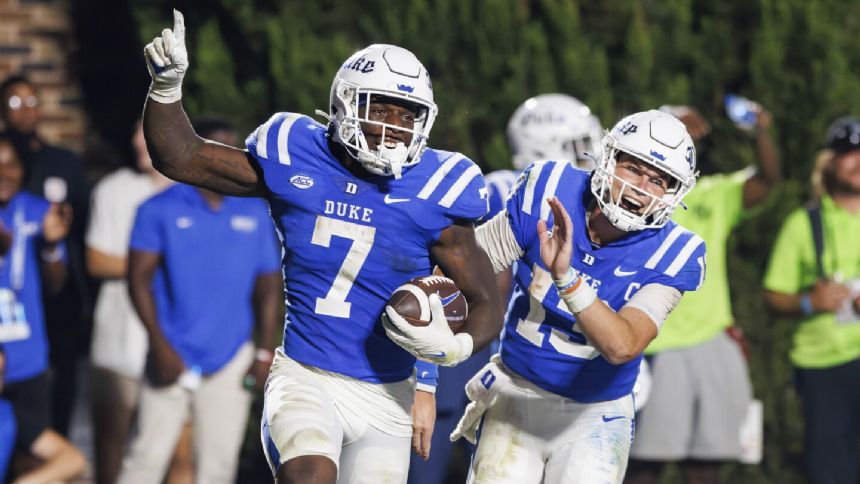 DURHAM, N.C. (AP) - Duke didn't get long to savor a stunning takedown of Clemson or its first AP Top 25 ranking in five years.
The 21st-ranked Blue Devils host Lafayette on Saturday night, five days after a 28-7 win against the preseason Atlantic Coast Conference favorite and then-No. 9 team in the country. That means a short week of preparation, from recovery to mentally preparing for a nonconference matchup against a Championship Subdivision opponent.
"It's most definitely been fast-paced, because we have a short time span," safety Jaylen Stinson said.
"Some of us," running back Jordan Waters said, "we're still on Cloud Nine."'
Other news
No. 18 Oklahoma to offer SMU a Power Five test a year before Mustangs move to the ACC
BYU seeking improved offensive production against Southern Utah
Underdog Aztecs looking for a second straight victory against UCLA
Duke (1-0) ended a 28-game losing streak against top-10 opponents since its last win in 1989, as well as earned its first win against Clemson since 2004. It all came in a resounding victory that had fans storming the field to celebrate.
Coaches are big on talking about moving on quickly after a win or loss. Duke has no choice.
"Obviously there was a lot of emotion and enthusiasm after that game Monday night," second-year coach Mike Elko said. "Now it's all of a sudden Thursday and we're done practicing and we've got to get ready to go again."
Lafayette (1-0) is coming off a 19-14 win against Sacred Heart. This is the only Bowl Subdivision opponent on the schedule for the Patriot League program from Pennsylvania.
"We're a young team, so we're somewhat inexperienced," Leopards coach John Troxell said. "So we're just preparing them for the moment so the stage isn't too big, and then just rely on the things you're coached to do, and go out and play hard. ... The ball bounces funny ways."
OFF-SCHEDULE TUESDAY
Facing the short week, Duke sought a waiver from the NCAA to allow the team to practice Tuesday during class hours. The NCAA denied that effort.
"We got no help from the NCAA on that, which was really disappointing," Elko said. "We had submitted some waivers to try to get our class schedules altered given the uniqueness of playing a Monday night game. They were all denied, which was disappointing. So we were really scattered on Tuesday having to try to get our kids around class times and different times."
Elko said the team, which practices in the morning, crammed in film and recovery sessions on Tuesday around that challenge.
"Our kids are in class from 11:45 (a.m.) until 9:10 at night on Tuesday," Elko said, "so it would've been nice to be able to create a block where we could've got them in and got them recovered. ... It certainly wasn't ideal by any stretch of the imagination."
AREAS OF IMPROVEMENT
Duke had two notable areas to address after the Clemson win: ball security and pre-snap penalties.
The Blue Devils won despite two turnovers. The first was a muffed punt by Jalon Calhoun when he slipped while trying to field the ball on a bounce, which set up Clemson on a short field for its lone score. The other was Moore's fumble late in the half as Duke approached the red zone. Duke also committed seven pre-snap penalties.
GROUND PRODUCTION
Both teams showed an emphasis on moving the ball on the ground in their openers.
The Blue Devils didn't have injured running back Jaylen Coleman against Clemson but still was productive with the workload shared among Jordan Waters (63 yards), Jaquez Moore (43) and quarterback Riley Leonard (98) - all of whom rushed for a touchdown.
Lafayette'sJamar Curtis is coming off a 181-yard day in the opener, including a 28-yard scoring run.
PROTECTION
Troxell said the to-do list after Week 1 included improving pass protection for Ryan Schuster, with the Blue Devils looking physical in pressuring Clemson quarterback Cade Klubnik for two sacks.
"I think that'll be really key, just having a good three-step (drop) game and get the ball out of our hand quick," Troxell said.
ACC PLAY
This marks Lafayette's first meeting against a current ACC member since facing Syracuse in 1951. The Leopards are 10-11-2 against those schools.
___
AP college football: https://apnews.com/hub/college-football and https://apnews.com/hub/ap-top-25-college-football-poll
"
Article Copyright © 2023 The Associated Press, All Rights Reserved.