No. 23 Tennessee Volunteers find themselves at a crossroads as UTSA arrives for a nonconference game
Thu, Sep 21, 2023
NCAAF News (AP)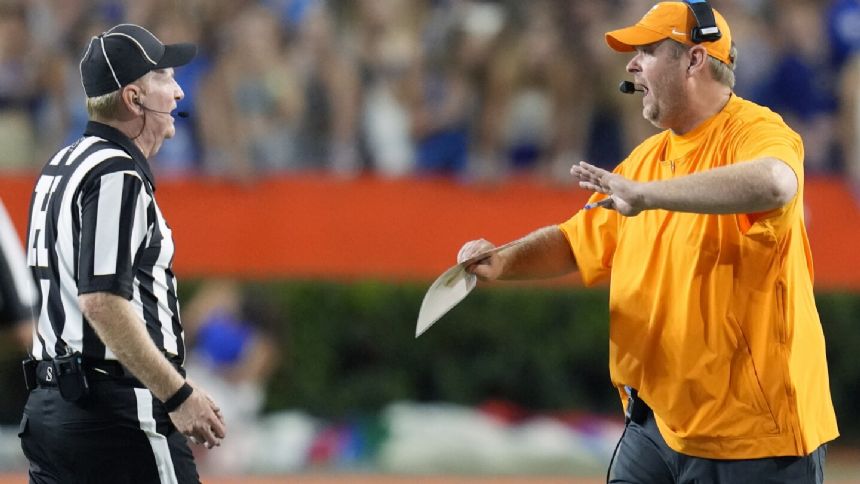 KNOXVILLE, Tenn. (AP) - The 23rd-ranked Tennessee Volunteers are at a crossroads just four weeks into this season.
A decisive road loss to Florida has caused a crisis of confidence as the Vols (2-1) start a three-game homestand wrapped around an open date by hosting UTSA on Saturday. After being ranked as high as ninth nationally, the Vols took a big drop after a 29-16 loss in the Swamp.
Tennessee yielded 20 points to the Gators in a second quarter loaded with missed tackles, penalties and mental mistakes. Coach Josh Heupel called them "self-inflicted wounds" with some issues lingering even from a win over FCS foe Austin Peay that was far too close for comfort.
"We got to clean that up," Heupel said. "You can't beat yourself."
Other news
Prepping for No. 1 Georgia reminded UAB coach Trent Dilfer of getting ready for NFL games
No longer in top 10, Alabama hosts Ole Miss in an SEC West showdown between two ranked foes
QB Travis Travis eager to lead No. 4 Florida State to milestone win in ACC showdown at Clemson
Now the Volunteers host UTSA, which is coming off back-to-back Conference USA titles. The Roadrunners have won 23 games combined over the past two seasons, and coach Jeff Traylor isn't happy over a 37-29 loss to Army that dropped them to 1-2.
"(That loss) was the first time our defense went backwards," Traylor said.
This is a pivotal game for both teams with conference challenges coming up next. Tennessee will host South Carolina on Oct. 1, while USTA stays on the road visiting Temple.
"We got to grow and go," said Heupel. "For our football team, everybody sees the big stuff. The small details is where this game has got to be won. We have to get better at that."
Traylor knows the talented Vols will be a big challenge for his Roadrunners.
"Their offense plays faster than anyone in the country," Taylor said. "They've got five or six NFL guys."
PERSONNEL PROBLEMS
Tennessee will be without defensive tackle Omarr Norman-Lott for the first half suspended by the Southeastern Conference over a fight at the end of the Florida loss.
The offensive line has been waiting for center Cooper Mays to return from a medical procedure during August. This might finally be that game. The line played with Gerald Mincey restricted to special teams duty last week after being cited by police for possession of marijuana two days before the Florida loss.
Heupel won't specify what role Mincey might play Saturday.
The Roadrunners also have some key players hobbling whose status might not be known until just before kickoff.
Quarterback Frank Harris missed the Army game with turf toe, though his replacement Eddie Lee Marburger threw for 239 yards and three touchdowns. Linebacker Trey Moore hurt an ankle during the Army loss.
LOST THAT RUN GAME
When Tennessee's offense is flowing, the Vols run the ball successfully. When it's stifled managing just 100 net yards against Florida, nothing else works.
"The run game is a rhythm," Vols offensive coordinator Joey Halzle said. "It's on us to handle business at the front end of the drive."
Missing key players on the offensive line hasn't helped.
"We can't think about the past," Tennessee running back Jaylen Wright said. "We have to talk about the 'next play' mentality.
TACKLE WOES
The Vols are focusing on fundamentals to rekindle their confidence when it comes to tackling. The Gators easily ran through more than a few feeble efforts, a couple that included bumps with defenders not using their arms at all.
"We all have to tackle better," Tennessee defensive coordinator Tim Banks said. "The message this week is 'Let's get better.'"
Defensive back Gabe Jeudy-Lally said it's back to the basics of eye discipline, wrapping up and taking people to the ground.
"That's our total focus," Jeudy-Lally said.
PUNTING DOWN UNDER
Tennessee and UTSA share a similar trend in college football - a punter from Australia.
Lucas Dean, a fifth-year player for the Roadrunners, has averaged 42.7 yards on 13 punts this season. He has three downed inside the 20.
Tennessee's Jackson Ross is averaging 39.3 yards on 12 punts with four downed inside the 20.
___
AP college football: https://apnews.com/hub/college -football and https://apnews.com/hub/ap-top-25-college-football-poll
"
Article Copyright © 2023 The Associated Press, All Rights Reserved.