No. 3 Purdue survives Maryland for sixth straight win
Sun, Jan 22, 2023
Other News (AP)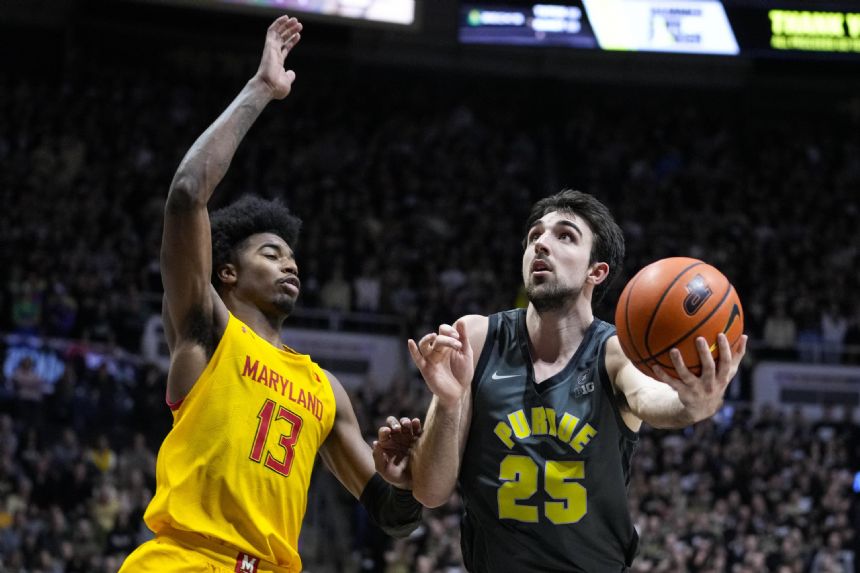 WEST LAFAYETTE, Ind. (AP) -
Zach Edey had 24 points and 16 rebounds and Braden Smith's two free throws with 3.9 seconds left helped No. 3 Purdue fend off a furious second-half charge from Maryland for a 58-55 victory on Sunday.
The Boilermakers are off to the best start in school history (19-1, 8-1 Big Ten). They've won six straight and are the fifth conference team since 2000 to win 19 of its first 20 games. Edey had his 16th double-double this season.
Julian Reese scored 19 points to help the Terrapins (12-7, 3-5) overcome a 14-point halftime deficit to have a chance to force to overtime.
Maryland got as close as three points four times but it wasn't until Jahmir Young made two free throws with 5.3 seconds left that the Terps pulled within one.
Smith then made his free throws, and Young's 30-foot heave to force overtime hit the backboard as the buzzer sounded. The Terrapins have lost four of their last six.
NO. 15 UCONN 86, BUTLER 56
HARTFORD, Conn. (AP) - Jordan Hawkins scored 20 points and UConn snapped a three-game losing streak in emphatic fashion by routing Butler.
Adama Sanogo added 17 points and 14 rebounds for the Huskies (16-5, 5-5 Big East), who won their first 14 games this season but dropped five of six coming into the game. Alex Karaban added 15 points and Tristen Newton scored 11 points for the Huskies.
Chuck Harris had 16 points and Simas Lukosius added 12 for Butler (11-10, 3-7), which was playing its third straight game without center Manny Bates, who is still recovering from a knee injury suffered earlier this month against St. John's.
___
AP college basketball: https://apnews.com/hub/college-basketball and https://apnews.com/hub/ap-top-25-college-basketball-poll and https://twitter.com/AP_Top25
Article Copyright © 2023 The Associated Press, All Rights Reserved.