Norris scores in shootout to lift Senators past Wild 2-1 for 2nd win in Sweden
Sat, Nov 18, 2023
NHL News (AP)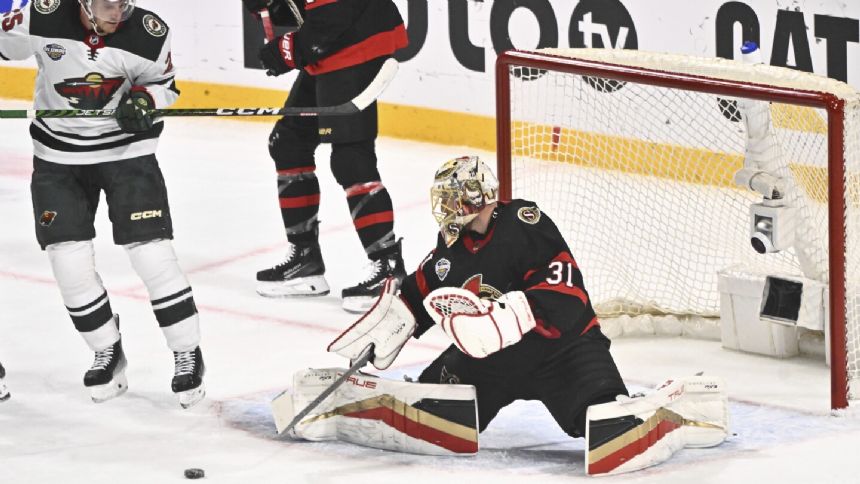 STOCKHOLM (AP) - Josh Norris scored the only goal in a shootout to lift the Ottawa Senators past the Minnesota Wild 2-1 on Saturday as the NHL's Global Series continued in the Swedish capital.
Norris wristed the puck past goaltender Filip Gustavsson to win the second game in Stockholm and extend Ottawa's winning streak to three.
Swedish defenseman Erik Brannstrom scored in the third period for the Senators, and goaltender Anton Forsberg made 24 saves in regulation and overtime before stopping all three Wild shots in the shootout. Forsberg assisted on Brannstrom's goal and became the first Swedish native goalkeeper to win a NHL regular-season game in the country.
Marco Rossi scored for the Wild, who have lost four in a row to drop to 5-8-3 this season. Mats Zuccarello of Norway had an assist, and Gustavsson stopped 30 of the 31 shots he faced.
Other news
Milan Lucic is taking an indefinite leave of absence from the Bruins after an undisclosed incident
Ekman-Larsson scores again as Panthers beat Ducks 2-1 to keep up strong November
Oliver Ekman-Larsson leads Panthers to 2-1 victory over Ducks
The game was the third of four over four days at Avicii Arena. Ottawa beat the Detroit Red Wings in overtime on Thursday, the Toronto Maple Leafs defeated Detroit on Friday and the Wild play the Maple Leafs on Sunday in the first four-team series in one city outside of North America. The games are the first for the NHL in Sweden since the COVID-19 pandemic.
After Forsberg denied Marcus Johansson on a penalty shot 3:38 into the second period, the Wild took the lead a few minutes later when Rossi tipped in a slap shot from the point by defenseman Brock Faber. It was the sixth goal of the season for the 22-year-old Austrian center.
Brannstrom roofed a slap shoot from the left circle to tie it 3:22 into the third.
The Senators are in Sweden for the third time, after sweeping a two-game series against the Colorado Avalanche in 2017 and splitting another against the Pittsburgh Penguins in 2008.
Ottawa returns home with four points, a goal for the trip to help the struggling Senators turn things around after losing six of their previous nine games and languishing in last place in the Atlantic Division.
UP NEXT
Wild: Face the Maple Leafs on Sunday.
Senators: Host the New York Islanders on Friday.
___
AP NHL: https://www.apnews.com/hub/NHL
"
Article Copyright © 2023 The Associated Press, All Rights Reserved.