Outgained and outplayed but typically not outscored, the Steelers are somehow in the mix in the AFC
Fri, Nov 3, 2023
NFL News (AP)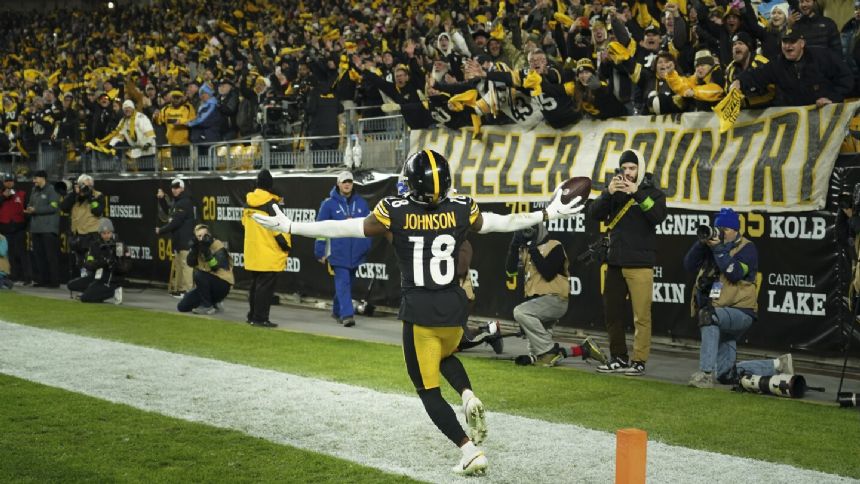 PITTSBURGH (AP) - Technically, the Pittsburgh Steelers aren't getting it done with smoke and mirrors.
It only feels like it. And at times, it certainly looks like it.
The weeks go by and the on-field product looks underwhelming for long stretches. The offense running in place. The defense susceptible to big plays. The coaching seemingly incapable - or maybe unwilling - to make substantial adjustments, unless of course, you count the not-exactly novel approach of practicing in pads.
Yet the Steelers find themselves at 5-3 anyway as the season nears the midway point after Thursday night's 20-16 victory over Tennessee which had all the hallmarks of so many other wins in recent memory.
Other news
Myles Garrett picked as the top defensive lineman in the AP's NFL Top 5 rankings
Gaints placekicker Graham Gano needs surgery and is placed on injured reserve
Dolphins coach McDaniel tries to downplay Chiefs clash in Germany. LT Terron Armstead could return
Pittsburgh trailed entering the fourth quarter. Quarterback Kenny Pickett and his aching ribs ran hot/cold from series to series. The defense bent and bent and bent but rarely broke.
Strip away the uniforms and the Titans could have been the Browns. Or the Ravens. Or the Rams. All of them had the Steelers on the ropes earlier this season. All of them failed to land the kill shot.
And all of them out-played and out-gained but failed to outscore a team that seems to win almost in spite of itself.
There have been 29 teams during the Super Bowl Era to give up more yards than they have piled up in each of their first eight games.
Only one - the 2023 Steelers - has managed to post a winning record over that stretch.
"Obviously not satisfied with where we are," star outside linebacker T.J. Watt said. "But we just need to continue to improve and eliminate problems as quickly as possible and just get as healthy as possible."
The Steelers offer a Rorschach test of sorts. Are they a good team that has failed to live up to its potential? Or are they simply living right by going 5-0 in one-score games and will eventually be exposed?
It could go either way. Yet coach Mike Tomlin made it a point after a typically ugly comeback win over Cleveland in Week 2 that he was never going to apologize for winning. Good thing, because if he did at this point he'd be running out of ways to do it.
In a season where being "good" seems to be a week-to-week proposition, the Steelers might be one of the most dangerous teams in the league.
They haven't played particularly well. They haven't really come close to putting together four competent quarters. And yet only a handful of teams in the AFC are in a better position as Thanksgiving nears.
It's telling that for the first time in a long time, there were no chants for offensive coordinator Matt Canada to be fired. Instead, there was patience and - in the end - a roar that felt filled with equal parts amazement and relief after another victory that seemed inevitable as it did unlikely.
"The outside noise of everybody that harps on the negatives, you can't get caught up in that," Pickett said. "There's a lot of great things that we're doing. And we're close to getting where we want to get to."
WHAT'S WORKING
Letting Watt and longtime partner Alex Highsmith pin their ears back and go to work. The outside linebackers have become the best edge rush tandem in the league, making game-altering plays a weekly occurrence no matter how opponents scheme to try and stop them.
Watt has 9 1/2 sacks and is in the mix to add a second Defensive Player of the Year Award to go with the one he earned in 2021. Highsmith, who leads the NFL with 49 quarterback pressures, looks like he's worth every bit of the lucrative contract he signed in July.
WHAT NEEDS HELP
The run defense has regressed toward its 2021 level when it was dead last in the league. The return of veteran defensive tackle Cam Heyward after he missed six games with a groin injury should help, but the Steelers have been pushed around at times in a way that's been un-Steelerlike.
Pittsburgh's quickest path to success is putting opponents in passing situations as often as possible so Watt and Highsmith can create their signature brand of chaos. To do that, Pittsburgh has to stop the run with far more regularity than they've shown over the season's first half.
STOCK UP
Running back Jaylen Warren is proving that he's more than just a change-of-pace option behind starter Najee Harris.
The former undrafted free agent provides a spark nearly every time he touches the ball. Warren has 85 touches for 471 yards through eight games, numbers that essentially mirror Harris' 116 touches for 483 yards.
STOCK DOWN
For all of his fourth-quarter moxie, consistency and accuracy remain elusive for Pickett. His completion percentage is a tick below where it was as a rookie and his quarterback rating is only marginally higher.
A player who looked ready to make a leap in his second season has instead mostly shuffled his feet, taking two steps forward almost immediately followed by two steps back.
There is time to get it together, but if the Steelers want to look like a playoff team on the field with regularity, Pickett needs to show more than flashes.
INJURIES
Safety Minkah Fitzpatrick sat out Thursday night's win with a hamstring injury though there's optimism Fitzpatrick won't be out long term. Inside linebacker Cole Holcomb's season is probably over after being carted off with a left knee injury after being hit by safety Keanu Neal. Tight end Pat Freiermuth is on injured reserve but could return at some point.
KEY NUMBER
15 - Pittsburgh's number of victories when trailing entering the fourth quarter since 2020. No team in the NFL has more over that span.
NEXT STEPS
Rest up and prep for a second half that begins with a visit by Green Bay on Nov. 12.
___
AP NFL: https://apnews.com/hub/NFL
"
Article Copyright © 2023 The Associated Press, All Rights Reserved.