Packers relying on inexperienced cornerbacks to step up after Douglas' departure
Fri, Nov 3, 2023
NFL News (AP)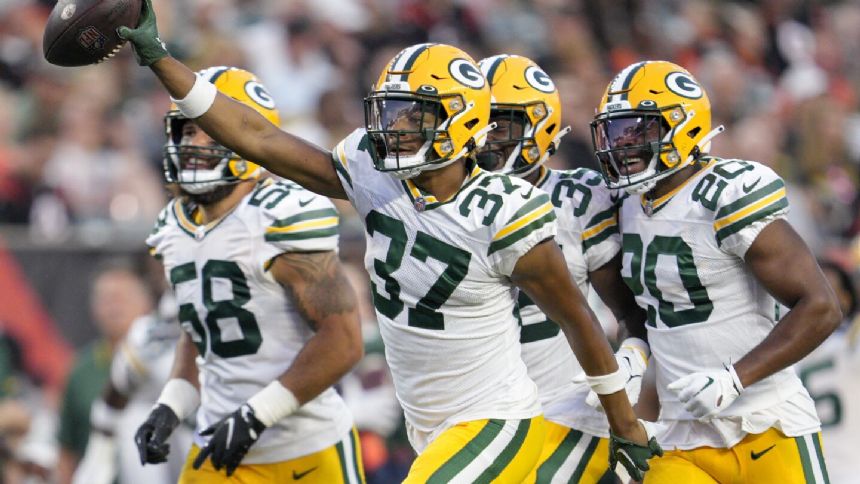 GREEN BAY, Wis. (AP) - Green Bay Packers rookie cornerback Carrington Valentine often looked to veteran Rasul Douglas for advice as the seventh-round draft pick from Kentucky attempted to make a successful transition to the NFL.
Valentine now has the biggest opportunity of his young career but no longer has Douglas around to guide him.
The trade of Douglas to the Buffalo Bills this week while 2021 first-round draft pick Eric Stokes remains on injured reserve leaves the Packers depending on some inexperienced cornerbacks such as Valentine and Corey Ballentine to work alongside Jaire Alexander and Keisean Nixon.
"Rasul was a mentor to me," Valentine said. "I sat next to him every day. I'm sad to see him go. I learned a lot from him. I appreciate everything. He didn't have to do that. But with the opportunity, just got to make the most of it."
Other news
Patrick Mahomes feels 'perfectly fine' after illness and says ready for Europe debut vs Dolphins
Falcons WR Drake London ruled out for Sunday's game vs. Vikings with groin injury
Trent Williams repeats as the top offensive lineman in the AP's NFL Top 5 rankings
Green Bay's cornerback issues come at an inconvenient time.
The Packers (2-5) have lost four straight and face the exceptional receiving tandem of Cooper Kupp and rookie Puka Nacua when the Los Angeles Rams (3-5) visit Lambeau Field on Sunday, though Rams quarterback Matthew Stafford's status for that game remains uncertain due to a sprained ligament in his right thumb.
Nacua, a fifth-round pick from BYU, is tied for second in the league in catches (61) and ranks third in yards receiving (795).
The Packers must face those guys without Douglas, who had intercepted 10 passes since signing with Green Bay on October 2021. Nixon said he felt "sick to my stomach" after learning about the trade.
Green Bay still has Alexander, a second-team pick in last year's All-Pro balloting, but he hasn't been as effective as usual this year while dealing with a back issue that caused him to miss three games. Nixon, an All-Pro kick returner last season, has played 65% of the Packers' defensive snaps this season - up from 28% in 2022.
The Packers need Stokes to get healthy again. He hurt his hamstring Oct. 22 while appeared in his first game in nearly a full year due to a foot injury. He sat out a 24-10 loss to Minnesota on Sunday and must miss at least three more games due to his injured reserve status.
That leaves the Packers needing bigger contributions from Valentine and Ballentine.
"Shoot, I got all the confidence in them," Alexander said. "Those are the next guys up. Those are the next guys in line and both of them have some experience playing, so it's just going to be how soon they'll be able to make these plays that we need."
Green Bay's secondary is looking to bounce back after the Packers allowed the Vikings to go 10 of 18 on third-down conversion attempts Sunday.
Valentine caught the Packers' attention with an impressive preseason. With Alexander injured, Valentine was on the field for every defensive snap in a 19-17 loss at Denver two weeks ago. Broncos quarterback Russell Wilson had some success going after Valentine in that game.
"I like how he battled and he kept competing," LaFleur said. I know that he's not afraid. He'll go contest you."
Ballentine, 27, has played four games this season but was limited to special-teams snaps in two of them. He appeared in eight games for the Packers last season.
The Packers would love to see one of those guys make the leap that Douglas produced during his time at Green Bay. The Packers signed Douglas off Arizona's practice squad and watched him develop into a key performer before trading him and a 2024 fifth-round draft pick to Buffalo in exchange for a third-round pick.
At his introductory media session with the Bills, Douglas talked about how he revitalized his career in Green Bay and praised former Packers defensive backs coach Jerry Gray, who left after last season to become Atlanta's assistant head coach for defense.
"I had a coach who actually knew the game and taught me the game," Douglas said. "And they allowed me to play the game how I played the game with no restrictions."
Packers defensive coordinator Joe Barry described Douglas as a "guy that was always talking ball, always working on ball."
"He was phenomenal for the young players, so I want to thank him for everything that he did and I, we, will truly miss him," Barry said. "But it's the nature of the business, unfortunately, in a situation for us, but what a great opportunity for the Valentines of the world, the Ballentines of the world. They're going to get an opportunity, and hopefully they'll take advantage of it."
___
AP sports writer John Wawrow contributed to this report.
___
AP NFL coverage: https://apnews.com/hub/NFL
"
Article Copyright © 2023 The Associated Press, All Rights Reserved.