Panthers rookie QB Bryce Young places blame squarely on himself after throwing two pick-6s in loss
Sun, Nov 5, 2023
NFL News (AP)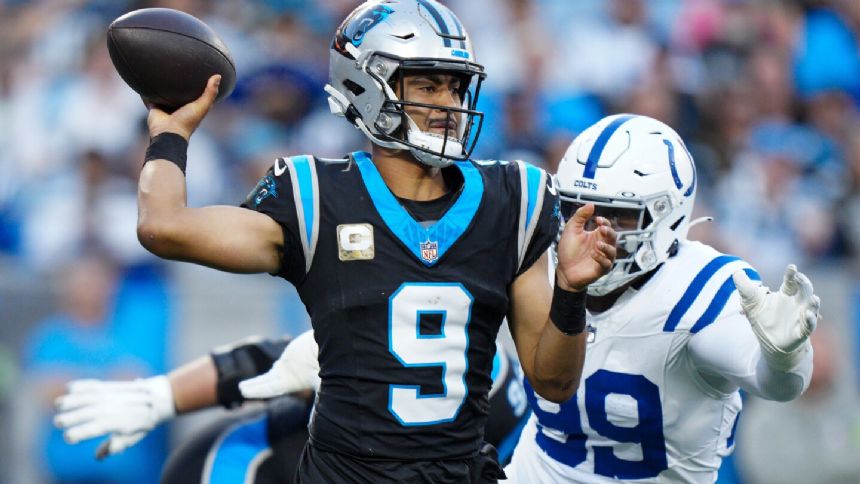 CHARLOTTE, N.C. (AP) - Bryce Young isn't playing the blame game.
Yes, the rookie quarterback has been under constant pressure all season, sacked 26 times and hit 53 times in his seven NFL starts. And outside of veteran Adam Thielen, the depth is thin at wide receiver and tight end. And the Panthers' running game has been sporadic at best this season.
All of that would make it easy for the No. 1 overall pick to complain about his current circumstances.
But Young said Sunday's 27-13 loss to the Indianapolis Colts, a game in which two of his three interceptions were returned for touchdowns by Kenny Moore, are squarely on him.
Other news
Dak Prescott and Dallas lament missed chances in 28-23 loss to Philadelphia
Stroud's thoughts with incarcerated father after record performance for Texans
Jalen Hurts shakes off knee injury and leads Eagles past Cowboys 28-23 for NFL best 8-1 mark
"I turned the ball over three times and two of them turned into 14 points, and that's how you lose a game," Young said. "Everyone else around me did a great job and it's on me. It is what it is, and I have to be better. But no one is going to feel sorry for me and no one is going to feel sorry for us."
The last part is certainly true for Thursday night when the Panthers visit the Chicago Bears.
If the Bears beat the Panthers (1-7), they will only improve their own draft position for next season. Chicago owns Carolina's first-round pick in 2024 as part of the deal the Panthers made to move up eight draft spots to get Young.
So far, the former Alabama star has been a disappointment.
Young is averaging fewer than 200 yards passing per game and has only eight touchdown passes and seven interceptions and his quarterback rating is among the worst in the league.
By comparison, No. 2 overall pick C.J. Stroud continues to excel in Houston, where he's averaging 283.7 yards per game passing while throwing 14 touchdown passes and one interception. He set the NFL rookie mark with 470 yards passing in the Texans' 39-37 victory over Tampa Bay on Sunday. Stroud also tossed five TD passes.
But Panthers coach Frank Reich refuses to give up on Young and seems willing to go through the growing pains, saying benching the rookie for capable veteran backup Andy Dalton has never entered his mind.
Reich said he thought Young was coming off his best game of the season when the Panthers beat Stroud and the Houston Texans 15-13 last Sunday on this same field.
But he called this a "step backward."
"We thought we had several games in a row where we're making good strides, and then we went out and laid an egg today offensively," Reich said. "We have to do a better job, but it was one game. In reality, it's not that we were lighting up the scoreboard, but Bryce has been playing good football."
Reich said it's the wrong time to panic.
And he wants the young QB to know he's completely behind him - and that things will get better.
"I told Bryce I've seen the best quarterbacks in the game have way worse games than this. Way worse," Reich said. "You don't flinch. In some ways, it's good for him to go through this. In some ways, it's good to kind of have to bounce back after something like this. So that's what we do. We learn. You don't like to fail, but when you do fail, if we really learn from it and if we get better from it, it's ultimately put in the category of just another step to getting us where we want to be."
Young said he's happy the Panthers play Thursday night, which he hopes will allow the team to turn the page quickly and move on.
"You can't carry that over," Young said. "You have to go over the stuff and correct it and move on."
___
AP NFL: https://apnews.com/hub/NFL
"
Article Copyright © 2023 The Associated Press, All Rights Reserved.