Pasadena police investigate report of missing items from Colorado locker room following UCLA game
Mon, Oct 30, 2023
NCAAF News (AP)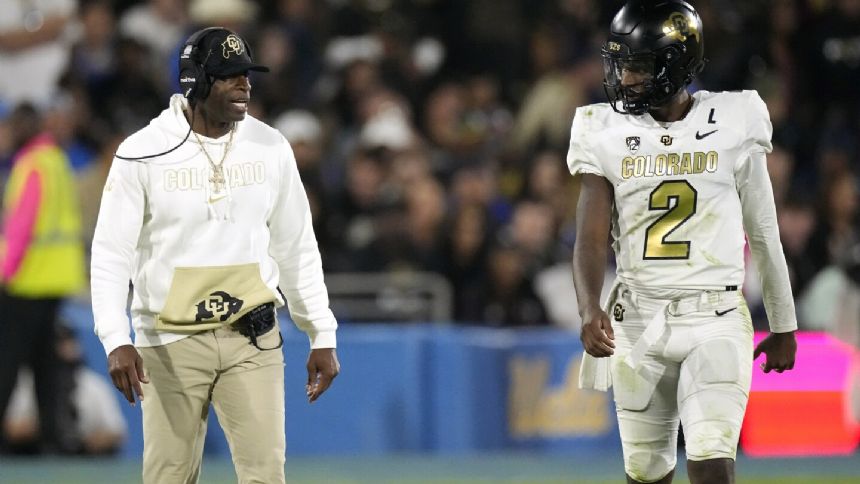 The police in Pasadena, California, confirmed an investigation is underway after a report that several items went missing from the Colorado locker room while the Buffaloes played No. 20 UCLA at the Rose Bowl over the weekend.
UCLA is in communication with law enforcement, Rose Bowl Stadium officials and the University of Colorado concerning the matter, Lisa Derderian, the city's public information officer, said Monday.
The production crew of " Well Off Media," which chronicles coach Deion Sanders and the Buffaloes, posted a video on YouTube titled, "Colorado Loses to UCLA: Thieves at Rose Bowl Steal From Colorado's Locker Room." In the video, players gathered around the bus after a 28-16 loss to the Bruins on Saturday night and discussed items being taken from inside the locker room, including jewelry.
One person had a chain he recently purchased go missing. He said in the video: "I just got mine, bro. I had the jewelry box and everything. They took it out of my jewelry box."
Other news
AP Top 25 Reality Check: Texas or Oklahoma? Washington or Oregon? How much to honor head-to-head?
AP Top 25: Kansas enters poll after shocking Oklahoma, which slips to No. 10
Fifita leads Arizona to 27-24 win over No. 11 Oregon State
On the social platform X, the site formerly known as Twitter, Colorado safety Cam'Ron Silmon-Craig posted in all caps: "In locker room you would think your stuff safe man its crazy."
Darius Sanders, who also documents the Buffaloes, posted a video Monday from Folsom Field where he said coaches and support staff also discovered items went missing. He said he had money gone from his bag.
The Buffaloes have fallen to 4-4 after starting out with three straight wins in Deion Sanders' first season in charge. He has instantly raised the profile at Colorado. The game against the Bruins was the fifth on network television, which is the most in Colorado history for a season. The Buffaloes have also played in front of a capacity crowd in all eight games this season.
Sanders reshaped Colorado through the transfer portal after the program went 1-11 last season.
___
Associated Press Writer John Antczak in Los Angeles contributed to this report.
___
AP college football: https://apnews.com/hub/ap-top-25-college-football-poll and https://apnews.com/hub/college-football
"
Article Copyright © 2023 The Associated Press, All Rights Reserved.