Players to watch from one-bid leagues include Weber State's Jones, UNC Asheville's Pember
Tue, Oct 31, 2023
NCAAB News (AP)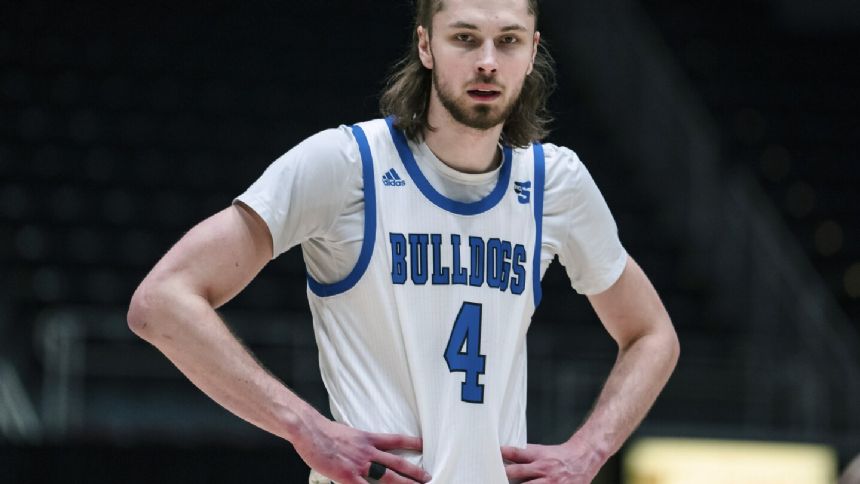 Weber State's Dillon Jones and UNC Asheville's Drew Pember had every reason to decide they'd done enough at this level.
Yet both returned to school in part because they wanted their college careers to have a better finish.
Jones' team suffered a double-overtime loss in a Big Sky Conference Tournament semifinal. Pember's squad reached the NCAA Tournament but got blown out in the opening round.
Now they're back for one more season as two of the most decorated players from traditional one-bid conferences.
"I'm not overly emotional about it, but it would have been definitely hard for me to take that step and not feel like I left it off in the right way," Jones said.
Jones, a 6-foot-6 forward, participated in the G League Elite Camp and the NBA combine after leading Weber State in points (16.7), rebounds (10.9), assists (3.8) and steals (1.6) per game last season. He ultimately decided to return to school rather than beginning his pro career.
He never really considered transferring to a high-major program.
"I was blessed enough to find a school where I could not only succeed but get better every year and really just play and not have to worry about things at the higher-major level, like politics and all those things," Jones said. "I was able to just be a good player here. That's really all I wanted to do.
"My goal was really never to play high-major basketball or play in a big school or have all that stuff. That was never really my goal. My goal was just to give myself the best chance to be a professional athlete. And I think that has happened since I've been here, so why jeopardize it?"
Pember did have a taste of high-major experience. The 6-11 forward had 31 points in two seasons at Tennessee before flourishing at UNC Asheville. He's back for a fifth season of eligibility after becoming the first Big South player ever to lead the conference in scoring (20.9), rebounding (9.1) and blocks (2.3) in the same season.
Pember led all Division I men's players in free throws made (266) and attempted (318). He produced three 40-point games and had a school-record 48 against Presbyterian - the highest single-game total by any Division I player last season.
"I honestly kind of surprised myself," Pember said. "I didn't really expect it to be I guess like this. I never expected to be I guess the focal point of a team."
Pember decided to return for one more year to earn his degree and potentially have a more successful run in the NCAA Tournament. Pember said the Bulldogs' 86-53 first-round loss to UCLA left a bad taste in his mouth.
"That was like eye opening," Pember said. The game was just miserable in itself, just because they didn't miss and I personally got flustered and felt like the weight of the world was on our shoulders and all that type of stuff. It wasn't a great experience, but it was because of how much we learned from it."
Some other notable players from conferences that typically get only one NCAA Tournament bid:
TUCKER DeVRIES, DRAKE
DeVries, the son of Drake coach Darian DeVries, was the 2022-23 winner of the Larry Bird Trophy given annually to the Missouri Valley Conference's top player. The 6-7 wing averaged 18.6 points and 5.7 rebounds while helping Drake reach the NCAA Tournament.
ENRIQUE FREEMAN, AKRON
Freeman had 16.8 points and 11.2 rebounds per game last season, making him one of just 12 Division I players to average a double-double. He ranked fourth in Division I in rebounds per game and also led the Mid-American Conference with 1.4 blocks per game. This marked the second straight season in which the 6-7 forward has averaged a double-double.
RAY HARRISON, GRAND CANYON
This former Big South freshman of the year spent two seasons at Presbyterian before transferring to Grand Canyon of the Western Athletic Conference for the 2022-23 season. The 6-4 guard helped Grand Canyon earn an NCAA bid by becoming the first player since UConn's Kemba Walker in the 2011 Big East Tournament to total at least 80 points, 20 assists and 20 rebounds in a conference tournament. Harrison scored 20 points in an NCAA Tournament loss to Gonzaga.
AJAY MITCHELL, UC SANTA BARBARA
Mitchell was the Big West player of the year last season while averaging 16.3 points and a league-high 5.1 assists. Mitchell scored at least 20 points in each of UC Santa Barbara's three Big West Tournament games to help the Gauchos reach the NCAA Tournament. The 6-5 guard has shot over 50% from the field each of his two seasons at UC Santa Barbara.
ISAIAH STEVENS, COLORADO STATE
This 6-foot guard is Colorado State's all-time assists leader. Stevens led the Mountain West Conference and ranked fourth in the nation with 6.7 assists per game last season. His 3.07 assist-turnover ratio ranked sixth in the nation. Stevens also had 17.9 points and 3.4 rebounds per game.
VONTERIUS WOOLBRIGHT, WESTERN CAROLINA
Woolbright led the Southern Conference in assists (5.1), ranked third in the league in rebounds (7.4) and 12th in the conference in scoring (14.5) last season. The 6-6 guard posted a triple-double in Western Carolina's regular-season finale last year and had 30 points and 11 rebounds in a Southern Conference Tournament overtime loss to Furman.
___ Get poll alerts and updates on the AP Top 25 throughout the season. Sign up here ___ AP college basketball: https://apnews.com/hub/ap-top-25-college-basketball-poll and https://apnews.com/hub/college-basketball
"
Article Copyright © 2023 The Associated Press, All Rights Reserved.